Murky. Muddy. The first words that come to mind when attempting to forecast the Pittsburgh Penguins' approach to the looming trade deadline. We're two weeks away from Jim Rutherford's last-ditch effort to tweak this roster in preparation for a run at a third consecutive Stanley Cup, and, instead of their needs becoming clearer, they're actually getting harder to determine.
In a way, that's a good problem to have.
Rumors have swirled around the Penguins for months. Names like Ian Cole and Kris Letang made the biggest news, and goaltender prospect Filip Gustavsson's name also came up recently after his stellar performance in the World Juniors, though Rutherford remains adamant about keeping his goalie depth intact.
Throughout all the talk and speculation, the Penguins needed to be patient to be sure this recent surge in play wasn't a fluke. At this point, it's clear they've returned — at least, somewhat — to their championship form of the last two seasons. Their 'big three', namely Sidney Crosby, Evgeni Malkin and Phil Kessel, are dominating and they're once again getting contributions from their bottom-six. That uptick in performance across the board is why the outlook on what assets they need prior to Feb. 26 is as clear as mud.
Will Center Still Be a Priority for the Penguins?
Riley Sheahan was seemingly a band-aid for the Penguins when they acquired him in late October, which followed a disappointing start to his season in Detroit. He was coming off a dismal 2016-17 campaign and looked as if he'd continue that trend this season. But while the hockey world watched and waited for the Penguins to find a more permanent fix for their third line center role, Sheahan found his game and interestingly, he's now a better option than their former third line pivot Nick Bonino. At least, he has been since the calendar turned 2018.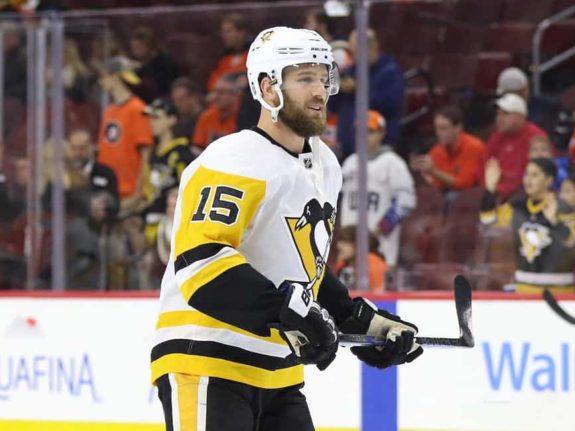 Everyone seems to forgive and forget when it comes to Bonino and his poor production in the first half of each campaign with the Penguins. Bonino turned up his production down the stretch when it mattered most and Shehan is following suit. When you compare the two, it's quite obvious that the Penguins are in a good shape, or, at least in similar shape as their last two championship seasons at the position of third line center.
Sheahan played 31 games for Pittsburgh from October to December, accruing only three goals and 11 total points for an average of roughly .35 points per game. Last season, in that same time frame, Bonino played 38 games and recorded six goals and 17 points — an average of .45 points per game. That's a very narrow difference, hardly worth chastising Sheahan over.
According to NaturalStatTrick.Com, when you break it down to averages based on actual time on ice, Sheahan clicked at 1.6 points per hour of ice time while Bonino came in at 1.56. In other words, while everyone was pretty disappointed in Sheahan's first two months (myself included), a deeper look into what the Penguins had prior shows that the concern wasn't necessarily warranted. The early-season lack of production from Pittsburgh's stars likely spotlighted the struggles from their depth centers a bit more this season.
Related: NHL Trade Rumors: Nash, Barrie, Saad, More…
Since Jan. 1, Sheahan has recorded three goals and 10 total points through 17 games. To put that into perspective, Bonino netted just two goals and four total points through his first 16 games after the new year one season ago. Sheahan still has a lot to prove but in looking at recent performance and his fit, the Penguins are likely quite happy with him manning their third line for the rest of the season.
So… Now What?
A center should still be at the top of Rutherford's shopping list. The Penguins know very well that depth — having players in the press box that can plug-in instantly without the team missing a beat — is important through a grueling NHL postseason run. Acquiring one more NHL caliber center, someone who can slot in on the fourth line and move up the lineup if needed is a necessary commodity. If they find a deal for someone that can bump Sheahan down to the fourth line, that obviously isn't an issue and would make them a matchup nightmare once again, but it shouldn't be a priority.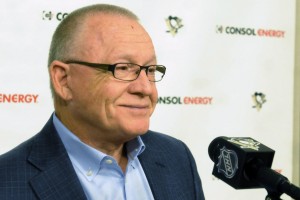 Find someone suitable that doesn't break the bank.
Matt Cullen, Derick Brassard, Tyler Bozak and Adam Lowry, among others, have been suggested by media and fans. Like the Penguins' approach to the deadline, the asking price for each individual is far from transparent at this point and there's plenty to be said about how the Penguins' current lineup has gelled as of late. Rutherford needs to avoid disrupting that.
At this point, it's tough to speculate on who the most realistic option is and what it will cost to acquire them. Those conversations will ramp up as we get closer to Feb. 26. Don't expect the Penguins to stand pat, though, with a very real possibility of three-peating in reach. Rutherford will work silently, as he always does, and we can only hope that his next move is as effective as the abundance of re-tooling decisions made over the last two years.
Pittsburgh Penguins writer for TheHockeyWriters.Com and PittsburghHockeyNow.Com. Youth hockey coach, and student of the game.