It's decision time and Pittsburgh Penguins general manager Jim Rutherford knows it. In fact, he recently discussed the possibility of making a move to bolster the Penguins' roster with Jason Mackey of the Pittsburgh Post Gazette. What he told Mackey was interesting when you consider the recent whirlwind of rumors that included Ian Cole and Kris Letang. Very few considered Letang a possible trade chip but a move involving Cole, a frequent healthy scratch this season, seemed like a sure thing.
It turns out that it wasn't. But, after a week off to sit down and analyze their position in the standings, the makeup of the team and whether or not the Penguins can build on two impressive performances prior to their bye week, could we see the shakeup that everyone has been anticipating and speculating on?
"Some of the things that I see, I don't believe changing player personnel is going to do it. As a group, we have to be more consistent and do what we do best," Rutherford told Mackey. It's evident that he's thinking clearly and not hitting the panic button. However, it's important to note that Rutherford often works quickly and stealthily. Most of his deals are outside of what anyone would anticipate or expect. Is this the same situation? Is he bluffing? If he isn't, and he plans to stand pat — at least for now — is that the right move?
Related: 4 Things the Penguins Should Worry About
Riding Out the Storm
The Penguins will only go as far as Sidney Crosby, Evgeni Malkin, Phil Kessel, Letang and Matt Murray take them. Kessel has been their MVP through the first half of the season but the rest of the group has left a lot to be desired.
Letang is struggling — arguably more than we've seen at any point in his career — and Murray has been shaky at best. Crosby hasn't produced anywhere close to his standards but maybe his seven points through the Penguins' last two games is a sign of things to come. For their sake, they better hope it is.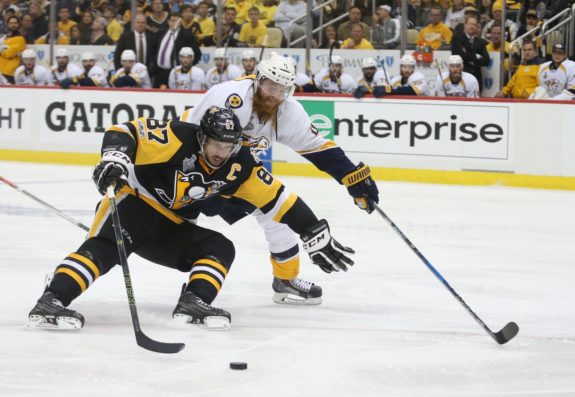 From a numbers standpoint, Pittsburgh has shown improvement in shot shares and how much they're controlling the play. They rank ninth overall for even-strength shot attempt percentage (Corsi-for) according to Corsica.Hockey, but that's largely overshadowed by their minus-33 goal differential.
The power play has been a saving grace to this point and, honestly, it's the only reason they're even remotely in the postseason conversation. It's hard to imagine where they'd be without their league-leading 26.6 percent conversion rate and their penalty kill — which ranks tenth overall but leads the league with a 94 percent success rate since December 1 — is a major factor as well. Special teams can't carry them forever, though.
So, obviously, they should make a big trade, right?
To echo Rutherford's comments, there isn't a deal out there that will fix the team overnight. While their issues stem from poor roster management over the summer — which, is a conversation for another time — they're also underperforming at the top of their lineup and have received mediocre goaltending.
They still have a great core, arguably the best in the NHL. And you don't blow up a team that just won back-to-back Stanley Cups because of a rough season that follows in hopes of getting a third consecutive title. You ride it out and let this team try to build on a few very good performances. Patience will be key in preserving the long-term success of this club.
Meeting the Deadline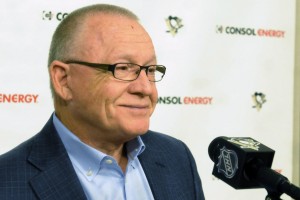 One specific date, February 26, is the most important deadline for GMs. The 2018 trade deadline is where the Penguins should focus on making their final decisions on whether to buy this season in preparation for another Cup run. If, at that point, they don't look like a team that could realistically be successful in the playoffs for a third consecutive season…
Could they be sellers?
Every team in the salary cap era has to rebuild or, in the case of this team retool. We saw Rutherford and company do it on the fly two seasons ago and it led to a historical run. It may be time to consider players on expiring contracts as trade chips in order to grab a few future assets that could help next season. Winning a Cup is nearly impossible. Winning two consecutive Cups, in this era, is unheard of.
Winning three consecutive Cups? Well, you get the point…
It isn't time to pack it in. The Penguins aren't in a position where they should be tanking by any means. But realistically, they simply haven't been a great hockey team this season for a myriad of reasons. Ride this out and make a decision in a few weeks, depending on where they sit in the standings. It's ok if they don't win the Stanley Cup every season. I'd put money on the fact that they won't.
Pittsburgh Penguins writer for TheHockeyWriters.Com and PittsburghHockeyNow.Com. Youth hockey coach, and student of the game.