It's no secret that drafting hasn't been one of the Philadelphia Flyers' strengths in the past.
The 2015 NHL Entry Draft was one of their many successful drafts in recent years – they picked up two key building block players: Ivan Provorov (seventh overall) and Travis Konecny (24th overall). For a team that was in need of a break, they hit the lottery with these two.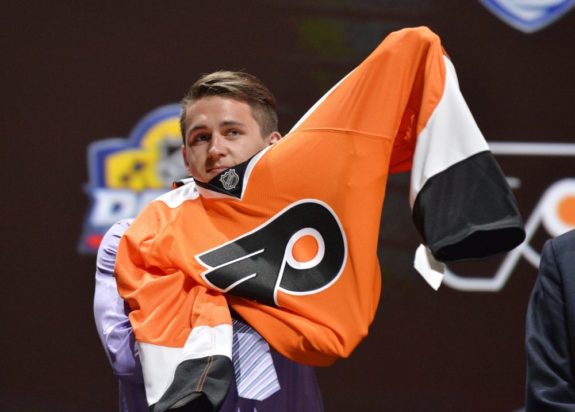 At pick No. 7, the Flyers knew who their guy was. However, when general manager Ron Hextall saw the Leafs on the clock at pick No. 24, with Travis Konecny still available, he knew he had to do whatever it took to acquire that pick. Three years later, Hextall looks like a genius with Konecny playing on the team's red-hot first line with Sean Couturier and Claude Giroux.
Travis Has the Heart of a Lion
Standing in at 5-foot-10 and 175 pounds, Konecny is far from a power forward. However, what he lacks in size, he makes up with heart. Comparable players to Konecny are feisty Montreal Canadiens forward Brendan Gallagher and Minnesota Wild veteran Zach Parise. For this type of player, the game doesn't come easy – they have to battle for their space and utilize their speed, smarts and strength to win puck battles in the dirty areas.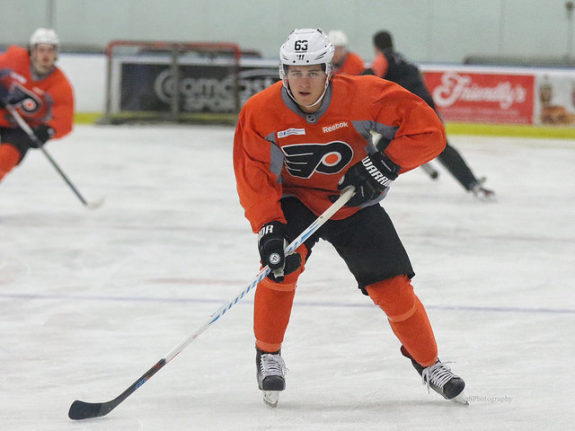 Although it hasn't always been a breeze in the NHL for the one that they call TK, he has proven his resiliency and it is paying off. He has been a healthy scratch three times in his early career, and early this season, success wasn't coming easy for either him or the team. He was buried on the bottom two lines and couldn't find his swagger. Nonetheless, Konecny put his head down and worked diligently every day at the gym and during practice, which is the sign of a mature player that is bound to be a leader. He forced head coach Dave Hakstol to take notice and move him up to a line full of opportunity.
When Opportunity Knocks, Konecny Answers
He's struggling, so why not throw him up on the first line with two of this year's most productive NHL players? If only coaches decisions were that easy. It may work in the video games but not in real life. How well professionals are going to play together is based on a series of factors, including chemistry, player types, player sizes, and player tendencies, among a series of others. It just so happened that the Sean Couturier, Claude Giroux and Travis Konecny mix turned to gold immediately.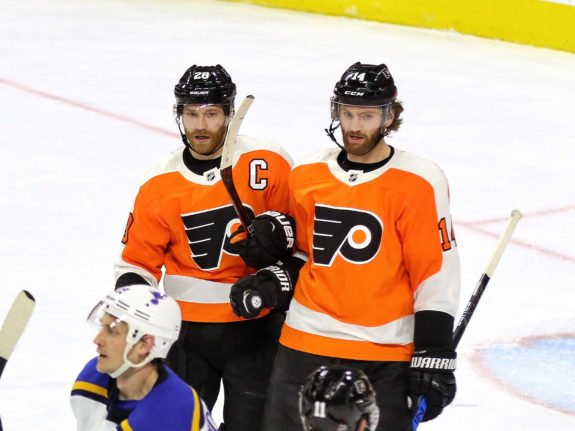 Each player contributes in their own way. Couturier brings size, hockey IQ and a finishing ability that has him currently in a tie for fourth in the league in goals. Giroux brings leadership, playmaking skills and unteachable vision which has him sitting in a tie for fourth in the league in points. The newest addition to the line, Konecny, brings speed, poise and an underrated release which has seen him pick up 10 points in his 12 games since joining the top line.
With his recent successes, Konecny has also been on the ice more often in the crucial situations such as the 3-on-3 overtimes. Overtime is only five minutes long and there can only be three players on at a time, so coaches often choose their smartest, most finesse players that they can count on to play man-to-man coverage and not lose their assignment. Konecny has been rewarded with being on the first 3-on-3 line for the past two overtimes and both times he has had a point on the winning goal, including his game-winner against Washington over the weekend.
There's Something Brewing on Broad Street
Despite a 10-game losing streak early in the season, the Flyers have jumped back into playoff contention mostly due to their recent play. While not all of it can be attributed to one player or one line, the Flyers are building something special and if their success is going to continue they're going to need contributions from Travis Konecny and the first line.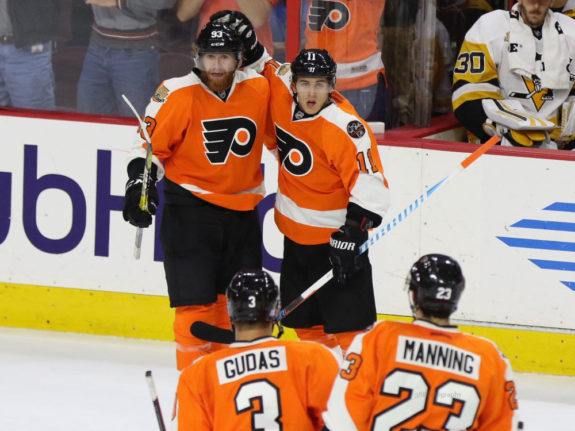 Currently, Konecny is at a 0.43 point per game pace which would have him ending the season with a career-high 35 points. If he can continue at the 0.83 points per game he is averaging over the past 12, though, he would set a new career high of 49 points (assuming he stays healthy for the final 35 games).
Consistently improving as the season progresses, Travis Konecny is a game changer for the Flyers.