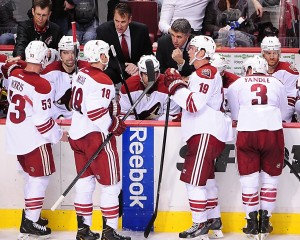 "We haven't been very good for a while."
"You have to be better. If you don't understand that, you shouldn't be part of this group."
Captain Shane Doan handed down these blistering indictments of his entire Phoenix Coyotes team, himself included, when they hit an ultimate low point during a recent slump.  After falling behind early and dropping a home contest to the Anaheim Ducks by a 5-3 final score on January 11, the team ventured on the road two nights later and were dealt a 5-1 thrashing by the Winnipeg Jets.  Coming off their most lopsided loss since the first full week of the NHL season, it was definitely time for the Coyotes to take stock of things and assess what had gone so horribly wrong after an initial strong start to the 2013-14 campaign.
Although probably more than elated to leave Winnipeg in the rear-view mirror after a downright embarrassing performance, the Coyotes couldn't sidestep the cold, hard, and disturbing facts.  The team had only won once thus far in January in six outings, the lone victory against a far from stellar Calgary Flames squad.  They only won five out of thirteen games the entire month of December, and had not notched a victory over an above .500 NHL team since a December 10 road win over the Colorado Avalanche.  It was definitely a low point, and head Coach Dave Tippett echoed many of Doan's frustrations.
"We're not a very cohesive group right now," Tippett said after the loss to Anaheim.  "When you're chasing games you look out of sorts and that's where we are."
After the atrocious outing in Winnipeg, the bench boss was understandably even more blunt in assessing the state of the team.  The Coyotes committed four penalties in the opening period alone, enough to make Tippett's blood boil no matter how freezing cold the winter Winnipeg air was blowing outside MTS Centre.
"You come out and take four minors in the first period, that pretty much shows our commitment to winning," he insisted.  "We just kept making mistakes and they kept capitalizing on them, and it was just downhill from there . . . We're not doing a good enough job moving the puck and creating opportunities in the offensive zone, and we were penalty killing the whole game."
"We're talked out and have had more meetings that you can shake a stick at.  It's about doing now, and we'll see if we can do it."
Walking The Talk
The Coyotes were back in action the following night at Scottrade Center to face off against one of the league's best: the St. Louis Blues.  Despite not being afforded even one day off to fully absorb the prior evening's debacle at The Peg, the gravity of the situation started somewhat sinking in; the team played a more solid game overall and initiated the process of putting words into action.  At the final horn, the Coyotes took another loss by a final score of 2-1, but Tippett was nonetheless pleased with a much stronger performance than the evening prior.
Dave Tippett: "Usually when you're in a bit of a slump you've got to earn your way out of it. We took steps in the right direction tonight."

— Arizona Coyotes (@ArizonaCoyotes) January 15, 2014
Veteran players on the Coyotes roster, including forward Radim Vrbata, echoed their coach's sentiments after the narrow loss in St. Louis, in addition to further reiterating that getting back on track is a team effort requiring everyone to put skin into the game.
"[We had] a couple of chances, a couple of shots that didn't go in, but in our position we have to look at the positives and build on them," Vrbata said.  "Last game we hopefully hit rock bottom and you have to climb up right now.  It's not going to get any easier, nobody is going to do it for us, so we have to do it ourselves and find a way somehow."
"Tonight was a step in the right direction," added forward Dave Moss.  "Sometimes when you're fighting to get out of the hole, you can see yourself getting close, we've got to take the positives and get ready for [the next game]."
"They always say it's darkest before the dawn so hopefully things get turned around," asserted forward Rob Klinkhammer.  "We've just got to be consistent and disciplined in all areas of the game . . . Try to play the full sixty, that's kind of been our issue the whole year, and we've really gotten away from that lately."
When the Coyotes returned to home ice later that week, they further affirmed their renewed commitment to winning, blanking the Vancouver Canucks 1-0 and giving netminder Mike Smith his first shutout of the season.  Perhaps most significantly, that win was the terminus to over one month of failed efforts to defeat an opponent with an an above .500 record.
Two nights later, the New Jersey Devils ventured into the desert for the first time since 2011.  The Coyotes exhibited perhaps their most dazzling defensive prowess thus far, blocking an eye-popping 26 shots en route to a 3-2 victory, giving Tippett his 450th NHL coaching win.   They scored a power play goal for the seventh straight game and committed only two penalties.
Dave Tippett: "It was a well played game by both teams… like a track meet out there it was going back & forth so quick. Lots of flow."

— Arizona Coyotes (@ArizonaCoyotes) January 19, 2014
Unfortunately, the Coyotes couldn't keep the momentum flowing to extend the brief winning streak, dropping a 4-2 contest two nights later to the Toronto Maple Leafs.  Tippett again lamented the team's failure to capitalize on scoring chances, something they Coyotes have struggled with throughout their recent slump, noting that "everytime we got some momentum, we took a penalty . . . it's hard to go and play and have weak links in our lineup."
"We had opportunities we didn't bury and that was the difference in the game," Doan added.  "We did a lot of things right, but there are obviously things we have to get better at."
Next Steps: Translating Improved Play Into Results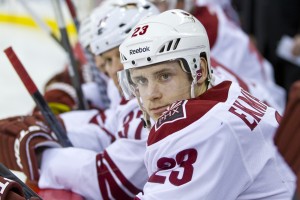 After the three game homestand, the Coyotes  proceeded down the strenuous January path, embarking on a three game road swing through Western Canada.  They finished the trip 1-1-1 after a regulation loss in Calgary, a win in Edmonton, and an overtime loss in Vancouver.  Coach Tippett noted that while everyone continued taking ownership and stepping things up, the revived effort still wasn't translating into the desired results.  The bench boss's concerns were spot-on relevant, since the Coyotes can ill-afford to leave points on the table a tight Western Conference playoff race, a prolonged marathon expected to go down to the wire when the regular season wraps up in April.
"Just playing hard doesn't get you wins," Tippett said after the loss in Calgary.  "You've got to find ways to win, and that's where we're at."
The 4-3 win in Edmonton bestowed a degree of positive momentum, particularly upon Vrbata, who ended a dry spell by lighting the lamp for the first time in 14 games.
PIC- First goal in 14 games earlier tonight for Radim Vrbata. He felt good when that one hit the net. #Coyotes pic.twitter.com/b4ozfSsYeD

— Arizona Coyotes (@ArizonaCoyotes) January 25, 2014
Nonetheless, it still wasn't all smiles for Coach Tippett.  Not so much a pessimist, but more of a realist, he expressed concern over the team's apparent defensive meltdown after jumping out to a 4-0 lead, then nearly allowing the Oilers to mount a successful comeback.  After the Coyotes concluded the road trip with a 5-4 overtime loss in Vancouver (despite Antoine Vermette's second hat trick this season), Tippett said that "in the NHL you can't give up five goals and expect to win."
Overall, the pieces are in place for the Coyotes to make a strong run heading into the Olympic break, and an even stronger run down the home stretch.  There is no shortage of talent on the roster, and the Coyotes proved at the season's onset that they are capable of competing at an elite level.  Now, it's just a matter of fitting the pieces together, playing consistently every night, owning up to mistakes, and translating everything into results.  Once this happens, the Phoenix Coyotes will not only receive a well-earned postseason invite, but become as strong a contender for the Stanley Cup as any other playoff team.
For More On The Phoenix Coyotes, Follow Casey Gagnon on Twitter @CaseyPSH