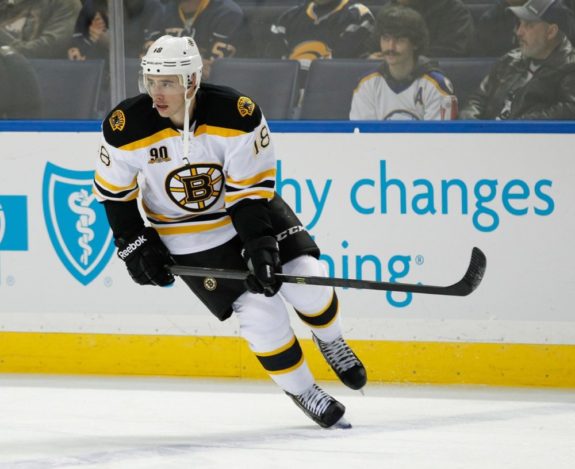 Youngster Reilly Smith has made quite the impact on Boston's offensive presence this season, so much so that it can be argued the right-winger deserves a nice contract extension from the Bruins following the 2013-2014 season, when he becomes a restricted free agent.
Before the Trade
Before Reilly Smith was traded to Boston, he was drafted 69th overall by the Dallas Stars in the 2009 NHL Entry Draft, and signed to a three year entry-level contract  in 2011 that expires this year. He played for Miami University's hockey team for three seasons, where he scored an overall 122 points in 121 games played.  He played on the Redhawks' first line during his sophomore and junior years at Miami, until he was called up to Dallas in 2012. In three games played in the 2011-2012 season, he earned no points and was sent to the team's AHL affiliate, the Texas Stars, the following season.
Check out a goal by Smith with the Texas Stars against the Heat below…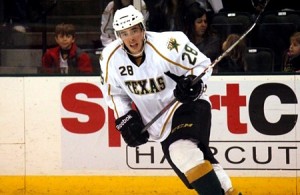 During his time with the Texas Stars in the 2012-2013 season, he registered 35 points in 45 games played, finishing the season in fourth place for goals (14) and points for the team, though he went on to play 37 games for Dallas midway through the season following the conclusion of the lockout that resulted in the shortened 2012-2013 season. With the Dallas Stars, Smith was only able to score 3 goals and assist 6 others for a total of 9 points in nearly 40 games, which is shocking given the success the 6'0″, 185 lb. Smith the Bruins know.
From Dallas to Boston
Reilly Smith's trade from the Dallas Stars to the Boston Bruins was announced on July 4th, 2013, as a result of Tyler Seguin's horrendous play off run. Though Smith wasn't the only player the Bruins were after, the Mimico native seemed to settle in and catch onto the Bostonian lifestyle fairly quickly.
No matter what your looking for in Boston, it's next to a Dunkin Donuts

— Reilly Smith (@reillysmith18) September 20, 2013
But in all seriousness, when Smith was traded to Boston in the unforgettable Seguin trade, he was also joined by Loui Eriksson, who seemed to be the key piece that would make trading away a young star forward justifiable. But Eriksson hasn't been a focal point of the Bruins lineup for much of the season, suffering two concussions in the span of 45 days that sidelined him for 15 games. Eriksson only has 6 goals and 12 assists in 33 games played, while Smith has 18 goals and 22 assists in 53 games. That, combined with the fact that Smith led the Bruins in points and continues to lead the team in goals, makes him the more notable pawn in that trade.
Smith's total 40 points so far this season puts him currently in second place for overall points on the team, following David Krejci, who stands at first place with a 5 point cushion. He has surpassed Bruins greats and fan favorites Milan Lucic (36), Patrice Bergeron (35 ) and Brad Marchand (33) in points, which earned him a spot on the Bruins' second line with Marchand and Bergeron, a spot that was previously held by Loui Eriksson.
Smith was quoted saying earlier in the month that, "I think so far my play has spoken for itself…so it's more just helping the team and trying to get wins instead of what line or how many minutes."  Pretty modest, for a guy who has earned himself a coveted position on one of the Bruins' most successful lines and has quickly become a fan favorite.
Last Five Games
In Smith's last five games with the Bruins, he scored three goals and earned two assists, including a power play goal against the Florida Panthers on January 28th. Though he was uncharacteristically unable to produce anything in Thursday night's rivalry game against the Montreal Canadiens, he played the most minutes on the ice out of those last five, with 19 shifts and a total of 17:07 minutes.
Watch Smith's Flyer-splitting goal in Philly on January 25th below…
His pure offensive talent has put the rookie in 34th place overall in the National Hockey League for goals, and with a game against the Edmonton Oilers coming up for the Bruins on Saturday, he should continue to add points to his decent collection and continue to impress.
So a question for you Bruins fans – with the likely departure of current roster members next season, and with his success on the team so far this season, do you think Reilly Smith deserves an extension? Send me a tweet @smithwhitney with your opinions. 
Check out our partners at TiqIQ for the best deals on Boston Bruins tickets for all 2013-14 games.
Portland, Maine native. Bruins contributor for The Hockey Writers and Pittsburgh Penguins and AHL writer for Puck Rant. Follow me on Twitter and Instagram for more hockey-related posts! @smithwhitney