For a player like Phoenix Coyotes' forward Paul Bissonnette, a lockout can mean an extended vocation, less time in the press boxes, and more time on twitter. But following in the same footsteps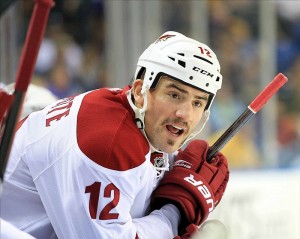 as many other NHLers, Bissonnette locked in a contract that would see him play overseas for the remainder of the lockout.
The self imposed '4th line grocery stick' will now be joining the Hurricanes' Anthony Stewart in the Elite Ice Hockey League in the United Kingdom. Opting to not play with Kovalchuk and the Soviets in the KHL, the Welland, Ontario native will be heating up the ice for the Cardiff Devils. The Devils, based in Wales, looked to bulk up the roster after losing a few key players to suspenses and injuries. The recruiting of Paul 'Biz Nasty' Bissonnette might be the answer to the call that the Welsh team had placed.
No Time Wasted
Lacking solid ice time and game experience isn't anything new as Bissonnette has only averaged 40 games per season in his three years with the Phoenix club. But along with signing with Cardiff, the chance of proper ice time will present itself. Something the hockey socialite has taken and ran with. Having not wasted anytime since arriving in the UK, Bissonnette scored his first goal in his debut outing with the club, in the first 72 seconds of the game. Before ending the game, Biz would add an assist to the 7-5 victory over the Braehead Clan.
Now sitting cosy with three points in two games, a point total that is more than his points combined in his last two seasons, the Phoenix winger will look to build off a solid start. Of course the EIHL may not produce the same caliber play that Biz is used to seeing at the NHL level, more ice time and a role as a depended on play maker might be what the 27-year old needs to make it as a full time player on the Coyotes' roster.
Bissonnette is set to face off against Anthony Stewart when the Cardiff Devils play the Nottingham Panthers on November 24.
Contact the Author
Twitter: @edmchvz – Email: edm.chvz@gmail.com