You have to give credit where credit is due. Up to this point, despite the absurd number of injuries suffered by key Pittsburgh Penguins, they've somehow maintained a high level of play while staying in the mix for the best overall record in hockey. Unfortunately, that isn't the case now. This team needs to get healthy in a hurry.
The Penguins have dropped four consecutive games and have been outscored 11-3 in their last two outings. They've been dominated in possession — normally one of their biggest strengths — as their opponents are burying them in their own zone with no evident escape routes. This is what happens when you're deploying a bunch of AHL talent for an extended period of time, especially on the blue line in a system that relies so heavily on defensemen transitioning up ice quickly and contributing on the rush.
Their depth has filled in admirably, and the Penguins deserve credit for building such a stocked cupboard of individuals capable of performing in a pinch. The expiration date on these guys has passed, though.
Trickle-Down Effect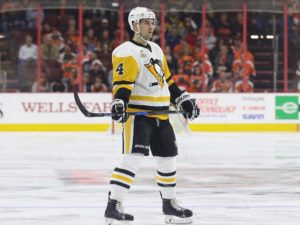 Maybe the correct term in this case is trickle-up effect. The issues Pittsburgh is facing on their blue line stem from inexperience and a lack of NHL talent. When others try to overcompensate for those shortcomings, it will normally result in a less-than-favorable outcome.
The Penguins found themselves in a hole early on Wednesday night, facing the Chicago Blackhawks. Pittsburgh's offense had it's struggles but more glaringly was the fact that their defensemen were simply overmatched. They were turning the puck over at their own blue line, forcing plays, and committing ill-timed mistakes that led to a multitude of odd-man breaks. Marc-Andre Fleury was hung out to dry all night — and eventually — even Pittsburgh's most trusted defensemen were following suit and making the same mistakes.
When you're forcing things that just aren't there, this is the result.
Schultz jumps up on the play, despite Ryan Hartman already heading toward his lane. Tom Kuhnhackl attempts to feed Schultz, though the better option was to cycle the puck back below the goal line. Ultimately, the Blackhawks turn up ice with a three-on-one and Marian Hossa goes top shelf on a sprawling Fleury. Schultz made it clear that he was to blame when he spoke afterward.
"First one I jumped in too early. I didn't really give Kuhnhackl a good option there. that was on me", Schultz said when discussing this specific goal. He's right, but it's hard to blame him for taking a chance in a 3-0 game with little happening for the Penguins. They needed a spark and if that play connects, Schultz has a great opportunity to bury a one-timer from the dot. It didn't work out that way, though, and Pittsburgh was ultimately left with an insurmountable deficit to overcome. They looked lifeless for most of the game — just as they have for the last week or so — and seem as if they're simply trying to survive the remainder of the regular season without further injury.
And honestly, is that really a bad thing?
A Meaningless Conclusion
Prior to the start of this four-game slide, the Penguins were still facing meaningful regular season hockey games. They had an opportunity to keep pace with the Washington Capitals for first overall in the East, a likely President's Trophy bid, and home ice advantage throughout the playoffs. Oh, and a first round matchup with the second wild card team, as opposed to facing the Columbus Blue Jackets.
That's all history now.
The Capitals have won six straight games and boast a 7-2-1 record in their last 10. They currently lead the league with 110 points — and with only six games remaining on the schedule — they're essentially out of reach for the Penguins. Technically, Pittsburgh could still catch the Blue Jackets to give them home ice in the first round but without the return of their injured cast of players, or at least a few of them, it's a big ask of this group. Looking at things from that perspective, their remaining six games are meaningless, and simply exhibition contests at this point.
The main focus — at least for the next two weeks — is getting healthy and ready for postseason play. Pittsburgh's first two rounds will likely go through Columbus and Washington, quite the start to a postseason run. The good news is, they'll have plenty of players returning from injury well rested. Will they be ready for the pace of the playoffs? If there's a team in the NHL that understands what it takes, and how to prepare for the grind of the postseason, it's this Penguins lineup.
They'll be ready.