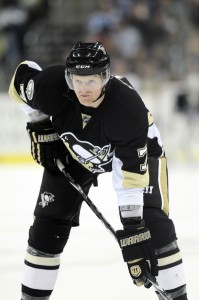 Pittsburgh Penguins injuries are hampering the team. Paul Martin, Tanner Glass, and Beau Bennett are likely to be out of the Penguins' line-up for at least a month.
Martin fractured his tibia blocking a shot against the Boston Bruins on Monday and will be out 4-6 weeks. Martin continued to play after taking a shot off of his leg. He's been the Pens' most consistent defenseman at both ends of the ice (2G 9Ast). Martin will be missed by a defensive corps that's given the puck away too often of late. Martin's most notable difference was his addition to the Pens' top power play unit. His presence has given a boost to a power play unit that's on fire right now.
Glass broke his hand blocking a PK Subban shot while penalty killing. Last year, we would've laughed if told the Pens would miss Glass due to an injury. He's the most improved player on the team from a year ago. Glass has been a phenomenal penalty-killer and is second in the league with 99 hits. He's expected to miss 3-4 weeks with his broken hand.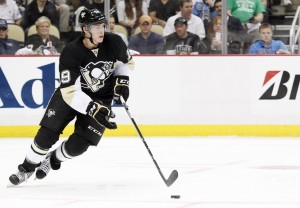 To add to the Penguins' injury problems, Beau Bennett is going to be out extensively after having wrist surgery. Bennett is expected to miss 8-10 weeks due to his second setback of the season. Bennett missed 11 games to start the year with a lower-body injury. Bennett still has much to learn being in only his second NHL season. More concerning, is the frequency in which Bennett has been injured. This is the second time Bennett has gone under the knife for a wrist surgery. In 2011, while playing at the University of Denver, Bennett had a ruptured tendon repaired in his wrist.
Due to the injuries and the release of forward Matt D'Agostini, the Pens have called up a handful of players from their AHL affiliate, the Wilkes-Barre Scranton Penguins:
F Andrew Ebbett
F Jason Megna
F Zach Sill
D Simon Despres
Forward Brian Gibbons was re-assigned to WBS.
Justin Glock has covered the Pittsburgh Penguins for The Hockey Writers since 2011. As a lead writer, his Penguins knowledge traces back over two decades. For any requests, please feel free to contact Justin via email: JGlock10@gmail.com.