Somehow, Jim Rutherford and the Pittsburgh Penguins continue to find struggling players who — after falling by the wayside from their previous club — become major contributors within the lineup. It's about the right fit, of course. But there's a lot to be said for recognizing a player's skill set while drowning out the negativity about them.
NHL general managers tend to follow each other's lead in most cases. He didn't fit with that team? It must mean he's a subpar talent, right? It's a flawed mindset.
Justin Schultz is a notable example of this. The Penguins acquired him from the Edmonton Oilers in February 2016 and used him in a support role, prioritizing his development under Sergei Gonchar's tutelage, and ultimately elevated his confidence level to a point where he was again comfortable trusting his instincts. The move paid major dividends. Ian Cole, Carl Hagelin, Trevor Daley and yes, Phil Kessel (the team's MVP this season), all fall under the same umbrella in their own way as successful reclamation projects under the Penguins staff.
Jamie Oleksiak is next in line.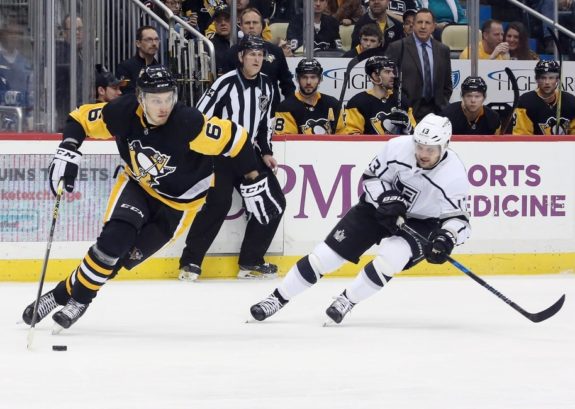 The Penguins' 'Tree'
In the movie Mystery, Alaska, Adam 'Tree' Lane was a monster of a man that needed to be pushed and prodded in order to use his size effectively. When the Penguins acquired Oleksiak from the Dallas Stars, he was considered soft for a big guy and an overall disappointment for a former first-round draft pick.
Soft is the opposite of how he's played in Pittsburgh. Below, he comes to the defense of arguably the toughest player in the league, Ryan Reaves.
Oleksiak has been a physical presence on a blue line that lacked exactly that. His 79 hits rank third in the NHL since Dec. 21, his first game in Pittsburgh. He's dropped the gloves twice — both times against division rivals — and he's surprising everyone with how well he uses his 6-foot-7, 255-pound frame.
While that's all well and good, the most impressive part of his game is his mobility for such a large man. He can skate, he's good with the puck and has a bomb of a shot from the blue line. Rutherford and company struck gold again.
DefendingBigD.Com, the SB Nation site that covers the Dallas Stars, wrote the following at the time of the trade:
Oleksiak has been, for a while now at least, a polarizing player within the Dallas Stars fan base. For some, Oleksiak represents an abject failure by the Stars to draft and develop defensemen that are solid at the NHL level. For others, Oleksiak represents untapped potential – and the fear that the right system, coach, or situation organizationally will turn him into the Zdeno Chara-esque blueliner most dreamed of when the 6' 7" specimen of a human was when he was drafted.
Chara-esque is a lot to ask of anyone, though Oleksiak's size and pedigree make you wonder what his future holds at this point. For now, the Penguins are happy to give up a conditional fourth-round pick for a defenseman that has helped solidify their third pairing and has the potential to grow into a larger role.
Jamie Oleksiak's Resurgence
A change of scenery, systems, linemates or even a different coaching staff can have a major impact on a player. Jim Nill and the Dallas Stars' brass, as well as those that cover the team, weren't wrong in their assessment of Oleksiak during his tenure with the organization. He wasn't very good and his numbers reflect that.
It's been a different story in Pittsburgh, even with a struggling Matt Hunwick flanking him for much of his time in black and gold. A high-level view of Oleksiak's numbers reflect a less than stellar showing but remove Hunwick from the picture and things change drastically.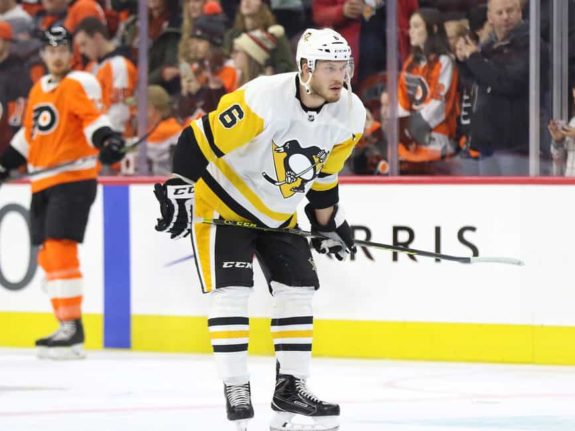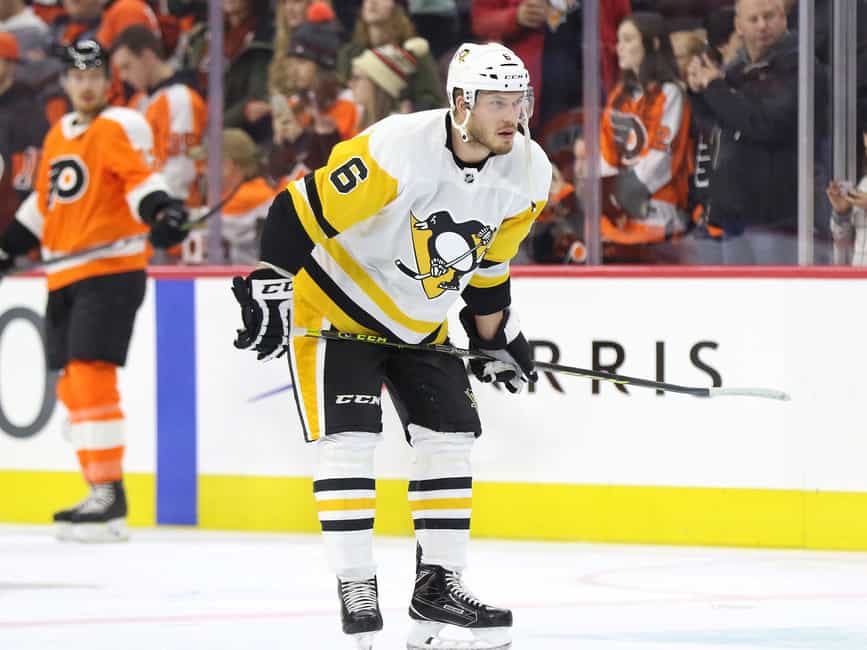 With Oleksiak on the ice alongside his current defensive partner, Ian Cole, the Penguins are accounting for 58.9-percent of even-strength scoring chances and continue to maintain a positive shot attempt differential. He's been a contributor on the penalty kill, is trusted by Mike Sullivan in nearly all scenarios and he's rewarding the Penguins with solid play. He immediately grabbed a full-time spot in the top-six when he arrived and from the looks of it, he isn't giving it up anytime soon.
A resurgence, indeed.
It isn't easy to escape the 'bust' tag once it's bestowed upon you. Oleksiak knows that a first-round draft pick comes with certain expectations, and he didn't live up to them with the Stars. It could have been coaching, a systematic issue with how the team plays or Oleksiak himself but he's  on the right path now.
If he continues to grow and develop as planned, there's no telling where his ceiling is with the Penguins. A restricted free agent at season's end, it looks as if the team will lock him up and make him part of their long-term plans. At least for the moment, he's proving that he deserves it.
Pittsburgh Penguins writer for TheHockeyWriters.Com and PittsburghHockeyNow.Com. Youth hockey coach, and student of the game.