Red Wings General Manager Ken Holland has confirmed Detroit will be a seller this deadline and while Nick Jensen won't be among the handful of untouchables, he shouldn't be involved in any hasty decisions.
In October 2016, the defenseman was primed to be another victim of Holland's waiver wire infatuation. He would end up clearing, though, likely due to his lack of NHL experience at 26 years old. Jensen was assigned to the Grand Rapids Griffins, but not for long.
A Surprise in Detroit
Heading into training camp in 2016, there was a single defensive spot available, which was a fight between Ryan Sproul, Xavier Ouellet and Jensen, who was a long shot at best.
Jensen was three years older than the pair, had the least amount of NHL experience and seemingly zero expectations as a prospect; his presence in camp was basically a formality to the team.
He was placed on waivers alongside Mitch Callahan, Eric Tangradi, Brian Lashoff and Martin Frk, who would be claimed by Carolina. Jensen started 2016-17 with the Griffins, recording a goal, six points and a team-best plus-8 rating through 27 games.
On December 19, 2016, Jensen received his second NHL call-up—and first action—following an injury to Alexey Marchenko. He debuted against the Tampa Bay Lightning the following day where he played 15:33, recorded an assist and finished even in the 4-1 loss.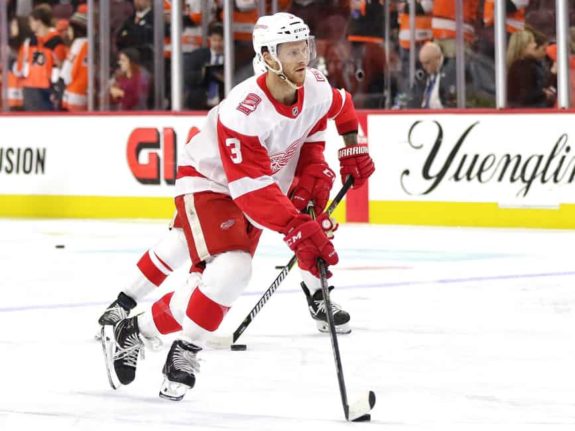 His NHL stint turned into 49 games with the Red Wings' missing just one game the rest of the way as a pleasant surprise on the backend. In late February, the team signed him to a two-year, $1.625 million extension.
"From the first game on out I think every day I was just going in there just trying to make my way back into the lineup every game, just proving myself every game trying to get in there," Jensen said following the extension.
He finished the season with four goals, 13 points and a minus-7 rating, which was ninth on the team among players to have skated in at least 40 games. A fifth-round pick in 2009, Jensen looked like the stable, two-way defenseman he had established himself as in every league prior and was now translating to the NHL.
A Blue Line Mainstay
Jensen's play and familiarity with Jeff Blashill from Grand Rapids earned him his coach's trust last season. He hasn't quite taken the next step through 55 games this year, but there's a reason the 27-year-old has suited up in all but one game. He's shown he can be more effective than the 15:00 of ice time he's averaging this year, nearly three minutes fewer than 2016-17.
Even with the decrease in ice time, his offense has maintained a comparable level to last season with 11 assists to date. He's still chasing his first goal, which has been evasive through his first 65 shots this season, but with 20 shots over his past eight games, it's only a matter of time.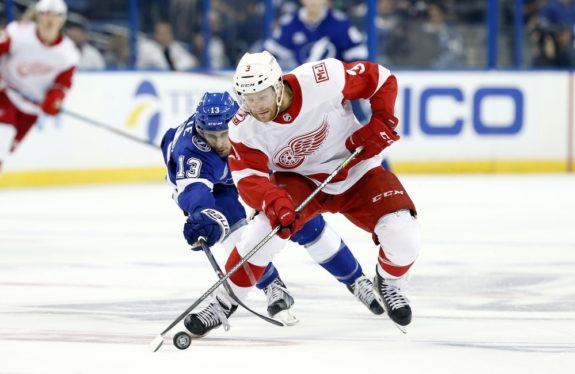 His minus-5 is uncharacteristic of his two-way resume, but with a 49.5 Corsi For percentage, he leads all Red Wings defensemen who have played in more than a single game this season.
Holland is retooling and it's believed that Dylan Larkin and Anthony Mantha are the only untouchables on the current roster. Cap space and youth are the goals. That mean's 30-somethings Niklas Kronwall, Trevor Daley, Jonathan Ericsson and Mike Green—who is probably on his way out—should all be on the block given their cost and term.
With a very manageable cap hit of $812,500 through 2018-19, full-time usage and favorable upside, the 27-year-old Jensen has shown he's perhaps the most untouchable part of the blue line—he was even protected by Detroit in June's expansion draft—so it's easy to see the team has faith in him.
Sure, he hasn't exactly been noticeable this season, but that's often a good thing for a defenseman on a bottom-dwelling team and in his case, it is.
I offer opinions and insight on the Detroit Red Wings organization and its prospects.