The Pittsburgh Penguins welcomed the Columbus Blue Jackets to PPG Paints Arena with open arms, and plenty of open ice. After a decent start to Game 1, the Penguins fell apart. Columbus dominated the first frame but Marc-Andre Fleury — playing in relief of Matt Murray after he was apparently injured in warm ups — was up to the task. He was brilliant, and the Penguins eventually found their scoring touch despite being shaky in a lot of other aspects of the game.
In a way, they played the role of Rocky, absorbing punishment but striking at opportune times and eventually leaving victorious.
The biggest concern heading into this series has been Columbus' punishing physical play. The Blue Jackets' Scott Hartnell made sure to stir the pot and reinforce those assumptions when speaking with the media prior to the series kicking off. Still, the Penguins stayed the course. Three Penguins — Scott Wilson, Bryan Rust, and Justin Schultz — went to the locker room with injuries but all three returned shortly after. And when Pittsburgh struck, they hit Columbus with a haymaker that left them woozy enough to keep them down and out for the remainder of the contest.
Playoff Phil's Return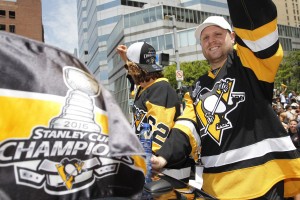 Phil Kessel struggled down the stretch run of the regular season. He piled up assists but let's be honest, if Kessel isn't scoring goals with some sort of consistency it becomes a focal point for everyone, so the fact he scored two goals through the Penguins' final 26 games was on the minds of the masses. With Evgeni Malkin out of the lineup, as well as numerous other key forwards, Pittsburgh needed playoff Phil.
He didn't make his appearance at that point but it seems as if Kessel has flipped that switch for the postseason once again.
One game is a small sample size, but Kessel had a phenomenal Game 1. He looked more engaged than we've seen in months — at both ends of the ice — and he was willing to fire the puck when given the opportunity. Head coach Mike Sullivan recently spoke about asking Kessel to use his shot, stating that there's no such thing as a bad shooting area for a guy like Phil.
That shot was on full display Wednesday night.
The most impressive part of that goal is that Kessel never really looks at the net, but instead, he continues to show pass which means Columbus defenseman Scott Harrington has to account for that. It leaves an open shooting lane, and he somehow threads it top shelf while leaning away from the shot. He also made an impressive play to assist on the opening goal when he kicked a pass from Malkin to Bryan Rust, who eventually buried it from the slot. Phil ended up getting credit for seven shots last night, according to NaturalStatTrick.Com, which led all players.
He responded to Sullivan's request to shoot more, and it paid dividends.
Flower Power
According to the Penguins, Murray was expected to start but suffered an injury during warm ups. That may or may not be the case, but that's a discussion for another time. Fleury stepped in and is arguably the only reason Pittsburgh had a chance to strike Columbus as they did.
Columbus out shot the Penguins 16-3 in the first period, and dominated them in total attempts by a tally of 23-7. After the period approached the halfway mark, the ice was severely tilted toward Pittsburgh's end and Fleury was busy. Overall, the Penguins did a good job of keeping those shots outside, mainly from the perimeter and out of prime scoring areas but the Blue Jackets still managed a few great opportunities. The second period was all Penguins but in the third, as expected when trailing at that point, Columbus was throwing everything at the net. They recorded a total of 25 shot attempts that period and 12 were on net.
And with just over two minutes remaining in regulation, he made an impressive sequence of saves to keep the Blue Jackets down two.
Murray did not practice on Thursday, and all indications point to him missing at least one more game. Following practice, Sullivan said he's suffering from a lower-body injury and there is no timeframe for his return. If Fleury continues this level of play, Sullivan will be hard pressed to remove him from the crease in favor of Murray upon his return. With goaltenders, especially in this unique situation where the Penguins have two legitimate starters, it's best to ride the hot hand as long as you can. Technically, that's what happened last spring and we all know how that worked out. The postseason is a long ride, and there's no telling what can happen in the coming weeks but for right now, Fleury is the guy and the Penguins are perfectly fine with that.