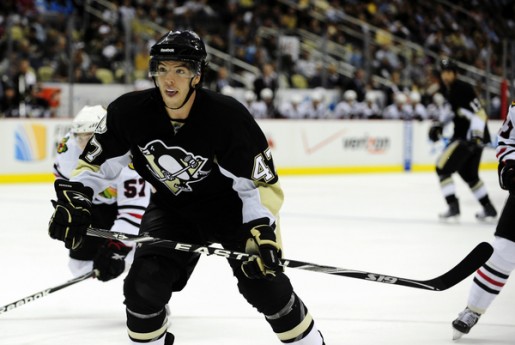 It's not like the Pittsburgh Penguins to get caught out of position on any circumstance off the ice. That includes the freshly-shuttered 2012 NHL lockout, which surprised exactly no one.
Pittsburgh's front office prepared for the stoppage by bolstering their minor-league affiliates and paring down their NHL payroll among other moves, which will come into greater focus as teams are forced to navigate the NHL's new economic waters.
As a result of those moves, few teams with a competitive rosters are as equipped to handle next year's $6 million cap reduction as the Penguins.
The team's front office seemed to begin preparing for the shutdown last summer in free agency and continued to do so at the NHL Draft. The new roster is trimmer than the one the team sent to last year's playoffs, but is ultimately better-equipped to handle the post-lockout NHL.
While those moves will eventually play out on the ice, it seems, on paper, that Ray Shero, Jason Botterill, and the rest of the management team have their club well-positioned for the new NHL economy.
2012 Offseason
The good work began almost immediately. The trade-and-sign of Tomas Vokoun in early June was Shero's first free agent salvo. The Penguins traded for Vokoun's rights and signed the veteran goaltender to a two-year deal shortly thereafter.
The deal had its obvious merits. Proven asset. Favorable contract. Provides competition for Fleury, who struggled awfully against Philadelphia. But the real foresight might have been in anticipating the compressed lockout schedule, as Mike Colligan broke down last month.
I didn't realize that the strength in goal would allow the Penguins to unload Michalek and gamble with a new crop of young defensemen.  Or that the extra salary cap space gained by the moves would put Shero in a better position when the cap falls to around $60 million next summer.  Or that having two "starters" would be extremely valuable when teams are forced to play four games in five nights on a regular basis this spring.
Vokoun's wasn't the only strong deal. Tanner Glass was a cap-friendly replacement for Arron Asham, and Matt Niskanen was retained for a very affordable $2.3 million over two years. After a shaky start in Pittsburgh, Niskanen was at times the team's best, or at least healthiest, defender. Those deals addressed areas of fringe need without putting the team in cap trouble.
For an example of what overpaying fringe players does to a free agent economy, take a look at the Panther's roster and wonder what part their payroll played in a lockout that wished to address runaway player salaries.
Jordan Staal, Zbynek Michalek Trades
The Pirates aren't the only team in Pittsburgh that knows how to shed salary. The Penguins cleared themselves of some $10 million in letting go of Jordan Staal and Zbynek Michalek.
Plenty of teams will be forced to offload salary to comply with the coming $64.3 million salary cap in 2013-14. And while many will do so by buying out bloated contracts or making salary dump trades of expensive assets, the Penguins offloaded some of their big pieces at a time when other organizations were signing average and slightly-above-average talent for as much money and as many years as possible.
The losses look tough on paper, but aren't without potential upside. Staal wasn't going to sign with the Penguins seemingly at any price, and Michalek had endless trouble adjusting to Dan Bylsma's defensive philosophy.
By dealing those players before the seller's market became a buyer's market, the Penguins got back a first-round draft pick, an NHL center, a number of prospects and, perhaps most importantly, precious cap space.
As many have said in anticipation of shrinking salary pools, cap space is an asset. The Penguins got cap space, in addition to excellent value on prospects and draft picks, by making their salary maneuvers ahead of the market.
Continued Draft Philosophy
When free agency begins this summer, the Penguins will be able to begin negotiating contract extensions with Kris Letang, Evgeni Malkin, Brooks Orpik and Matt Niskanen, among others. There's no way to tell where the team will stand under the cap ceiling at that point, but two things are certain:
1. Evgeni Malkin will receive an 8-year (max term) contract extension for a cap hit that will likely exceed Sidney Crosby's $8.7 million AAV contract, and
2. No defenseman is irreplaceable.
Pittsburgh has the deepest defensive prospect pool in hockey. By a mile. Three former first-round picks, three former second-round picks and two to three of them might reasonably crack a lesser NHL roster when the season begins later this month.
That kind of flexibility means that even a player of Letang's talent is not irreplaceable. He'll be in line to receive a significant bump from his current $3.5 million AAV salary, and Brooks Orpik is not going to receive another $3.75 million per year from the Penguins at age 34.
Pittsburgh acquired three defensemen in the Staal and Michalek trades in Derrick Pouliot (Carolina's first-round pick), Brian Dumoulin and Clark Seymour, and have used their first- and second-round picks in each of the last two drafts on defensemen.
The salary cap forces clubs to choose weaknesses in their rosters at one position or another, but depth on the blue line won't be such a problem, even if the team must part ways with mainstays like Orpik or Letang.
Sidney Crosby
An easy one. Crosby signed what may well go down as the longest contract in Penguins history. His 12-year extension was Shero's only entry into last summer's long-term contract binge, and one of the few that will justify its term and total cost.
The franchise center is set to stay in Pittsburgh for the rest of his career, and as a relative bargain at $8.7 million per season. Re-signing Crosby once or twice more under the rules of the new CBA may not have been a challenge, but knowing where the captain stands will remove one big salary variable when the time comes to re-up players like Malkin, Letang, or Marc-Andre Fleury.