The Pittsburgh Penguins are somewhat of an enigma this season. They look dominant for a few games and all of the sudden fall apart for a few. Young star defender Olli Maatta is no exception and he might have just played the worst game of his career in the Penguins 5-1 loss to the Boston Bruins.
It was a game filled with poor decisions, out of position play and a lack of support from defensive partner Kris Letang. Anyway you look at it, Olli Maatta was flat out bad during that game.
There was this play where Maatta made a risky play trying to move the puck up the ice that led to a goal by the Bruins. Some, including myself, think that Letang should have moved the puck up to Matt Cullen who was coming across and was wide open, but he opted for the safer play to move the puck back to Maatta.
Another breakaway ensued when both Olli Maatta and Letang got caught too far in the Bruins zone and guess what, Boston scored on that play.
Olli Maatta's Play Doesn't Concern Pittsburgh Penguins
Despite his recent poor play, Maatta is still a plus+18 skater, a mark that is second on the team behind Chris Kunitz and the third highest player is Ben Lovejoy at plus+9. And for some more context, Olli Maatta is 15th in the NHL in plus/minus.
While this basic statistic is highly contested, when you're on one of the extreme ends of the spectrum, it's significant.
In terms of even-strength production, Maatta is fourth on the team and produced .97 points per-sixty and has a Corsi For percentage of 51.1. Let's take a look at a rolling ten game average of his Corsi For percentages.
In terms of shot attempts, Maatta has been far from a liability since the beginning of December, but shot attempts don't show everything. You wouldn't know from this chart just how poorly he's played recently and the quality of chances he's allowed. While advanced stats are helpful, they're not everything and the amount of goals against that you can blame Olli Maatta for recently are extremely high.
But here's the kicker, the Pittsburgh Penguins aren't concerned with his play, and don't think for a minute that he's coming out of their top-four. Maatta might see some time on the second pairing, but he's not going down any further than that.
I previously discussed this in a previous article about why the Penguins passed on Christian Ehrhoff and it remains true.
The Penguins are happy that their young defenders, including Derrick Pouliot and Brian Dumoulin, are getting to play a lot of minutes. At age 21, Olli Maatta is playing on their top pairing alongside Letang, and there are few skaters that he wouldn't make look slow. Some of Maatta's slow speed is attributed to the vast difference in speed between him and Letang and that won't change anytime soon.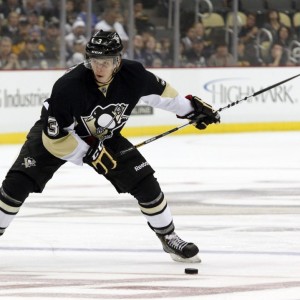 Look at Maatta's brief career, he really is only in his second full season with the team. It's a fairly accepted notion with pro scouts and general managers that second year players regress some and Maatta is continuing the trend.
Tack on that Maatta has missed every training camp since his rookie year, battled through shoulder surgeries and cancer.
Everything starts to add up and yeah, 2015-16 Olli Maatta isn't the same type of impact player as the 2013-14 Olli Maatta. However, he's still on their top pairing, logging tough minutes and young players are going to make mistakes.
Fans of the Penguins have been screaming for more youth in the lineup for years. The organization had a belligerent faith in veterans over youth under Ray Shero and now under Jim Rutherford their Wilkes-Barre/Scranton call-ups have been playing well, but they're far from perfect and they've all made mistakes.
There's a trade off between youth and energy versus veteran presences and consistency, in most cases you can't have the best of both worlds. Young players are going to make mistakes and that's what we're seeing from Olli Maatta right now, but are the Penguins bothered by this?
Not at all.
Just a few hours ago, the Penguins announced they've signed Maatta to a six-year/$24.5 million extension that has an annual cap hit of $4.083 million.
The #Pens have signed Olli Maatta to a six-year contract extension with an AAV of $4.083M. https://t.co/Z2RzLPbLOX pic.twitter.com/PnlrVVe5KB

— Pittsburgh Penguins (@penguins) February 26, 2016
He's also been given a limited no-trade clause in the last two years of his contract. You can say that Pittsburgh wasn't concerned with Maatta's play, but now they've just proved it.
Thanks for reading! Feel free to leave your comments below or tweet me anytime @MPityk_PIT