Before the 2013-14 season, the Buffalo Sabres used their second compliance buyout of the summer on defender Christian Ehrhoff. He was only three years into a 10-year/$40 million contract that he signed with the Sabres after leaving the Vancouver Canucks. When he signed the deal, he had averaged .59 points-per-game with the Canucks over two seasons and had cumulative Corsi For percentage of 55.3 at even-strength.
However, his tenure with the Sabres was quite different. In those three seasons Ehrhoff was a -23 skater, produced .45 points-per-game and had a Corsi For percentage of just 48.7. On the one hand, switching from the Canucks to the Sabres was clearly a downgrade in terms of quality of teammates, but the Sabres had invested a lot of money into Ehrhoff to produce more. They decided the team was going to move in a different direction and his contract was bought out.
The #Sabres confirm compliance buyout on Christian Ehrhoff.

— Buffalo Sabres (@BuffaloSabres) June 29, 2014
Just two days after his contract was bought out, NHL free agency began and Christian Ehrhoff had a new contract. The Pittsburgh Penguins decided to take a chance on the veteran defender and signed him to a one-year/$4 million contract.
To say that Ehrhoff's 2014-15 season with the Penguins was underwhelming is a stretch. When he was in the lineup, he was an effective defender, but he did not provide the offense that the team had hoped. Injuries limited him to only 49 games and a nasty concussion kept him from playing at the end of the season when the team needed defensemen the most. He finished the season with three goals, 11 assists, 14 points, was a +8 skater, had a Corsi For percentage of 51.6 at even strength and logged 21:46 of ice time per night. However, that was -1.9 percent below the team average.
Overall, Ehrhoff's time in Pittsburgh wasn't horrendous and it wasn't tremendous either. He performed adequately as a top-four defender and he had great metrics alongside his most common defensive partners Paul Martin, Kris Letang and Robert Bortuzzo.
Christian Ehrhoff's 2015-16 Season
Christian Ehrhoff's injury problems and a lack of explosive offensive play allowed the Penguins to make the smart decision and he hit the free agent market. After fizzling out with both the Sabres and the Penguins, there were not a lot of offers for his services during the past offseason.
On August 23rd, 2015, Ehrhoff signed a one-year/$1.5 million contract with the Los Angeles Kings. At the time it was heralded as a solid move for a team in need of viable defensive depth.
He has played 40 games with the Kings this season, scored two goals, assisted on nine more for a total of 11 points, is a -10 skater, produced a Corsi For percentage of 55.1, which is -3.2 percent below the team average. However, these metrics are all slightly inflated as the Kings have given Ehrhoff offensive zone starts 59.79 percent of the time, at even strength, which is the second highest mark of his career.
Christian Ehrhoff (LAK) on waivers.

— Bob McKenzie (@TSNBobMcKenzie) February 10, 2016
Just two days ago, the Kings placed journeyman defender Christian Ehrhoff on waivers and it was expected that there would be interest around the league. But Ehrhoff made it 24 hours without being claimed by another team and has been assigned to their AHL affiliate in Ontario, California.
Ehrhoff (LAK) clears waivers.

— Bob McKenzie (@TSNBobMcKenzie) February 11, 2016
Why The Pittsburgh Penguins Did Not Claim Ehrhoff
As soon as it was announced that Ehrhoff was placed on waivers, fans of the Pittsburgh Penguins were clamoring for their team to claim him. Since Rob Scuderi was traded to the Chicago Blackhawks for Trevor Daley, Ben Lovejoy and Ian Cole have been the new public enemies among fans.
Without Scuderi's blatant mistakes drawing eyes, Cole's and Lovejoy's (relative to Scuderi's) small mistakes have been magnified. At first, I thought that Ehrhoff would be an upgrade over either Lovejoy or Cole and that might actually be the case. If you're looking purely at Corsi percentages then you would be correct, but that's not all to the story. When Christian Ehrhoff was on the ice for the Kings, they were outscored two-to-one at even strength, and that is a shocking differential for someone who has such a high Corsi percentage.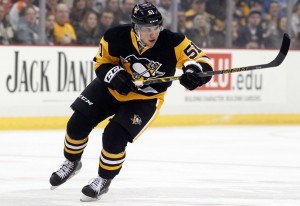 So other than this one statistic, why did Pittsburgh opt to pass on Ehrhoff, because the team did not even consider it. In simple terms, they're happy with the group of defensemen they currently have and they want to see what their young defenders can do in expanded roles prior to the NHL trade deadline on February 29th.
All three of their young blueliners have seen an increase in ice time since the start of the season, or their NHL season. Olli Maatta currently averages 19-23 minutes a night, Brian Dumoulin plays for 18-22 and Pouliot just saw his ice time shoot up from 11-14 to almost 19 minutes in their last game. Now with Trevor Daley dealing with an injury, and he's questionable to play on Friday night, their youth will be tested and they want to see how they respond.
Ben Lovejoy and Ian Cole account for $3.2 million on the salary cap and the team only has $1.6 million in space. Not only would claiming Ehrhoff put them dangerously close to the cap, again, but it would add another player who needs to get some ice time, which in turn cuts down on the youth's time.
Whether you agree with it or not, Christian Ehrhoff likely is not coming back to Pittsburgh for a multitude of reasons. General manager Jim Rutherford said he's looking to potentially add a top-four defender near the trade deadline and Ehrhoff does not fit the bill anymore.
Thanks for reading! Feel free to leave your comments below or tweet me anytime @MPityk_PIT
Michael Pityk is an analyst who has written for numerous sites since beginning his professional career. He's acted as a credentialed member of the media for the Philadelphia Phillies, Philadelphia Flyers, Pittsburgh Pirates and the Pittsburgh Penguins. His work has been featured in Sports Illustrated, The Sports Journal, MSN, PensLabyrinth, Montreal Hockey Talk, ESPN Pittsburgh, The Hockey Writers, Todays SlapShot and The Bleacher Report. He formerly was the editor of Pens Labyrinth and an analyst for The Sports Journal. Michael presently acts as an NHL Analyst for The Hockey Writers