The Pittsburgh Penguins will return to Consol Energy Center today with a 3-1 series lead over the Rangers and a chance to earn some rest as they await the result of Washington and Philadelphia.
Sound familiar?
In 2014, the Penguins found themselves in this exact position. That series played out a bit differently, as the Rangers won game one before Pittsburgh beat them three consecutive times to form what seemed like an insurmountable lead. The Penguins looked unstoppable, having outscored New York 9-2 and shutting them out twice in those three wins.
Unfortunately for Pittsburgh, the Rangers weren't going away easily.
Mats Zuccarello and Derick Brassard put together three-point nights and the Rangers dominated the Penguins on their way to a 5-1 victory. Henrik Lundqvist weathered a second period storm and honestly, it seems as if that was the start of an era in which Pittsburgh had no answer for him. New York eventually forced a game seven and eliminated Pittsburgh. They haven't been able to score on the Rangers since.
Of course, things have changed since Mike Sullivan entered the picture.
'The Past is the Past" – Mike Sullivan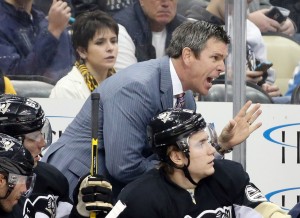 Sullivan is very familiar with what happened in 2014. He's also well-aware of what occurred last spring, when the Penguins were eliminated in just five games at the hands of the Rangers. When asked about that very situation he stated the following…
The past is the past. That's how we look at it. This is a new team, a new coaching staff, a new experience.
The Penguins are indeed a new team. In fact, only six players that take the ice today were on the roster for that dreaded game five in 2014. Aside from the lineup, the Penguins have completely replaced their coaching and management regime, as well as most of their front office.
Now, they simply have to prove the changes made over the past two seasons, or more specifically, the past six months, were enough to take this team to the next level.
General Manager Jim Rutherford helped the Penguins build an identity based on speed. He added Trevor Daley, Carl Hagelin and Justin Schultz. Almost Simultaneously, Sullivan wrote-off the likes of Sergei Plotnikov and called up a number of players from Wilkes-Barre/Scranton, where he coached prior to replacing Mike Johnston. Those players added even more speed and tenacity. Names like Conor Sheary, Bryan Rust and Tom Kuhnhackl have also provided an insurgence of youthful energy and a hunger for the game unlike anything Pittsburgh has seen in recent years.
What does it all add up to?
These Aren't the 2014 Pittsburgh Penguins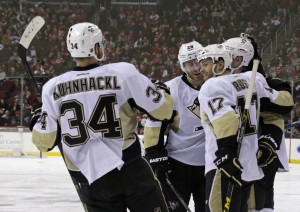 The Penguins are no longer the top-heavy, shallow team we've seen in recent seasons. In 2014, their bottom-six consisted of names like Marcel Goc, Brian Gibbons, Craig Adams, and Joe Vitale. Ray Shero's Penguins coveted grit and character but ignored the importance of skill and an ability to contribute offensively.
Rutherford's Penguins looked similar at one point as well.
After watching the Chicago Blackhawks and Tampa Bay Lightning in the Stanley Cup Finals last season, Rutherford learned and changed his approach. Those lessons have paid dividends.
Pittsburgh leads all postseason teams with 15 goals-for in four games, averaging 3.75 goals-per-game. They boast the top power play unit, which is clicking at 36.8-percent despite late season struggles that raised plenty of concern as the playoffs approached. And, they're doing all of this against that pesky Lundqvist guy they can't ever seem to beat.
Impressive, right?
While the data proves just how dominant the Penguins have been, be it traditional stats or advanced stats, there's something special about this team that isn't really tangible. This group has faced situations that would normally cause them to meltdown, draw them into bad penalties and result in frustrating losses. That isn't the case anymore and from the looks of things, when Pittsburgh faces familiar foes that are used to getting under their skin, you can see that roles are reversed.
Pittsburgh started this series on a bad note. Despite winning game one, they were outplayed by the Rangers and after losing game two in the fashion they did, one had to wonder if it would be more of the same. It wasn't.
Pittsburgh rallied and found their way in game three. So far, it looks as if they aren't willing to regress and the Rangers, while still alive, can't find an answer. Today's game five matchup will be a true test for a Pittsburgh team looking to prove they're ready to be a contender once again. And, all that's left is finally eliminating a team that has booted them from postseason play for two consecutive years.
Shouldn't be that difficult, eh?
Pittsburgh Penguins writer for TheHockeyWriters.Com and PittsburghHockeyNow.Com. Youth hockey coach, and student of the game.