When Mike Sullivan took over the Pittsburgh Penguins in December he did so with a plan in mind. That plan also aligned perfectly with Jim Rutherford's outlook on how he wanted to build the Penguins, based on speed and an influx of youth. Since that point, the Penguins haven't wavered from that plan one bit.
And, all indications are that they won't. No matter what.
[pull_quote_right author=""I've got something inside of me, peasant-like and stubborn, and I'm in it till the end of the race." ― Truman Capote"][/pull_quote_right]
The Penguins are a stubborn group. Despite the idea of tight-checking and low-scoring tilts in the playoffs, they're staying true to their identity. When they faced the Rangers in game one, Sullivan made adjustments as needed. His ability to coach on the fly and play a tactical game is very underrated. However, his adjustments didn't include changing their approach, collapsing down low and turning to protecting their net as opposed to attacking New York's. He simply looked for ways to exit the zone while the Rangers put more pressure than expected on his defensemen.
Sullivan made a clear statement on Wednesday night and the score indicates that his tactics worked.
Finding Ways to Win
It's extremely rare to see a team get buried on the possession front and still come away with a victory. Especially in the postseason when goals are somewhat hard to come by. That's exactly what the Penguins did.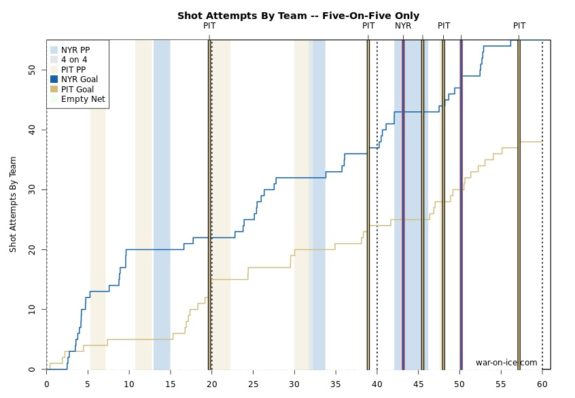 (Courtesy of WarOnIce.Com)
New York brought far more pressure than expected. They were forechecking hard but most surprisingly, they were bringing more bodies in the offensive zone and clogging lanes. It looked as if they were trying to beat Pittsburgh at their own game, which resulted in the lopsided shot attempts represented above.
Jeff Zatkoff kept the Penguins in the game throughout the first period, then Pittsburgh found a way to open things up. They didn't necessarily change their fortunes when it came to possession but they created prime chances and capitalized. Throughout the past few months, I've wondered how Pittsburgh would fare if they faced a team capable of matching their intensity and successfully challenged their scheme.
I'd say they did just fine.
@Michael29Angelo they seem to find ways to win regardless of the circumstances. Down 3 goals? Fancy Stats not in their favor? No problem.

— Greg Thornberry 🧢 (@Greg_Thornberry) April 15, 2016
The rest of this series will be interesting to watch. I can't imagine the Rangers will dominate the possession game as they did in game one, as it's rare for them to do so and doesn't necessarily fit their style of play. They take more of an opportunistic approach, locking things down and counter attacking when possible. Their attempt at surprising the Penguins was admirable though, and without Zatkoff's performance early in the game they likely would have succeeded.
Injuries? The Pittsburgh Penguins Keep on Keeping on
Evgeni Malkin, Olli Maatta, Kris Letang, Bryan Rust, Marc-Andre Fleury, Nick Bonino, Brian Dumoulin… Shall I continue?
The list goes on and on. No matter which player was forced out of the lineup, whether it be regular season or playoffs, Sullivan didn't change a thing. Yes, the Penguins were forced to adjust lines but when it comes to their attack-first mentality, they keep the pedal down and stay the course.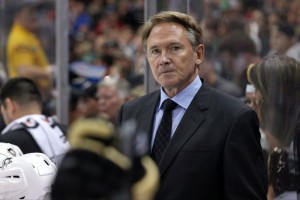 Last season, in what was Mike Johnston's first year coaching the Penguins, they exploded offensively in October and November. At that point, Johnston looked like the perfect hire who was ready to utilize all the skill he had at his disposal.
That was until injuries struck.
Like many coaches in the NHL, Johnston's approach completely changed. The Penguins began protecting, rather than attacking. He pulled back the reins and forced everyone into a defense-first mindset. It stifled the Penguins' offense and eventually led to the team almost missing the playoffs.
It was also the beginning of the end to his tenure in Pittsburgh. And, the impact was felt immediately, despite a few consecutive losses with Sullivan behind the bench. Pittsburgh was having fun and playing uptempo hockey. For fans, it was fun to watch too.
There's no telling where the Penguins will end up when their season ends. They're a legitimate Stanley Cup contender, but if they get through the Rangers their prize is likely the President's Trophy-winning Capitals. One thing is certain, whether Malkin plays, Zatkoff mans the crease or the Penguins are forced to play seven defensemen because of a lack of forwards, Sullivan's Penguins will remain full-speed ahead.
Pittsburgh Penguins writer for TheHockeyWriters.Com and PittsburghHockeyNow.Com. Youth hockey coach, and student of the game.