The Pittsburgh Penguins, a team known for their resiliency in the Mike Sullivan era, are about to face the biggest challenge of the 2015-16 campaign.
After rolling through the New York Rangers and Washington Capitals with an overall postseason record of 8-3, outscoring their opponents 37-25 and resembling an unstoppable force, Pittsburgh now faces a 3-2 series deficit and a potential elimination game in Tampa Bay.
How will this group respond to their season possibly ending on tonight?
After losing Game 5 in overtime, a game that shouldn't have reached that point to begin with based on Pittsburgh's poor performance, the mood during post game media scrums was fairly grim. For the first time, several Penguins looked concerned and unsure about what's next. That is, except for Patric Hornqvist…
Patric Hornqvist believes in #pens: "We're in a tough position, but there's no doubt in my mind we're going to come back here for a Game 7."

— Chris Johnston (@reporterchris) May 23, 2016
Maybe Hornqvist was guaranteeing victory or more likely, simply trying to instill some confidence in a group needing it badly right now. And, maybe it worked…
Malkin, Letang, Fehr and Sullivan met with the media. They seemed in pretty good spirits. Confident.

— Josh Yohe (@JoshYohe_PGH) May 23, 2016
The Lightning were by far the better team in Games 4 and 5, squashing two impressive streaks the Penguins had put together over the past four to five months by beating them in back-to-back contests and defeating them despite Pittsburgh entering the third period with a lead.
Game 5 marked the first time Pittsburgh lost when leading after two periods this season. They were 46-0-0 prior to Sunday night.
Malkin, Penguins Have to do More Than Talk
In 1994, Mark Messier made one of the most popular statements in history prior to the Rangers' Game 6 matchup versus the New Jersey Devils by simply saying, "we'll win tonight". He followed up his guarantee with a hat trick, capped off with an empty net goal and the Rangers forced a Game 7.
Can Evgeni Malkin give the Penguins a similar boost tonight?
"We're coming back to Pittsburgh", Malkin told reporters prior to the Penguins taking off for Tampa Bay on Monday, implying that Pittsburgh will indeed force a Game 7 at Consol Energy Center. Now, all that's left for Malkin is the dominating performance everyone has been waiting for since Pittsburgh's round one matchup versus the Rangers.
Pittsburgh's stars, namely Malkin and captain Sidney Crosby, have been criticized and called out for their lack of production dating back to the Conference Semi-Finals against the Washington Capitals. While some of the flack these two receive is unfair, as many don't consider just how hard it is to score in the postseason, it isn't far-fetched to ask for more from them. And I'm not only talking about contributing on the score sheet.
Driving possession, generating scoring chances and keeping opposing defensemen hemmed in their own territory goes a long way and these two make a habit of such things. At least, they did. We haven't seen that type of performance in Games 4 or 5 and the Penguins are suffering because of it. They're losing the possession battle, Tampa's clogging up their offense and counter-attacking with success.
Malkin called out this team, himself included, in mid-November. When asked what was wrong with the Penguins' offense, he had the following to say…
Everything. We don't play right, we don't work hard. I know it's tough right now. I know we're mad at each other. We need to stop, look in the mirror, and start working. We're not working.
He went on to score 10 goals and 15 points in his next 12 games, keeping the Penguins afloat with the help of stellar goaltending from Marc-Andre Fleury. Pittsburgh would love to see that version of Malkin at Amelie Arena tonight.
It's on him to follow-up his guarantee with a spirited performance. Their season literally depends on it.
Same Old Questions for the Pittsburgh Penguins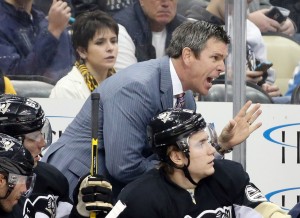 Who will start in goal? Does Conor Sheary or Beau Bennett get the nod up front or do the Penguins go with seven defensemen instead? Who plays with Malkin and do you consider breaking up the HBK line to give him a boost?
I don't envy Mike Sullivan in the least right now.
I imagine the conversation around who gets the crease for Game 6 has been lengthy but my gut tells me we'll see Matt Murray back in goal. The great thing is, Pittsburgh can win with either of them. The unfortunate thing is, if the individual Sullivan chooses turns in a poor performance in a game that sees the Penguins get eliminated, it'll be a storyline all summer.
The most important question mark for Game 6 is Kris Letang and whether or not he can return to form. He hasn't played well throughout this series, which seems to coincide with the hit he took from Ryan Callahan in Game 1. Game 5 was particularly bad and Letang knows it.
He's quite possibly the most important cog on this team, especially with Trevor Daley out of the lineup for the rest of the postseason. Simply put, he has to be better or Pittsburgh will be making vacation plans very shortly.
If the Penguins fall short tonight, this season is still a success. That's a conversation for another time but keep in mind, this team was mathematically eliminated from playoff contention as recent as March and now, they're two wins away from the Stanley Cup Final. Questions remain and it will no doubt be frustrating to see them eliminated but enjoy the ride and try to appreciate the opponent they're facing, who happens to be the same team that represented the East last season in the Cup Final.
Pittsburgh Penguins writer for TheHockeyWriters.Com and PittsburghHockeyNow.Com. Youth hockey coach, and student of the game.