It's not often that good things come from losses. Moral victories usually don't mean anything. Bright spots in different parts of the game fade to black when you don't get two points.
However there was a different type of energy Saturday night in Columbus. Yes, the Blue Jackets did eventually lose in overtime after overcoming a 3-0 deficit. The story could have easily been focused on yet another loss to add to the long list of losses the Blue Jackets have endured.
No, the story here isn't the loss. The real story here is how much impact the kids had on the game. If it wasn't for the Blue Jackets youth, this game doesn't get to overtime. The Blue Jackets hopefully now have something positive to grasp onto.
The story of the first half of the Columbus Blue Jackets season has been a baffling one to figure out. Many experts had them as a dark-horse contender. There was a vezina-winning goalie, and a lot of talent on the team. It just goes to show you that it doesn't matter what it looks like on paper, you have to play the games. It doesn't matter how much talent you think you have, they have to play as a team.
The Blue Jackets were listless in a 4-1 loss Friday night to Carolina. Although there weren't goals to show for it, the Blue Jackets best players were their young players. Starting goalie Anton Forsberg played well but got beat on deflected goals he had no chance on. Recently called up Josh Anderson played well in limited minutes. The rest of the team wasn't anywhere to be found.
This carried over to Saturday night for the first half of the game. The Blue Jackets other goalie Joonas Korpisalo got no help in front of him, before finding himself down 3-0. It appeared the game was on cruise control destined for yet another embarrassing loss. That's when the Blue Jackets finally got a spark. It took a shorthanded goal to finally wake the team up.
Cam Atkinson makes a great play and springs himself for a breakaway. He dekes out Cam Ward and gives the Blue Jackets not only a goal, but energy at Nationwide Arena. The youth then ran with the new-found energy.
With the score still 3-1 in the third period, another promising youngster, Alexander Wennberg, uses a nice individual effort and hustle, to get to a loose puck at the side of the net and score before the Hurricanes defense could stop him. All of a sudden, a 3-0 game is now 3-2. The Blue Jackets have all the momentum.
They carry that momentum and convert it into a tying goal, thanks to, you got it, the youth. This time, Kerby Rychel gets to a puck and makes a sweet pass to Anderson, who nets his first career NHL goal. Anderson's celebration of that goal says everything you need to know about how much impact the youth had in this comeback.
What John Tortorella Wants To See
Coach Tortorella certainly saw what the youth was doing to impact the game. He eventually put Anderson and Rychel with number one center Brandon Dubinsky. Wennberg was on a line with Brandon Saad. Tortorella expressed what he hopes to see happen with the youth moving forward.
"Honestly, we need the kids in the lineup.", Tortorella said. "I think that's very important where we are in the organization right now. As we've gone through injuries, and a ton of them, it's given kids opportunities."
Tortorella admitted that he hasn't seen as much of the kids as he would like to, but he now has a chance to do so given the state of the team.
"It's a young man's league.", Tortorella continued. "Quite honestly, I hope the kids take other people's jobs. That's how you become better as a team is when there is a push from your youth. We will keep on monitoring that. I'm hoping that some of these guys can stay and help us find our way."
These are very telling remarks about where he thinks the team is at right now, and what he wants to see. The kids will get every opportunity to stay. Could this be a sign of what the immediate future holds for certain players? Certainly it could. It would not surprise me if the Blue Jackets continue to listen to offers on certain players who could help someone in a playoff push.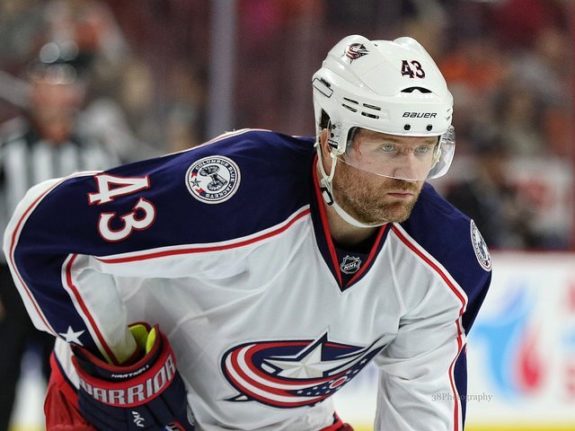 Players like Scott Hartnell, Rene Bourque, Fedor Tyutin and others could very well end up on a different team by the trade deadline. This serves multiple purposes if that happens. It would clear the way for the kids to stay up and play. The Blue Jackets could also get some pieces or draft picks back as the above players would have value on the market.
Consider who the Blue Jackets have now as their youth. This includes Ryan Murray and Seth Jones on the roster, Zachary Werenski likely coming next season, Saad, Wennberg, Anderson, Rychel, and Boone Jenner up front. There is a clear need for a center with the departure of Ryan Johansen. But the other pieces are certainly in place.
All told, given the coach's comments and current situation, it seems that a youth movement is underway in Columbus. At this point, you might as well play the kids and see what happens. The experience gained is invaluable. And we get to see flashes of what they can potentially bring.
Play the kids! At this point, there isn't a lot to lose in doing so.