The arrival of heralded veteran Paul Stastny was spun by Blues management and enthusiastic fans as a key addition for a Cup run. Just a few games in, Stastny went down with an injury, derailing his season before it really ever began. It took a few matches for the Blues to realize that they still are who they are without Pauly Walnuts — that they can still compete and win against the big boys. They showed just that in a nice rebound win against the Blackhawks a few days later. Since nobody really knows how long he'll be out, it's important to recall that this team with its depth is not significantly shorthanded in terms of talent despite his injury.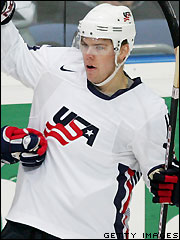 Blues need to remember their depth is their strength
The idea that one person can upend playoff chances as it might have in the Hull/Shanahan days is a mindset that shouldn't be present with this version of the Blues. The team is still stocked with talent, with Oshie, Backes and company anchoring a team that should be in President's Trophy contention by year-end. The injury to Stastny was immediately followed by a team-wide bout with the flu that clearly affected the team against Anaheim and Vancouver. The game against Chicago — a 3-2 win where the Blues clearly controlled play — was a much-needed reminder where the team sits in the Western Conference pecking order. Dimitri Jaskin contributed with a timely goal in that match, an instant physical presence in front that is at times lacking with this team (and as a side note, may have played himself onto the big club). Stastny should be viewed as another addition as we was during the summer; not a critical lynchpin to this team's success.
Back to the future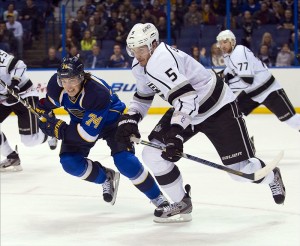 The Blues scored 248 goals in 2013-2014, good for seventh in the League. This includes periods without breakout star Alexander Steen, a key cog in the team's offense last season. In terms of team defense, the team maintains a virtually identical nucleus as least year, making their third-best goals against ranking in 2013-2014 a reasonable target again in 2014-2015. Goaltending is at least on par this year with Elliott and Allen as it was with Halak and Elliott — with a high probability this tandem will be more durable and consistent. In other words, this Blues team should be able to skate with the top teams in the League, regardless of Stastny's ice time.
Time to man up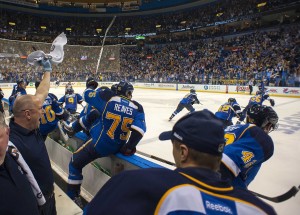 The core of the Blues is still considered young, which is erroneously used as an excuse for early playoff departures. This is largely due to the fact that the core was drafted quite young during the rebuilding phase from 2005-2010. The significance here is, this is a group that's been together for a few seasons and plays hard for one another. The Blackhawks game where they played the body strong and put up over 30 shots is indicative that this is a squad that will not roll over in the face of adversity. It's up to Ken Hitchcock, David Backes and other team leaders to ensure that the group stays focused regardless of losing a top name. Now is the time in the tough Western Conference — where a scant few points means everything in the standings — for the Blues to rally, looking at the return of Paul Stastny as a bonus rather than a requirement for success.
Freelance writer and public relations practitioner. 20+ years in goal and long-time Blues fan.