As the final full month of the 2014-15 NHL season approaches, the Arizona Coyotes find themselves near the bottom of the league standings. After starting the month with back-to-back wins in Montreal and Columbus, the Coyotes have gone 1-9-1 and have lost their last eight games in regulation. This season has been a rough one for Arizona fans, but there are still reasons to watch this team in the final few weeks. Here is a look at some feature points that remain as this season winds down.
The Past
For those feeling nostalgic, Arizona will be having their first ever Throwback Night on March 5 against the Vancouver Canucks. The Coyotes will wear their old black Kachina style sweaters for the first time since 2003. Jeremy Roenick will be at the game along with a few other former Coyotes from the team's early years in Phoenix. Roenick's illustrious NHL career included 152 goals and 379 points during his two separate stints in Arizona (1996-2001, 2006-07). He also collected nine goals and 18 points in 18 playoff games with the Coyotes.
The Present
While the Coyotes are struggling to put together any consistency, one newcomer has been producing in a big way. Mark Arcobello is on his fourth team this season after spending time with Edmonton, Nashville, and Pittsburgh. The third-year forward seems to have found a scoring touch in the desert as he has racked up five goals in his first seven games with the Coyotes. By comparison, the team as a whole has only managed 11 goals in that stretch.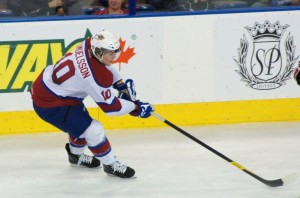 The Future
Arizona has seen a long list of players this season make their way up to the pros from their AHL affiliate in Portland. That group now includes 2012 first-round draft pick Henrik Samuelsson, who got his call-up on Wednesday and played in his first game Thursday night against the New York Rangers. Meanwhile in the OHL, Coyotes prospects Christian Dvorak and Max Domi have continued to amaze with the London Knights. Both Domi and Dvorak currently rank in the top 10 scorers for the entire league. Also, Arizona's first-round pick in last year's draft, Brendan Perlini, has notched 49 points in 33 games with the Niagara IceDogs.
Charles Woodall-Pike is a journalist who writes about the Arizona Coyotes for The Hockey Writers.