When you look past the "magic" in the Columbus Blue Jackets' surprise push towards the Stanley Cup Playoffs in 2013 the reality is that this is a team that capitalized almost entirely on the success of a Vezina-winning effort from their goaltender, and that's about all. The team was destroyed in offensive puck possession and they paid the price.
Consider the following statistics: the Jackets' 2.40 goals per game was good for 25th in the league, worse yet, the team's 14.2% powerplay conversion rate was good for 28th in the league. And the reason for these things is not a mystery: the team ranked 27th in shots per game with a scanty 26.7 (for comparison the team gave up the 19th most shots: 29.9, certainly adds a little more to Sergei Bobrovsky's accomplishments huh?). So it is with this cold reality that the playoff dreams of the Jackets ended and the snooty advanced hockey statisticians were given another example to reinforce their notion that "the only sure way to score more goals is to take more shots."
Now as the team moves to the new Metropolitan Division, marqueed by perennial goal-scoring juggernauts Pittsburgh and Washington, and with the upstart Islanders and suddenly offensively-liberated Rangers seeking a chance to strike, the road may indeed grow longer again for the Jackets: although there is little question that Bob will always give the team an opportunity to win, there are serious doubts that this team can actually score one more than their new rivals. But this is probably unfounded worry.
Driving Puck Possession: What Can Nathan Horton Do For You?
That Brandon Dubinsky led the team in On-Ice Corsi in 2013 is not necessarily a good thing: when he is at his most effective he starts virtually all of his shifts in the defensive zone and his mission is simple, don't let the other team score. To his credit, he's really good at what he does, he tends to not only prevent the puck from going in his net, but he also tends to create positive offensive production (something that all the annual Selke front-runners, Pavel Datsyuk, Jonathan Toews, and Patrice Bergeron, excel at).
Of course the biggest difference between Dubinsky and the other three mentioned above is supporting cast. Brandon Dubinsky is many things: a hard nosed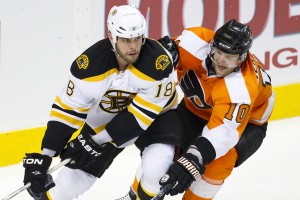 penalty killer, an adept agitator, a leader in the locker room, but let's be honest–he's not on the same level as the players described above. And those guys aren't even typically the best scorers on their respective teams. What Boston, Detroit, and Chicago all hold in common is that they possess a strong 1-2 punch: they can turn a defensive zone faceoff into positive offensive possession, and then just when the opposition has had all it can take they can send out their actual best scorers. In Boston that top line of scorers featured one Nathan Horton. And if you think Dubinsky's positive Corsi ratings are pretty decent, consider this, Horton posted a 17.16 on ice Corsi with Boston last year. If you really want to know why the Jackets have invested so much in him, that's it.
He's a prototypical power forward and he is a monster on the puck. In an unbelievably thin free agent class he was virtually the only game changing player. He's not a point per game player, but his ability to create positive possession will greatly help a team that couldn't hold the puck at all last year.
But Nathan Horton Can't Change Possession By Himself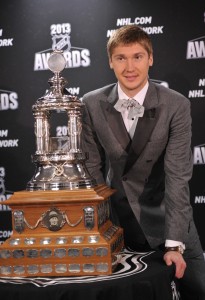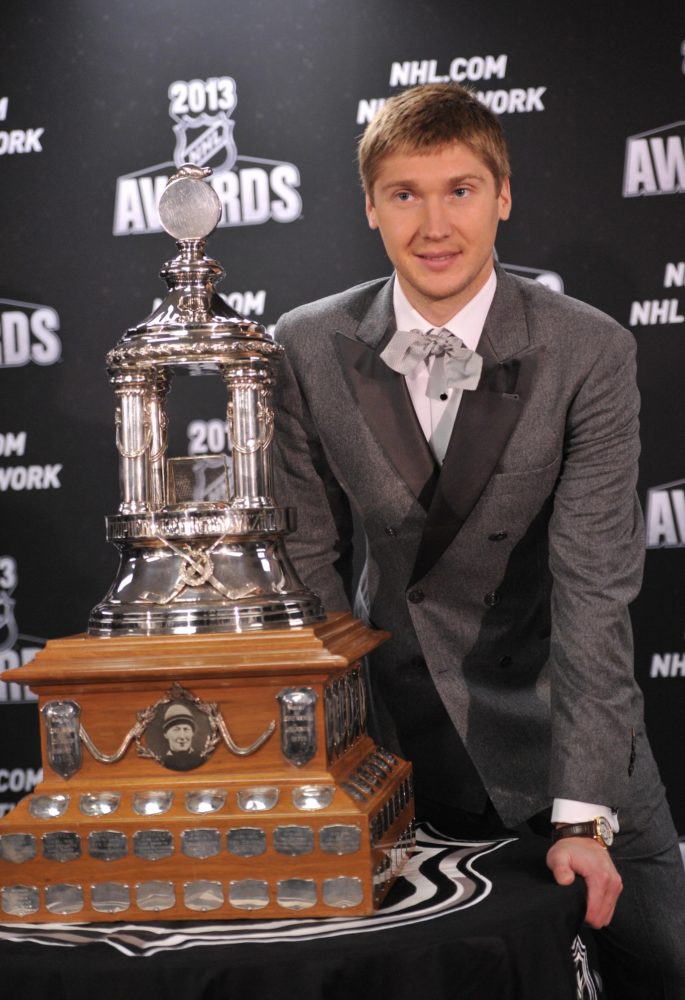 Well no he really cannot, but it's a gigantic leap in the right direction. Ultimately the Blue Jackets playoff aspirations this year are going to continue to rest on the shoulders of Sergei Bobrovsky, and that's no mean feat. When you consider the Blue Jackets' new division one thing is clear: the core of the division is still the old (not to be confused with the new) Atlantic Division–consisting of Pittsburgh, Philadelphia, the Rangers, the Islanders, and New Jersey–and Bob has a bit of a history with those teams (that's not to take away from Washington or Carolina, however, Bobrovsky's lack of career games played against those teams contribute little, positively or negatively, to the following analysis).
Against those teams Bobrovsky has played 28 games, the most against any one division in the player's young career and in those games Bob has pretty much either been fantastic or he's been less than average, without any middle ground. In 2010-11, as the Flyers de facto starter, Bob played 15 games against those teams, in those 15 games he posted a sterling 10-1-2 record with a sub-2.00 GAA and a .934 save percentage. Those numbers are right in line with his performance this past season, and that won him the Vezina Trophy. In 2011-12, while serving as Ilya Bryzgalov's backup, something changed, instead of sterling, Bob was more like a leaky tin roof. In 13 games Bobrovsky went 4-8-1 with 3.15 GAA and an .892 save percentage. You don't need me to tell you that stats like that against the division are unlikely to get your team into the playoffs.
The reason for the change is, to this point, unknown. Statistically speaking we could be looking at the difference between Bob's stats as a starter and as a backup. In 2010-11 and in 2013 Bobrovsky was the starter and with a starter's workload he is among the best in the league (he finished 2010-11 with a 28-13-8 record, 2.59 GAA and .915 save percentage, not as good overall as he was against the division but above average, especially for a true rookie). Perhaps he struggled in 2011-12 because he was unprepared for the art of being a backup goaltender, few positions are more difficult. But maybe that's not it, it is entirely possible that in his first year the teams of the Atlantic Division did not know his tendencies, they did not know how to beat him, and maybe in year two those teams figured it out, and quite literally the floodgates opened. Of course after that Scott Howson did something right for the first time and brought him to the Blue Jackets, to, at least in 2013, what was essentially a completely different league unfamiliar with what teams in the East had already found out. Only time will tell.
The Blue Jackets have to control the puck in the offensive zone to keep the weight of the world off of Bobrovsky's shoulders, and no Nathan Horton can't do it all by himself. But whoever he ends up playing with, whether it should be Marian Gaborik, Artem Anisimov, RJ Umberger, Dubinsky or others, should all receive a boost in productivity if for no other reason than it is difficult to beat Horton off of the puck. Jarmo Kekalainen has built a team that can compete. Now it's time for the team to do it.