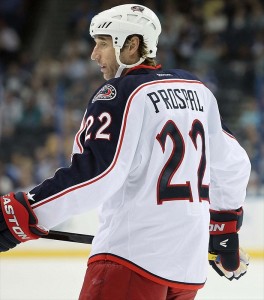 Vinny Prospal has caused much digital ink to be spilled in Columbus over the past two years. His addition was a late one prior to the 2011-2012 season (a replacement for the injured Kristian Huselius), but quickly transformed into more than a quick fix. Soon after the season began and the decent toward 30th place in the NHL took hold, Prospal started questioning the work ethic of the team.  The veteran Czech player noted to Aaron Portzline of the Columbus Dispatch, "For us to be getting out of this, it's a matter of putting more pride in ourselves going to the net, creating screens, getting on loose pucks." As the team continued their worst outing in franchise history, Prospal remained a strong presence, eventually getting a one year extension and the praise of his younger teammates. In the lockout-shortened 2013 season, Prospal continued to be a contributor to the club, gaining the adoration of a sizable number of Blue Jacket fans. As he defiantly pointed at the scoreboard late in a March 9th victory over the Detroit Red Wings, Prospal cemented his legacy for many (and spawned a highly specific meme for Jacket fans to rally around).
But the praise and excitement has turned to worry in the Jarmo Kekalainen era: Vinny Prospal is now unlikely to return to the Jackets for the 2013-2014 season. This has resulted in many reactions, some of resigned understanding, one contemplating the move as a divorce, even sometimes very pointed frustration at the idea that the team's leader could be gone. Those are passionate reactions to the loss of a single player. But all is not lost with Prospal out of the fold. In fact, I would suggest that this is a team that has improved in many areas and no longer requires the particular talents offered by Vinny. This is not to suggest that Prospal would negatively impact the team. But rather, that the Blue Jackets have improved their talent and leadership enough that having a veteran of Vinny's ilk is no longer a necessity.
The Change in Scoring and Possession
An oft-repeated refrain from those hoping to see Vinny Prospal return is that the Blue Jackets are losing their leading scorer. Out of context, this sort of comment is concerning. Could you imagine the Penguins surrendering Sidney Crosby into the ether? Unthinkable, right? Of course, the hyperbole of the Pittsburgh comparison is intentional. The Blue Jackets are losing the 85th leading scorer from last year. Suspending our actual understanding of the NHL for a moment: that means most teams already have around 2 to 3 scorers better than Prospal on their rosters.
While that's not a completely realistic distribution observation, the implication remains: Columbus needs greater talent to ensure competitive ability moving forward. Then is Prospal's offensive and possession contribution lost without return? Luckily, the answer is "no." An obvious change is comes in December as free agent acquisition Nathan Horton enters the fray. The former Bruin's counting numbers may not necessarily overwhelm, but his shot differentials have nearly always been outstanding. Horton will be a boost to a team sorely lacking in positive Corsi/Fenwick contributors.
Beyond the free agency pickup, it has been easy to overlook the late-season addition of Marian Gaborik. The former Wild and Rangers star just came off one of the least impressive seasons of his career, but also one of the unluckiest with a PDO dipping below 1000 and point per game totals off his typical averages. Gaborik may be on the wrong side of the age curve, but he's younger than Prospal and spent his time in Columbus with a nagging injury. A healthier Gaborik suddenly becomes a true top threat for the Jackets.
Even within the more "known" parts of the Blue Jacket squad, replacement or improvement over Prospal's offensive ability seems likely. Brandon Dubinsky and Cam Atkinson were both elite possession players in the NHL last season (13th and 8th, respectively, in Relative Corsi among forwards with more than 20 games played). They, too, were plagued by injury (Dubinsky with a knee sprain, Atkinson with ankle problems). A healthy Artem Anisimov should also prove to be a valuable point producer. I'll concede it's an idealized outlook to expect perfect health to all these key players. But it's also unlikely they spend as high a percentage of next season as hurt as they were in 2013. Even a slight improvement to the roster injury reports in the coming year is likely to push the Blue Jackets past the Prospal-led production of the past.
Leadership Has Been Established Elsewhere
Vinny Prospal's leadership is perhaps the one aspect of his departure that seems hardest to replace. Of course, it's a very uncertain, almost tenuous kind of argument to combat or defend. Prospal's vocal style, especially to call out his teammates in the midst of their worst season, struck a chord with fans. Some have suggested his efforts were a catalyst in causing franchise-wide cultural change. Seemingly, his demeanor also hit home with some teammates (although that's a much harder result to determine).
Even if the culture of the team did change with one player, the organization has moved beyond the initial inroads established by Prospal. No longer are the Blue Jackets beholden to Vinny to change their ways, and the ownership is in on the act. John Davidson is here, and poor results are no longer tolerated. I'd even suggest the previous general manager met his end for his contribution to the losing culture (that is to say, he built sub-par teams, ones that were designed to lose).
But perhaps the locker room attitude is still a point of fear. Luckily for the Blue Jackets, the new leaders on the ice are those who hardly knew a Columbus without John Davidson and have embraced the attitude of success. Brandon Dubinsky (my personal hope for the captaincy) has proven a great statistical leader, but also a player who speaks a similar language to the beloved Prospal. Dubinsky's post-game interview after a loss against Vancouver (seen below, via the Columbus Blue Jackets) displays his insistence on playing better and working hard. It's a sort of mantra that seems to have either come from within Dubinsky or from idea infection after interacting with Prospal. Both scenarios suggest that there are leaders within the team who won't put up with lazy habits, Vinny or no Vinny.
The Practicality of Age and Cap Space
Ultimately, practicality must reign over the perceptions of emotional and leadership importance. The question is: does the guidance of a 38-year-old trump the development of both long- and short-term talent retention and acquisition established by Jarmo Kekalainen? In this case, especially given the corresponding immediate cap concerns for keeping the vet, Prospal's services just aren't needed and it is difficult to envision his absence causing tumult within the club.
Matthew is a hockey fan who fell for the sport through watching college games. He now shares thoughts on the Columbus Blue Jackets at the Hockey Writers. When not thinking about pucks, his interests are chemical engineering and good music.