With the 2013/14 NHL season right around the corner, there are still plenty of questions to be asked of the Sabres and we'll tackle them as we get closer to the season.
One of the biggest revolves around Mikhail Grigorenko.
Let me just go on record in saying this: I, and most of the fan base, were reaaally excited about the selection of Grigorenko last year. Like maybe a little too excited. After all, the scouting report is to blame.  Grigorenko has the size, the IQ, the ability. How can you blame us for being excited?
Then the season started and those expectations plummeted. Partially because of limited ice time and questionable linemates (you don't help a young guy develop by sticking him with Patrick Kaleta and Jochen Hecht) but his play was clearly not there when he was on the ice. He looked a little lost physically, getting bullied off the puck at times because he just didn't have the strength to withstand the rigors of the game.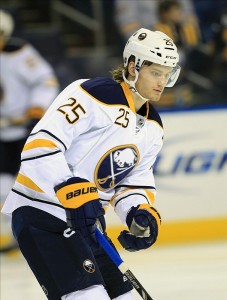 His five-game trigger came and went, his entry-level contract activated, yet he continued to struggle both on the ice and just getting to it. For a stretch from February 15th to March 3rd, his high in ice-time was 9:46. He'd only managed double digit ice time twice from Feburary 9th to March 12th.
What the hell was the point of all of this? Why keep this guy around, this guy who is supposed to be the best prospect in the system and a bonafied talent, on the bench when he could be gaining experience as a main player in juniors?
Things never really got better. His ice time continued to fluctuate, even under Ron Rolston, and he never really looked comfortable. Expectations for his career still remain high but some portions of the fan base (the dumb ones) are panicking already.
So what should we expect out of Grigorenko this coming season? Will the team assume he's going to be with them all year? Will he start in Quebec of the QMJHL? So many questions, you guys.
He'll probably start the year in Buffalo; I almost feel like he has to. He has to show that he's still got a really bright future and last year he was just an overwhelmed 18-year-old getting his feet wet. But another problem arises: where does he fit into the lineup?
The Lineup
The top line is pretty much two-thirds set so long as Cody Hodgson gets a new deal; he'll join Thomas Vanek as the only real scoring talent available. Tyler Ennis could join them on the wing but so could Drew Stafford.
Ville Leino and his unpleasant contract will almost certainly get a shot somewhere on the second line, it's just a matter of whether that comes at wing or center. Grigorenko should hope for the former; with Leino and Stafford on his wings, Grigorenko could slot in on the second line between them and let them go get the puck. Leino's game is puck possession; he's very good at it given he knows when to get rid of the puck. He struggles with that sometimes but can control things when he's on. Stafford will be charged with going to the net. When he puts his shoulder down and gets in front, he causes havoc. But that's a rarity these days.
Grigorenko would also be able to get a little guidance from two NHL veterans who could ease his transition, do the dirty work, and let Grigorenko get to open areas and put his tremendous skill to work.
If he stays with the team the whole year, and is given the requisite ice time to show his worth, he's almost guaranteed to best his .16 points-per-game from last year. He's too talent to just fail but then again, we've seen plenty others in the past.
Historical Comparison
A historical comparison, going back 20 years, reveals that the 12th pick is usually reserved for defensemen and generally has a pretty good track record there: Ryan Murphy, Cam Fowler, Tyler Myers, Ryan McDonagh, Marc Staal, Dan Hamhuis, Kenny Jonsson. That's a pretty solid group and McDonagh is an elite defensive defenseman.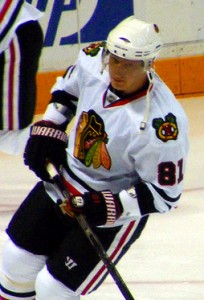 It gets a little sparse with forwards and there's little inbetween: Hugh Jessiman, Denis Shvidki, Marian Hossa, Teemu Riihijarvi, Alex Tanguay, Alex Smirnov, Josh Holden, Sergei Krivokrasov.  Jessimen and Shvidki were busts of epic proportions, Krivokrasov was alright at best, Smirnov/Holden/ Riihijarvi flamed out before gaining any steam, Tanguay flirted with stardom, and Hossa has been a star his whole career. Survey says: yikes.
For the most part, forwards at 12th overall don't fare well but Tanguay and Hossa show that there is hope. Obviously the hope is Hossa in which case CELEBRATE should that happen. I'd take a Tanguay scenario though with the hype the Sabres fan base has assigned to Grigorenko, it seems like Hossa or bust.
The Verdict
Tanguay and Hossa aside, history is NOT good here. Krivokrasov got in 450 NHL games but was a marginal scorer at best; his best season was his first in Nashville (25 goals, 48 points) and was an aberration; he never topped 13 goals/26 points otherwise. Shvidki got 76 NHL games, Holden 60, Smirnov 52, Jessiman just two, and Riihijarvi never saw NHL ice. Oof.
Tanguay was the best of the bunch with 51 points his rookie year but his supporting case (Peter Forsberg, Joe Sakic, Chris Drury, Milan Hejduk) was infinitely better than anything the Sabres could offer. Hossa seems like the most likely comparable in terms of his first full year; he picked up 15 goals and 30 points in 60 games his rookie year and earned an NHL All-Rookie Team nod.
Getting 15-20 goals and 40ish points out of Grigorenko would be something to hope for. It would give us a glimpse of his talents, he'd make some progression in his career, and we'd be left with legitimate hopes for the future.
If he fails to stick with the Sabres? There might be a little cause for worry.
Follow me on Twitter: @RWTFC