Erik Karlsson has put together a historic 2022-23 season. In 81 games played, the 32-year-old has 25 goals, 75 assists, and 100 points. He is only the sixth defenseman in NHL history to record a 100-point campaign and the first to do since Brian Leetch did in 1991-92. As a result, this is a sensational achievement from Karlsson, and it's even more impressive when noting that he has done this with one of the worst teams in the NHL – the San Jose Sharks.
With the Sharks rebuilding, they listened to offers for Karlsson leading up to the trade deadline, but his contract proved to be too difficult to move during the regular season. However, with teams having more salary cap space during the offseason due to expiring contracts, it may be easier for San Jose to get a move done. It is important to note that he also has a full no-movement clause, so he has complete control over if and where he gets traded. Let's now discuss three potential landing spots for the 100-point defenseman.
Buffalo Sabres
The 2022-23 season has been a major step in the right direction for the Buffalo Sabres. Although they just missed out on a playoff spot, they have proved that they are competitive, and they should be looking to add to their roster this offseason because of it. When looking at their current group, they could use a top-pairing right-shot defenseman, and Karlsson would provide them with just that.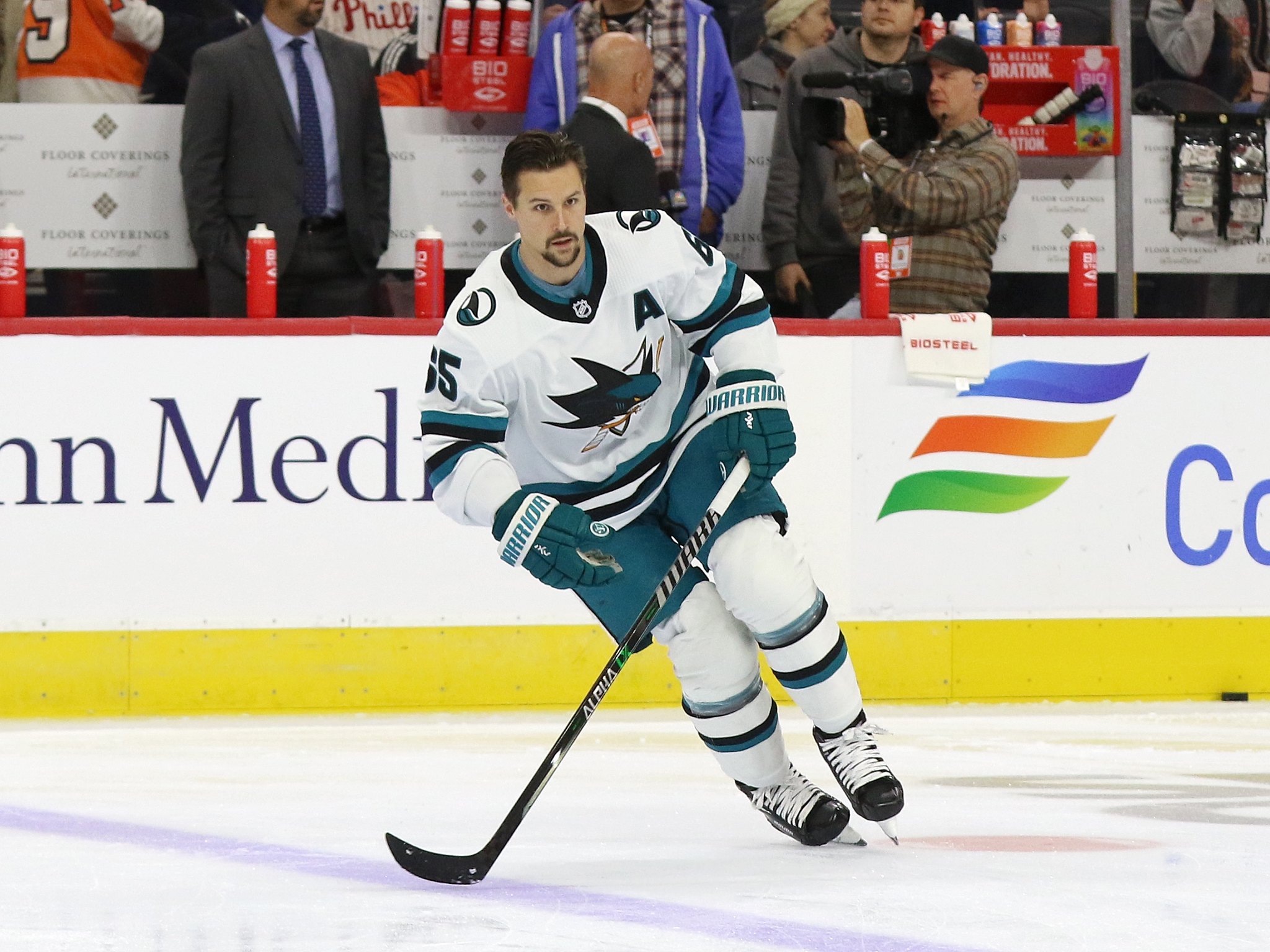 Karlsson would be an excellent upgrade over players like Mattias Samuelsson, Henri Jokiharju, and Ilya Lyubushkin on the Sabres' right side. A top pairing of him and Rasmus Dahlin would be excellent, but he could also be a potential match with Owen Power. In either scenario, the Sabres' right side would improve immensely, as they would add a superstar. With that, Karlsson would of course see time on their power play.
Although the Sabres have plenty of cap space to work with, they still would likely want some of Karlsson's cap hit retained. As a result, it would likely cost the Sabres their 2024 first-round pick (top-12 protected), Peyton Krebs, Jiri Kulich, and a 2024 third-round pick to successfully acquire him.
Edmonton Oilers
The Edmonton Oilers were the biggest team linked to Karlsson leading up to the deadline, so they naturally should be considered a possible landing spot for them. Although they elected to acquire Mattias Ekholm before the deadline passed, they could still make a push for Karlsson during the offseason. Keep in mind, they lost Tyson Barrie in that deal, and Karlsson would give them a right-shot offensive defenseman to replace him with.
Related: Analyst Eating His Words Over Oilers' Big Trade Deadline Decision
---
Latest News & Highlights
---
When looking at a potential spot for Karlsson in the Oilers' lineup, it is fair to argue that he would be the perfect addition to the top pairing with Ekholm. Ekholm's immensely reliable defensive play would allow Karlsson to take even more chances offensively. If acquired, Karlsson would also be guaranteed time on the Oilers' first power-play unit. His offensive totals could potentially go up even further when looking at Edmonton's elite cast of forwards, too.
The primary obstacle for a Karlsson trade to work for the Oilers is their limited cap space. The Sharks made it clear that they would not retain more than 20% of Karlsson's salary at the deadline. If this remains the case during the summer, the lowest cap hit the Oilers would get Karlsson at is $9.2 million ($2.3 million retained). Therefore, for this deal to potentially work, Jack Campbell's expensive cap hit ($5 million) would need to be added. Along with that, the Oilers would likely need to include their 2024 first-round pick, Evan Bouchard, and a prospect like Xavier Bourgault or Carter Savoie. However, if this move came to fruition, the Oilers would still need to move out money elsewhere before the start of the 2023-24 season.
Ottawa Senators
Similar to the Sabres, the Ottawa Senators took a notable step forward this year but fell short of their playoff push. As a result, the Senators are heading into next season with the expectation of becoming a playoff team. General manager (GM) Pierre Dorion made this abundantly clear when he recently told reporters that "the rebuild is done" in Ottawa. Could this open the door to them bringing back their former captain in Karlsson? They do need help on their right side.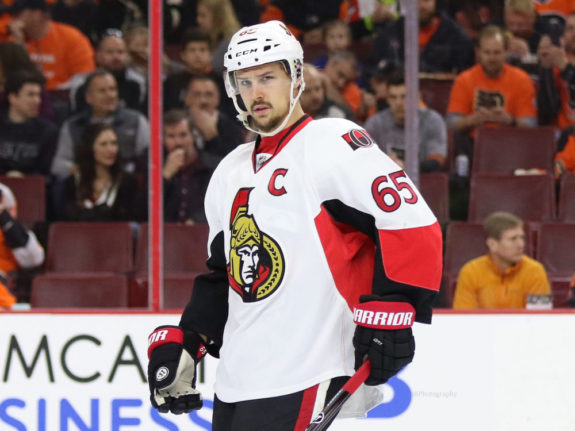 When looking at the Senators' current group, it is quite clear that they could use Karlsson on their top pairing with either Jakob Chychrun or Thomas Chabot. This would make the Senators' top four significantly better and could be enough for them to pass some of their toughest Eastern Conference rivals. Karlsson would also provide their power play with a major boost due to his ability to create offense.
Related: Bruins: 3 Teams Who Could Target Taylor Hall This Summer
To acquire Karlsson with salary retained, the Senators would likely need to part ways with their 2024 first-round pick (top-12 protected), Ridly Greig, Zack Ostapchuk, and a 2025 second-round pick. Although it would be a hefty price to pay, it would be great for the Senators to have one of their greatest players ever back in Ottawa.
The Sharks would be wise to move Karlsson this offseason while his trade value is at its highest. We will now need to wait and see if these three clubs end up making a push for the superstar defenseman from here.