The adage states, 'if it ain't broke, don't fix it.'
The Washington Capitals have glided through this season to reign over the NHL with 24 games left on the schedule. Washington is one point ahead of the Minnesota Wild and looks primed for a deep playoff run. Although Caps fans have heard that so often in the past decade, this iteration of Capitals is meticulously built on paper and exceptional on the ice, making it tougher and tougher for general manager Brian MacLellan to pull the trigger on trading a piece of the roster.
Trading a player could hurt the chemistry of the team, which holds an impressive home record in their last 11 games. Adding something can elevate the club past the second round, but might just as likely disrupt the Capitals' momentum and fall short of expectations.
"[MacLellan] needs to know what we have and how comfortable we are with everybody there," Washington Capitals head coach Barry Trotz said. "This last (24) games, it's going to crank up another level."
A Capital Purchase
Depth scoring was missing in last year's playoff quest. Fifteen Caps notched three points or less in the postseason run. As the deadline draws closer, GM MacLellan should search for additional speedy, reliable depth forwards and another top four defenseman. Lars Eller was a significant offseason trade acquisition that addressed center depth. He gives the Capitals a boost in the faceoff circle, and he has been punching in points on the third line all year.
The Capitals are $402,829 below the cap ceiling according to capfriendly.com. With the Colorado Avalanche making it clear that all offers will be entertained, Washington could approach with a creative deal.
Heard #Avs are open for business for all but MacKinnon. Landeskog & Duchene apparently available, but both have very high pricetags. #NHL

— Brian Hedger (@BrianHedger) January 13, 2017
My proposal: Washington sends Karl Alzner, Daniel Winnik and WSH 2018 third round pick to Colorado for Carl Soderberg and COL 2017 third round pick (with cash considerations for both teams).
MacLellan was working on a contract extension with Alzner in November 2016 (#19). Since then, Alzner has yet to sign. Winnik's contract expires this summer. The Capitals are not going to keep him. They will expose him or release him. Rookies Jakub Vrana, Zach Sanford and Travis Boyd are all likely to see more ice time next season as the team will not retain all of its upcoming unrestricted free agents.
Soderberg is strong on the puck and can score surrounded by the right players. The Swedish power forward, standing at 6 feet 3 inches and weighing 210 pounds, registers 40-plus points every year but has hit a wall this season. He has posted 11 points in 57 games after collecting 51 points in 2015-16. The LW/C, playing in his fifth year, fits Washington's physical, fast forechecking style. Besides, his contract extends to 2020. To ensure his longevity with the team, the Capitals should expose forwards Brett Connolly and Jay Beagle.
Selling on the Hill
Here is the bigger dilemma. Since the Capitals are playing so well as a team, should they trade anyone? A general manager does not want to disturb the energy in the locker room by trading away the piece that costs his team a Stanley Cup Final appearance. The forwards are playing great, and the expression 'defense wins championships' remains true. However, Alzner is tradeable in a few markets. One market lies in the city of Pittsburgh.
.@penguins GM Jim Rutherford looking to add defensemen, reports @BombulieTrib >> https://t.co/5C5h4vewqs pic.twitter.com/FhoAhHugmm

— Tribune-ReviewSports (@TribSports) February 18, 2017
My proposal: Washington sends Karl Alzner and WSH 2017 sixth round pick to the Pittsburgh Penguins for Ian Cole and OTT fifth round draft pick.
Alzner developed into a defensive stalwart over the past nine years. He is a leader on and off the ice, but the lack of a contract extension suggests he might walk this summer. The Capitals' best move to avoid losing him for nothing is to trade him. Alzner and Cole are both 28 years old. Cole, who played college hockey at the University of Notre Dame, plays like a two-way defenseman.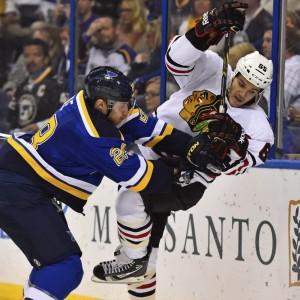 The Notre Dame graduate has excellent shooting skills from the point that outdo Alzner's shooting ability. Cole is also responsible in his own end, boasting a plus-22, which ranks him 15th in the league. His contract, expiring in 2018, provides flexibility to Washington. They can expose Cole, extend him next year, trade him next year or choose not to re-sign him. Both teams benefit from the move despite it being intra-divisional. In the case of a postseason matchup, it is unlikely that this move would be the sole reason for the outcome of the series.
Acquiring Tom Gilbert via a trade with the Los Angeles Kings was done to add depth for the playoffs. Gilbert has 655 games of NHL experience.
Washington can choose to do nothing at this point. The Capitals have been impressive all year. They are hungry for the Stanley Cup. It might make the most sense to watch teams maneuver on March 1.
Michael Mazzuca graduated from The University of Scranton with a degree in journalism and electronic media. Mike began writing for The Hockey Writers in December 2016. He has written for the AHL Wilkes-Barre/Scranton Penguins as well as the Rockland Boulders independent baseball team. Follow him on Twitter at @MazzucaMike.