With the NHL trade deadline rapidly approaching, the Florida Panthers should at least be considering some deals that could help them with a playoff push.
Although the Panthers have several assets that could fetch them a nice return, one particularly interesting player is forward Jaromir Jagr, who many people consider to be an ageless wonder.
Jagr, who turned 45 on Feb. 15, has proven that he can still put up points and be effective at an age where seemingly few players continue to ply their trade.
The Czech-born right winger also has some pretty elite company as he continues to climb the all-time leaderboard with every mark he leaves on the scoresheet. He has 34 points (11 goals, 23 assists) in 58 games this season alone.
It was a few days before the trade deadline two years ago when Jagr was acquired by the Panthers from the New Jersey Devils for a 2015 second-round pick and a conditional 2016 third-rounder.
So if he and Florida were to part ways in the coming days, it wouldn't be the first time Jagr has been sent packing at or before the deadline.
There are a few reasons why the Panthers should (and shouldn't) shop Jagr on or before March 1.
The Case For Trading Jagr
Even though Jagr keeps defying the odds and hasn't lost his scoring touch or playmaking ability, the Panthers need as much consistent offense as they can get, and Jagr could yield a nice return to help address that.
Dale Tallon, Panthers president of hockey operations, has said he would like to get help up front to boost the team's power play, which struggled earlier in the season while key players like Jonathan Huberdeau were injured.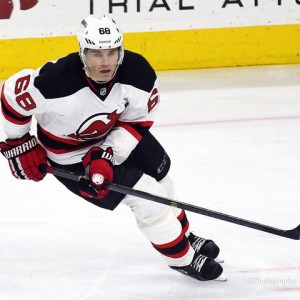 Remember, Jagr got the Devils a couple of draft picks in 2015, so he might be worth as much or more to a general manager looking to add some veteran depth (more on that later).
Cap Friendly is reporting that the Panthers have 47 contracts (the NHL's limit is 50), along with $9.5 million in salary cap space.
Dropping Jagr's $4-million contract (not including signing bonuses) by swapping him with another, perhaps cheaper player would likely give the Panthers that much flexibility to pick up other assets that could bolster the team come playoff time.
Even though established Stanley Cup contenders like the Chicago Blackhawks and Tampa Bay Lightning have made similar moves in the past to acquire needed depth for a post-season run, those teams already can almost touch the cap ceiling. So they may not be able to afford Jagr.
Enter the Ottawa Senators, Edmonton Oilers and Winnipeg Jets.
All three of those teams are either in a playoff spot or fighting for one as the season's home stretch draws near.
The Senators have $5.6 million in cap space to work with, while the Oilers have $4.7 million and the Jets boast $5.4 million, according to Cap Friendly.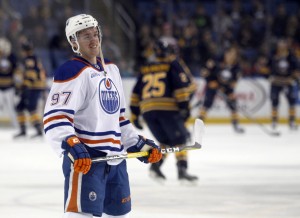 Ottawa, Edmonton and Winnipeg's lineups could all benefit from an experienced addition for the last 20 or so games of the year and then some. Who wouldn't want to have someone with two Cups and five Art Ross titles (among several other accolades) mentoring up-and-coming greats like Connor McDavid and Patrik Laine?
This isn't saying that's where Jagr will end up if he's cut loose. Those are just a few possible destinations for him, and he has said in the past that he'd like to play in Canada sometime.
Even if Jagr's most productive days (and – arguably – the NHL's highest-scoring era) are in the rearview mirror, he still can bring many intangibles to the table for a team that's either contending for the first time or the dozenth time.
Those things include experience, leadership and scoring depth, along with a sense of humor and a solid presence in the locker room.
Jagr's contract also expires at the end of this season, so if he gets traded and things don't work out in his new destination, he'll be an unrestricted free agent who can test the market for the fourth time in his career on July 1.
But with all due respect, despite Jagr's many career milestones, a GM who wants to either win now or in the foreseeable future won't likely part with valuable assets for an aging star solely for sentimental reasons.
Believe in yourself! And your mind will see the good in every situation.#68 pic.twitter.com/T25cSfpuur

— Jaromir Jagr (@68Jagr) February 16, 2017
The Case Against Trading Jagr
Several of the same arguments in favor of moving Jagr also apply in considering why Florida should hang on to him.
His continued productivity means he remains an asset for the Panthers, who hope to crack the postseason for the second straight year.
Jagr's contract is a team-friendly one, and he isn't the Panthers' highest-paid player (Keith Yandle has him beat at $6.35 million).
He's also a pending UFA, so if he falters down the stretch, it won't be hard for Florida to wash its hands of him at the end of the year.
On the surface, his salary might look excessive, but with a cap that's on the rise (albeit gradually), $4 million is a bargain for someone of Jagr's caliber and pedigree who can put up points regardless of his age and mentor younger players like it's going out of style.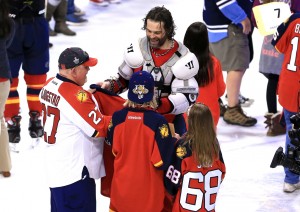 It could also be argued that Jagr is already a rental where he is on an expiring contract that he may or may not renew in the off-season.
But as long as the Panthers keep achieving results and Jagr's health and playing ability stays solid, he won't likely be moving anytime soon.
Needless to say, who wouldn't want to live and go back and forth to the rink in a warm, southern climate where one can blend in amongst crowds easier than in other markets?
Although there are several other players and teams who could benefit from having a player like Jagr in the fold, it can only help the Panthers to keep him around for veteran depth as they hope to contend now and into the future.
As well, the chemistry of Jagr's line with Huberdeau and Aleksander Barkov would be somewhat disrupted if he was sent packing.
Then there's how much of a fan favorite he is.
Jagr has been a big part of the Panthers' efforts to promote themselves in a somewhat untraditional hockey market. In fact, he's likely one of their biggest selling points.
The Panthers have recently retweeted some fans who shared that they have either bought tickets or renewed their season passes.
Just purchased my @FlaPanthers tickets for tomorrow. Lord Stanley's Loft. Lets gooo!!

— 🅱️ (@MisterBauer3) February 22, 2017
It's official—my husband and I have renewed for our 24th time! (And I've got 🤞🏻to win that Panthers road trip prize!) 😊

— Karin Lash 🌟 (@KLinFL) February 21, 2017
It's unclear if Jagr was the main reason for this, but he probably was a factor. Fans like teams that either win or are competitive, and Jagr has been a big driving force behind the Panthers' recent success.