Ahhh, JOFA. Sweden's ever-lovable manufacturer of some of the National Hockey League's most iconic, aesthetically pleasing and definitely safe protective equipment. Gretzky, Jagr, Kurri, Lemieux, Selanne… Truly, some of the game's most iconic names donned JOFA gear – helmets in particular, even after the brand's sale to Reebok in 2004.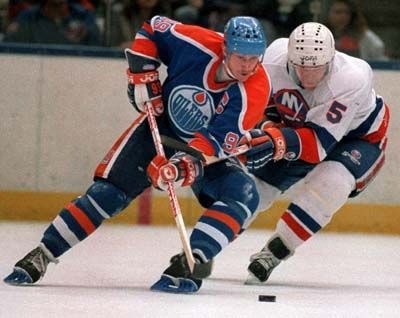 But now, after years in obscurity and relegation to 1980s highlight packs clearly shot on some sort of root vegetable, JOFA is back; look no further than the Nashville Predators' first line.
Take the first two letters of centre Ryan Johansen's last name, along with the first letter from the last names of wingers Filip Forsberg and Viktor Arvidsson, and you've got JOFA. Adding to this very hockey inside joke, the latter two players are Swedish, while the former, though Canadian by birth, has a thoroughly Scandinavian last name. Amazing, right?!
Wait 'till you see them play.
Production Line
Arvidsson, Johansen and Forsberg finished one-two-three, respectively, in Predators team scoring during the regular season. Arvidsson and Forsberg tied for the team lead in goals, with 31. All three played the penalty kill at some point, combining for nine of the Predators' league-leading 12 shorthanded goals. This production has continued into the playoffs, with 11 points between the trio in Nashville's three games thus far. The line is just plain lethal in any situation they find themselves.
Advanced Accolades
Not only has the JOFA Line left a trail of smoldering wreckage in the wake of their offensive production, but these impressive statistics are supported by the underlying analytics. The line ranked fourth during the regular season – amongst lines that played 200 or more minutes together – in Corsi For, at 58.71 percent. These possession numbers get even better when one adjusts for score and venue (58.89 percent). When one limits the scope to lines with 500 or more minutes played together, JOFA was second only to the Boston Bruins' Brad Marchand-Patrice Bergeron-David Pastrnak combination.
With a 55.8 percent faceoff winning percentage during the regular season, the line started with the puck far more often than not. Judging by the statistics cited above, they then proceeded to hold onto it, too. This strong possession game no doubt led to the trio having the fourth-highest penalty differential (200 or more minutes together), at +15. And a regular season PDO (shooting percentage plus save percentage) of 100.03 indicates that their elite-level performance was more than likely legitimate, and not simply due to a run of good luck.
Admittedly, some other stats were middling. Shots For percentage was very good, at 55.92 percent. But that was nowhere close to some other top-performing lines, many of which were at 60 percent and above. Expected Goals For percentage was, again, quite good (53.2 percent), but was even further away from the NHL's elite. Their Scoring Chance percentage, of all things, didn't break even, with a surprisingly negative 48.03 percent. This last measure is doubly confounding when one considers the Preds' exceptional defense corps.
Space Bound
Yes, we're only through three games, but it really does seem as though Forsberg, Johansen and Arvidsson have found another gear in the playoffs. As mentioned, they have 11 combined points in three games. They are the second-ranked line in the postseason in (score and venue-adjusted) Corsi For, at 65.28 percent. If (score and venue-adjusted) Fenwick For is more your thing, they've been even better, with their 72.82 percent rating ranking first overall.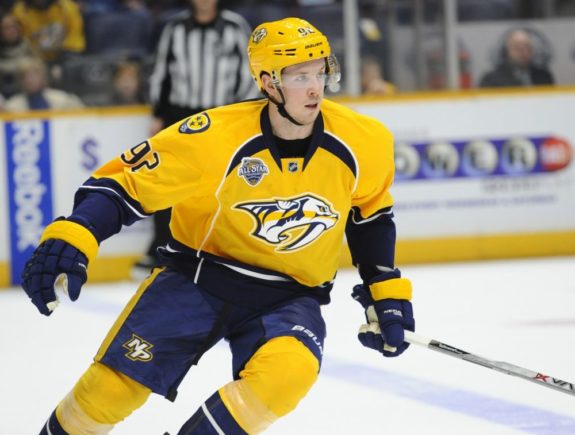 But it's not just that they've been playing – and winning – what has essentially been a week-long game of keep-away against the Chicago Blackhawks, it's what they've been doing with the puck once they've got it. The line has been devouring whoever they match up against, getting 73.18 percent of the shots whenever they take the ice.
This impressive possession and shot generation have led to them posting a remarkable 84.28 percent in Scoring Chances For, and being expected to account for 80.05 percent of the goals scored when they are on the ice. Other-worldly, these three.
Enjoy the Ride
Now, let's all take a breather here. The line's playoff shooting percentage is over 15 percent; that will likely come down. Not to mention the fact that Pekka Rinne probably won't continue to stop 100 percent of pucks when the JOFA Line is on the ice (although Rinne currently has a .979 save percentage – with two shutouts – through three games. Boy, was I wrong.).
But aren't the Stanley Cup playoffs all about enjoying the ride? The underdog team getting hot at the right time. The unsung role player becoming the hero. The mysterious omen that charms a team. Or the outlandish superfan who energises a fanbase.
Filip Forsberg, Ryan Johansen and Viktor Arvidsson are the men of the moment. Not only have they brought back a legendary hockey name, but the JOFA Line is blindingly fast, supremely skilled, and setting the hockey world ablaze.
Game Four goes tonight. These three are worth the price of admission.
(All advanced stats are thanks to Corsica. All metrics are at five-on-five unless otherwise specified.)