Amid the Islanders' failure to make the playoffs this season, Josh Bailey and Anders Lee turned heads. As a matter of fact, away from the development of Calvin de Haan, they were the brightest spots on the club. Forming two parts of the Islanders' first line for much of the season, Bailey finally made good on his first-round pedigree and Lee, after a sluggish start, led the Islanders with 34 goals. While pundits and Islander fans are unsure what to make of their production, Bailey and Lee aren't done developing into the players the Islanders need them to be.
The Case for Bailey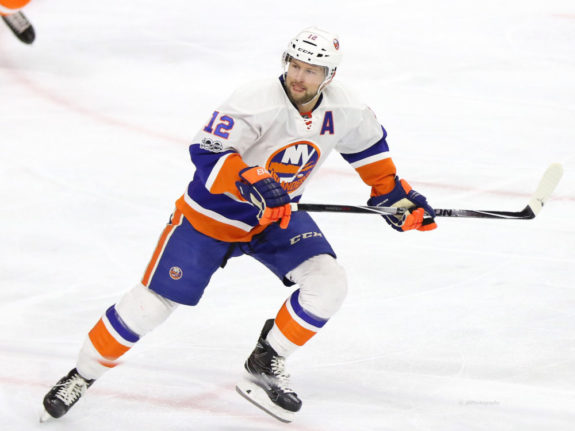 To be clear, Bailey is coming off a 43-assist, 56-point season, his ninth in the NHL. That's nothing to be particularly proud of, especially when you consider that he was drafted ahead of players like Erik Karlsson, Jordan Eberle, and Derik Stepan. Those players routinely average that in points every season, but for Bailey, it was his first time reaching close to 50 points.
What took him so long? For the majority of his career, he's played with Tavares and other top-six forwards on the Islanders. What made this year different? Who knows? But with the loss of Frans Nielsen and Kyle Okposo, someone had to step up. Someone had to become the new number two or three guys on offense. That's exactly what he did. For all of his haters, Bailey gave no reason to say boo this season.
There's no reason why won't be the beginning of Bailey's genesis into a consistent 50-60 point player. Thanks to the late-season surges of Joshua Ho-Sang and Anthony Beauvillier, Bailey's presence on the team won't change much and the Islanders will be deeper on offense next season. If they go out and acquire another top-six forward, Bailey would be a wonderful second or third-liner.
Will he ever be a 20-goal scorer at the NHL level? Will he ever be a true first liner in the NHL? Probably not, but another 40-assist season is not out of the cards. If Tavares didn't miss the last few games of the season, JB could have had 50 helpers.
Lee is a Star Beginning to Shine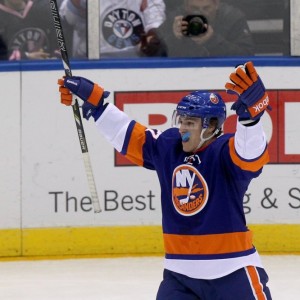 With the loss of Okposo, Nielsen and Matt Martin, the Islanders needed more offense and grit. Coming off a 15-goal season where he did everything right but didn't have the results, Lee had something to prove. Thirty-four goals goes a long way in keeping naysayers quiet. As the Islanders' garbageman in front of the net, Lee was sensational. Not since Matt Moulson was on the team did the Islanders have a more potent offensive threat to play alongside Tavares.
Lee was a sixth-round pick in the 2009 draft. That was the same draft that the Isles took Tavares with the number one pick. At the time, no one saw Lee as his potential linemate. Although he was bounced around a bit with different players this season, he eventually proved that he plays his best hockey with JT. For those that say Garth Snow doesn't have an eye for talent, getting Lee with the 152nd pick is a steal.
Unlike other players who have struggled on the Isles over the past few years, Lee hasn't had issues with his work ethic. He has always skated hard and put himself in a situation to score. For that reason alone, Lee isn't done yet. Although he's streaky, he won't suffer the same fate as Moulson or Michael Grabner. Remember them? Those were two players Islander fans were once excited about. Lee is neither of them. Bigger, stronger and a better hockey player, Lee has the potential to be a cornerstone in the Islanders' future successes.
The Future
Lee is under contract for another two seasons. Bailey is in Brooklyn for at least one more year. The Islanders will give them every opportunity to continue to grow. Tavares is looking to decide his future as well. The continued development of Bailey and Lee could go a long way in making Tavares' decision an easy one.