Viktor Arvidsson, Ryan Johansen, and Filip Forsberg are unique. Some might not think very much of them considering the climate in Nashville regarding forwards and their lack of production overall, but at one point these Nashville Predators made up "the JOFA line." Everyone knows that Forsberg has a lot of skill. He can score goals, make creative passes, and play a solid defensive game. As for Johansen, he's a tremendously skilled passer who uses his six-foot-three frame to box out opponents and open up space in rugged areas.
Those two paired with the blazing-fast Arvidsson were not a fun matchup for any opponent. They played both a strong defensive game and a high octane offensive game. Their willingness to battle along the boards set an example for the Predators' roster. If the first line was willing to do it, everyone else should be too.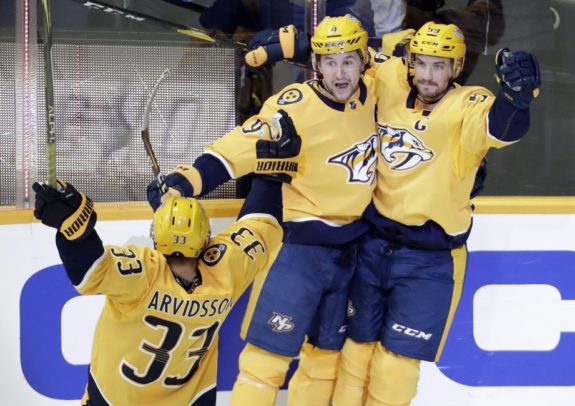 This style of play rubbed off on everyone from top to bottom. The "do whatever it takes to gain possession" attitude of a small and speedy forward paired with a dump and chase system deployed by head coach Peter Laviolette, inevitably leads to goals. However, as time rolled on, the line became increasingly less effective. Various factors started this downward trend, and some are more obvious than others.
The Suspension
A suspension for anyone on the JOFA line is unexpected no matter the year. None of them are known for being dirty players or "rough around the edges." A five-foot-nine Arvidsson doesn't scream "dangerous" in any capacity. Neither does a lumbering Johansen, who isn't known for being physical. Instead, the most skilled player on the line, Forsberg, was suspended in the 2017-18 season after a hit on Jimmy Vesey, who has a history with the Predators. He earned a three-game suspension, which was considered too harsh by Preds fans. But he had to suffer the consequences by sitting out and the team had to suffer through losing their best forward.
Without Forsberg, a spot on the top line opened up, and Laviolette needed a temporary solution. That solution was Colton Sissons for the first two games and Pontus Aberg for the last one. Of course, the top dog's shoes are never easy to fill, but Sissons and Aberg were confusing choices at the time and even more in hindsight.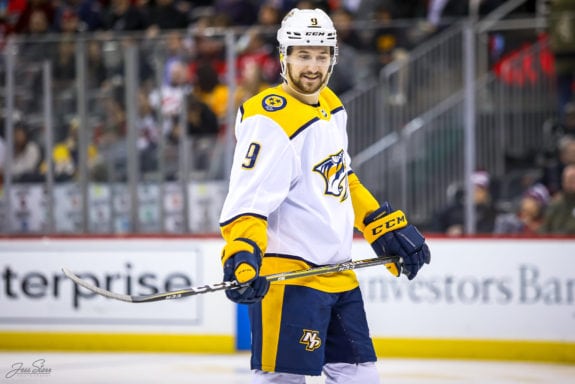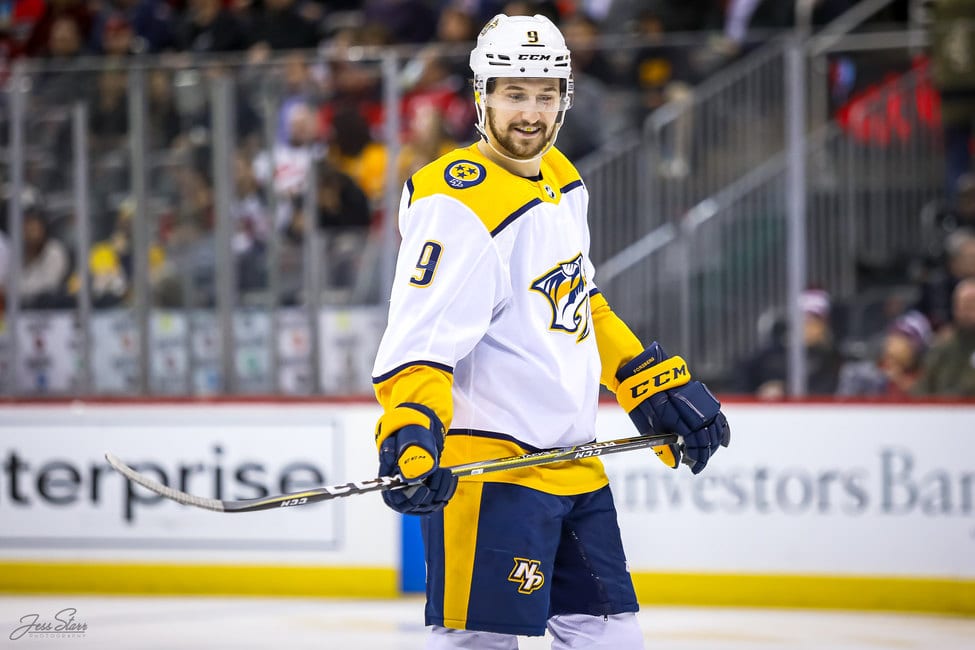 Forsberg's hit on Vesey was just another event in the best season in franchise history. However, it was clear that Johansen and Arvidsson lost a step. They looked boxed in without their creative counterpart. Arvidsson's straight-ahead mindset on the rush doesn't work without the presence of Forsberg on the other side. Johansen's prime target for passes wasn't there, and ultimately it started to weigh on him. Johansen can rarely create goals for himself alone. He relies on the presence of others to open up options. Without the main threat, the opposition could focus more heavily on the playmaking center.
After the suspension, the three played together for most of what was left of the regular season. There was the odd game where the coaching staff split the trio up, but it was never for an extended period. While the suspension was short and the JOFA line mostly remained intact the rest of the year, it was the first, very small domino to be tipped in a line of larger ones.
The Injury Plague
One awkward hit into the boards or accidental trip on an errant stick can end a player's season in an instant. The 2018-19 Predators knew all too well the effects of injuries. A back injury to defenseman PK Subban, multiple stints on the IR for Kyle Turris, a couple of weeks without Sissons, and a spattering of other minor personnel losses left the roster in disarray. It only got worse when both Forsberg and Arvidsson were sidelined. Forsberg had already missed six games that season, but it was Arvidsson's first stint on IR.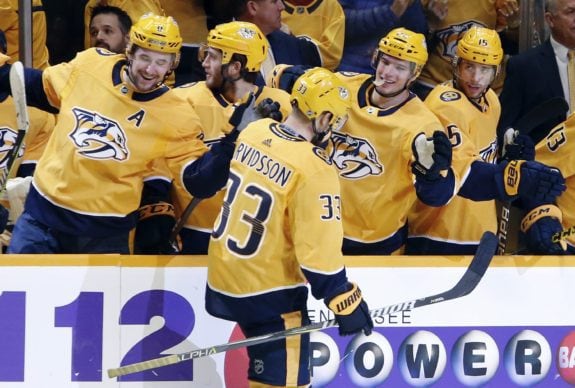 The JOFA line looked stale without Forsberg in his abbreviated absence earlier in the season, but losing him for a minimum of four weeks and Arvidsson for six was costly. During that time, the offense was bleak. Without Forsberg's power game and Arvidsson's motor, there was no electricity. Until his injury, Arvidsson was second on the team in goals and third in points. From that moment, Laviolette pulled out the line blender, and it became a staple.
A very lackluster forward core–solely dependent on center depth–was put to the test. They were able to tread water until their driving forces came back, and Arvidsson broke the franchise regular-season goals record with 34 in 58 games. Forsberg was two shy of the 30-goal plateau. The Arvidsson season, while impressive it may be, was backed by a highly unsustainable shooting percentage at 17.4%. The expectation for Arvidsson–a rather empty-calorie offensive player–to score 30 goals consistently is unrealistic.
One thing that aided the downfall of the line outside of the run-of-the-mill play was the unrealistic expectations from fans. After a Stanley Cup Final run and record-breaking season, it's extremely hard not to raise expectations. However, deeper analysis said that this play was not likely to be replicated in the future.
Matt Duchene Signing
This is where the wheels fell off. Johansen had a relatively good season in 2018-19, notching 64 points in 80 games. Arvidsson broke the regular-season franchise goal record. Everything looked to be trending upward. Then, on July 1, news broke that Duchene—a massive country music fan—was headed to Nashville. Naturally, everyone was excited to see what a multi-faceted player like Duchene could bring to a lineup that was widely considered to be lacking a top-line center.
The coaching staff formed new lines to start the year, which had Forsberg with Duchene and Mikael Granlund. The three were fantastic together. They were a top line in the league by almost every metric. They helped lead the Preds to an 8-3-2 record through the month of October but were split up after a loss to the New York Rangers on Nov. 2. Enter the Laviolette line blender, and the JOFA line was back together. Fans were perplexed at the concept of splitting up the line that got the team to the top of the Central Division and the league.
The confusion and anger grew when it was clear that Johansen's play was nowhere near first-line center material. The stubbornness of Laviolette to keep him with Forsberg and Arvidsson, essentially holding them back—especially Forsberg—put the fanbase into a frenzy. Add another Arvidsson injury into the fray, and the Preds were in full disaster mode.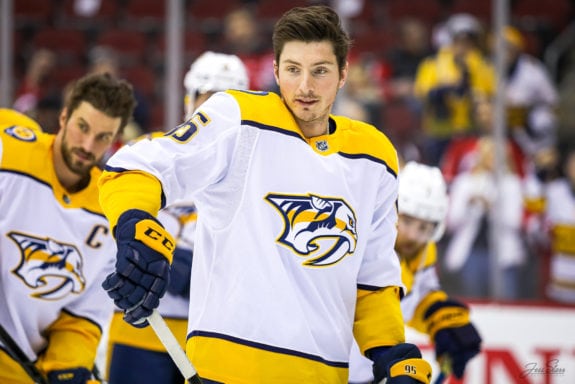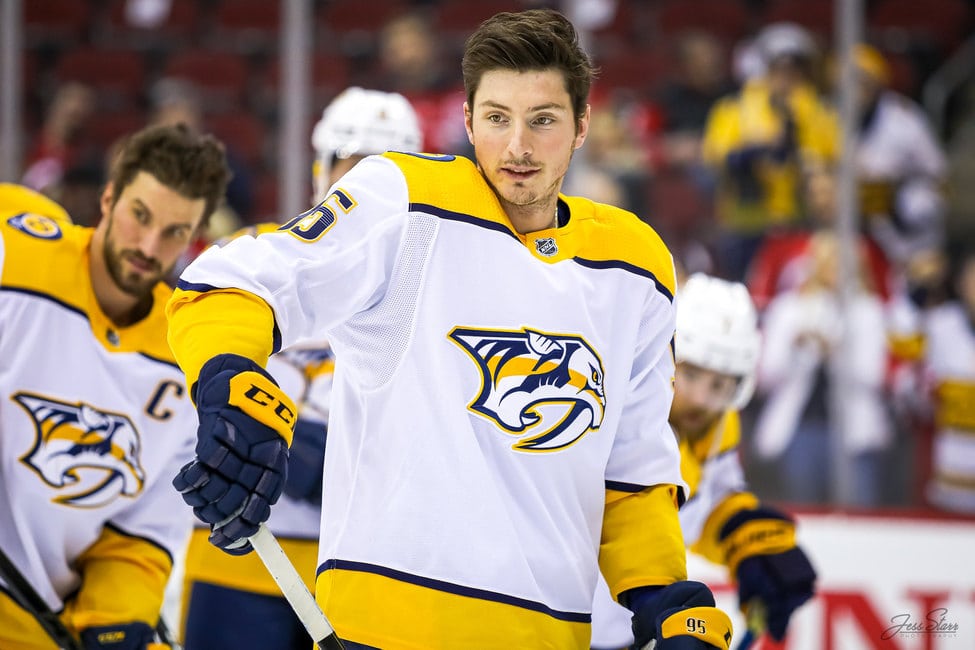 Johansen's production plummeted, and he quickly became a below-replacement level player. He moved sluggishly across the ice virtually every shift. Fans were not happy, and neither was he. He tallied 36 points in 68 games during the 2019-20 campaign, and his lackluster defense didn't help. As for Arvidsson, two cross-checks to the back by St. Louis Blues Robert Bortuzzo put him out for one game more than in 2018-19, but he didn't come back and score a boatload of goals.
Instead, he looked pedestrian for a while after his much-anticipated return to the lineup. It's understandable; the cross-checks were nasty. Forsberg only played 63 games due to other minor injuries, but he managed 21 goals and 48 points. It was clearly a down year for him relative to his career.
The JOFA Line Is No More
Laviolette and Kevin McCarthy ended up being fired on January sixth after an embarrassing loss to the Stars in the Winter Classic. Blowing a 2-0 lead and controlling very little of the play after the first period was the final straw for David Poile. Subsequently, John Hynes was hired as the replacement. Devils fans warned of the unpredictability of Hynes and the lineup from night-to-night; the warnings fared true.
Predators fans thought the occasional Laviolette line shuffling was terrible, but Hynes has taken it to another stratosphere. It seems like there are brand new combinations every night, which is damaging to chemistry and the odds for success. It also means top scoring lines may not be back together for months at a time.
In the Edmonton playoff bubble, the JOFA line made its return. The hiatus due to COVID-19 allowed Arvidsson to get the spring back in his step. It also allowed Johansen to regroup mentally and physically after an appalling season by all accounts. Despite that the Predators were only in the bubble for a short time, the trio of Forsberg, Johansen, and Arvidsson looked reinvigorated. They dominated possession and were playing some of their best hockey since the team's Cup run in 2017.
Their performance in the play-in round prompted Hynes to keep that line together to start the 2020-21 season. That plan backfired for a couple of reasons, but mostly because Hynes didn't keep them together for very long. Johansen hasn't scored in what feels like decades. Hynes has continuously moved him to different spots in the lineup to try and spark something. It hasn't worked. This season, he has four points—all of them assists, and only two are primary—in 10 games. After Duchene scored twice in the opening matchup against the Florida Panthers, Johansen now holds the team lead in the category of "most scoring chances without a goal." This is not ideal for a player on an $8 million contract who is signed until 2024-25.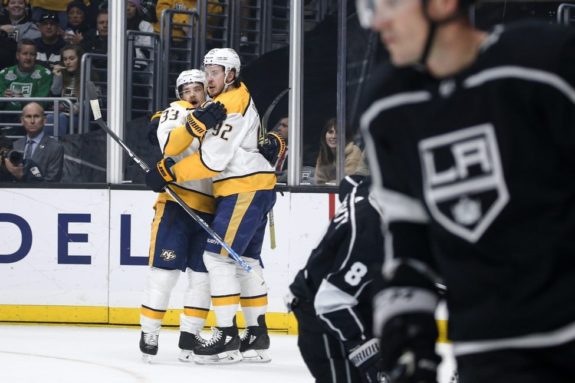 With Johansen's limited production, the line hasn't looked the same. They're credited with a 49.79 expected goals for percentage and a 54.21 Corsi for percentage per Evolving-Hockey. Hovering around the average is not going to get it done; furthermore, their expected goals for per 60 ranks ninth out of all Preds lines that have played a minimum of 15 minutes. Their expected goals against per 60 is just as bad. In total, their expected goal plus-minus ranks ninth as well.
It isn't anything terrible, but there are better options available for Hynes, one of them being Forsberg with Duchene and Granlund. The JOFA line is not a reliable option anymore. Forsberg's constant minor injuries, the lazy and hard-to-watch performances from Johansen, and the chaotic play from Arvidsson just have not meshed well together of late. It would be a mistake to go back to that line in almost every fathomable situation.
---
---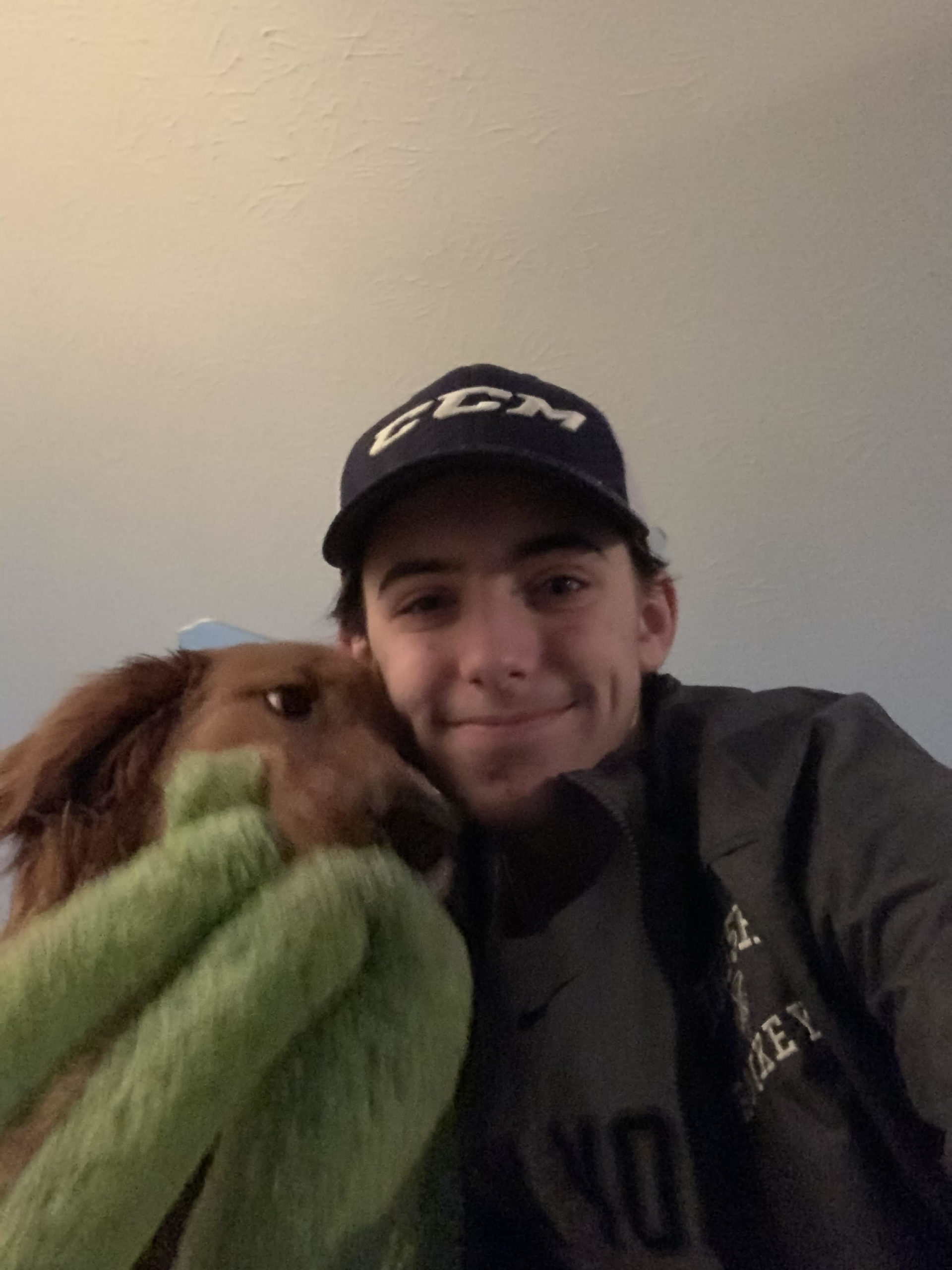 Jeff is a consistent source for Red Wings content at The Hockey Writers. He was formerly a member of the Predators writing team, and he enjoys watching all sorts of hockey, from juniors to the pros. Jeff enjoys playing for his high school and local teams in Nashville as well. He's a big proponent of hockey analytics, and you'll often see him using lots of statistics and data to back up his main talking points. You can find his work here or check out his contributions on his Substack, Last Word on Hockey, On the Forecheck, Broad Street Hockey, Hockey Wilderness, and Puck Empire. Lastly, you can listen to him on the Youth Movement Podcast presented by On the Forecheck and the Triple Shift Podcast. For any inquiries about interviews or questions about statistics, analytics, or just general hockey opinions, you can message his Twitter, @jjmid04.