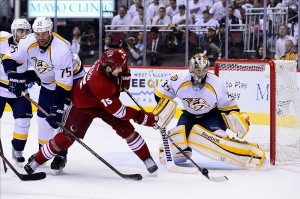 When the Nashville Predators returned home for game three of their best of seven series with the Phoenix Coyotes, they found themselves down two games to none, and in desperate need of a win to avoid being pushed to the brink of elimination by Coyotes.  They needed their star players to step up and lead by example, but instead of focusing on getting back in the series, Alexander Radulov and Andrei Kostitsyn violated the teams curfew rules.  With arguably the most important game of the season to date up next, what would be the right action from the Preds organization?  Head Coach Barry Trotz and Nashville's management decided to make a statement by showing no one is too important to get away with not giving their all to the team, and everyone needs to be onboard and focused.  Both Radulov who led the team in scoring so far this post season with seven points, and Kostitsyn were suspended for game three, leaving many wondering if the Preds season was about to come to an end.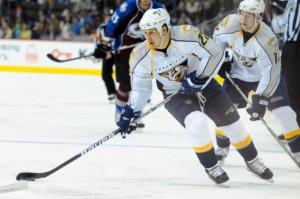 The team understood the message loud and clear and came out to send a statement of their own.  They were ready to show the hockey world they were not about to lay down and go out so easily.  Nashville needed the big guns to step up in game three and they did as David Legwand and Mike Fisher scored goals just 1:06 apart before the halfway point of the opening frame to give Nashville a 2-0 lead.  The Preds had delivered their message early and Vezina nominee Pekka Rinne continued to get the team's point across throughout the contest as he held the fort and shut out the Coyotes to give Nashville the much-needed victory.
So who replaced Radulov and Kostitsyn? and how did they fit into the Predators victory?  Jordan Tootoo entered the lineup for the first time since game three against the Detroit Red Wings in round one, and Colin Wilson also made only his second appearance of the post season were inserted in place of the suspended stars.  Tootoo logged 10:11 of time on ice and recorded two shots, while Wilson saw 12:21 of ice time and recorded a shot on goal.  Both players help the team to victory and it was evident they were focused and ready to play.
Nashville has a chance to even the series at home in game four, before it heads back to the desert for game five.  With all three games being decided by two goals or less including an overtime win by Phoenix, fans of both teams should expect another tight duel between the clubs.  There are some question marks headed into game four.  When will Radulov and Kostitsyn be back in the line up?  Is Pekka Rinne going to dominate again?  How will the Coyotes respond?  Only time will tell but one thing is for sure, it is shaping up to be an interesting finish to the series.