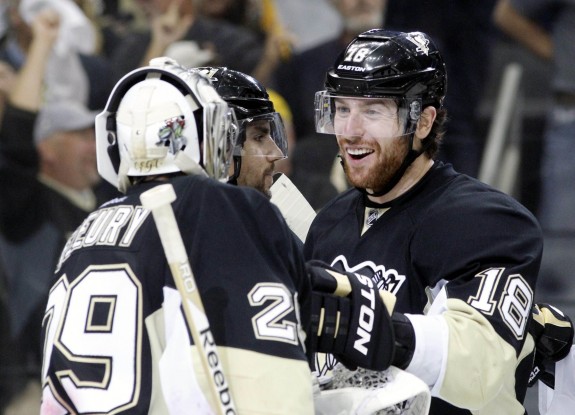 The Nashville Predators have acquired their long-awaited top-6 forward. In a draft day deal with the Pittsburgh Penguins, the Predators traded Patric Hornqvist and Nick Spaling for James Neal. Nashville GM David Poile raved about the opportunity to get a top-6 forward the team needed at the draft. Acquiring an elite scorer such as Neal is a big move for the Predators and their onward drive to success to winning a Stanley Cup.
Trading away RFA Nick Spaling does not break anyone's heart because the team was likely not going to qualify him. Joshua Cooper of The Tennessean reported Thursday that Poile lacked the urgency to re-sign the two-way forward. "Very slow to date, but talking regularly," Spaling's agent Pat Morris said.
However, losing Hornqvist will break many of the fans' heart. The 27 year old right winger has spent his entire 6-year NHL career with the Predators, amassing 106 goals, 110 assists in 363 games. Hornqvist's net-front presence will be missed (especially by Shea Weber), but the up-tempo style head coach Peter Laviolette will be initiating may not fit with the Swede's style-of-play.
Neal, 26, scored 27 goals in 59 games for the Penguins last season. In 2011-12, Neal led all players in power play goals with 18. According to CapGeek.com, Neal has 4 years remaining on his contract and will have an annual cap hit of $5 million.
Possibly the best thing about this deal was that Nashville did not have to give up their 11th overall pick — used on forward Kevin Fiala. Before the draft, Poile said the only way he would have traded away their 1st round pick was if a top-6 scorer was coming in return. Instead, he was able to rid himself of a RFA that was not going to play for the Predators next season in Spaling, and upgrade from a sub-par top-6 winger to an established scorer.
While trading for Neal is arguably the biggest move the Predators have made since acquiring Peter Forsberg in 2007, it appears Poile is not done this off-season. Poile now turns his focus towards getting a top-line center to compliment Neal. And he wants it done sooner rather than later. Neal's scoring numbers increased after arriving in Pittsburgh playing alongside Evgeni Malkin. Neal turned from a 27-goal scorer in Dallas during the '09-'10 season to a 40-goal scorer in '11-'12. In order to get the most out of Neal, the Predators will need to get a top-line center better than Mike Fisher or Colin Wilson.
Folks, for the first time, Poile is being an aggressive GM and fulfilling his promise on change.