No matter what the level or what the game is. No one likes to lose.
(Yes, I'm aware there is a good number of teams this season trying to tank this season in order to get their hands on Connor McDavid or Jack Eichel, but that's an anomaly.)
The Nashville Predators haven't had much experience with sustained defeat this season before they went on a six-game losing streak to end February and to start off the month of March.
Before the Preds' funk, they hadn't lost consecutive games in regulation until this recent run. Nashville hadn't lost more than two in a row including overtimes and shootouts.
However, last night's 2-1 overtime win over the Arizona Coyotes seemed to steady the ship, but some are wondering if it's time to panic in Smashville.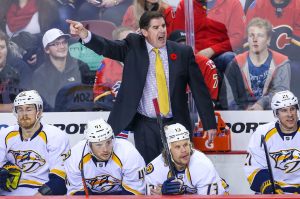 Losing a lot of games in a row is something that is not in Coach Peter Laviolette's résumé, as he never lost more than three straight games in regulation when he when he helmed the Carolina Hurricanes to the Stanley Cup in the 2005-06 season and as the Philadelphia Flyers coach in 2009-10.
So why exactly are the Predators struggling? The first thing is the team has gotten off to terrible starts, as they've gave up the first goal in 11 straight games before Monday night's win in Glendale.
It never behooves a team to give up the first goal against anyone, especially the teams that make up Nashville's rough slate for the month of March. Nashville has been good in the second and third periods of games, but it was never able to overcome being down early.
Could Pekka Rinne not be fully recovered from his knee injury? Could it even be even his mask that he recently changed? Fellow Preds' writer Colin Fitts broke down this theory.
On February 26, Rinne sported a new mask from David Gunnarsson of DaveArt in a 4-2 loss against the Minnesota Wild, in which he gave up 3 goals on 29 shots. Since wearing the new mask, the Vezina and Hart contender has not looked like he deserves it. He is 0-4-0, given up 14 goals and has a .882 save percentage.
Did the trade for Cody Franson and Mike Santorelli upset the balance that the Predators had? Did the two of them bring the "Maple Leaf Stink" from Toronto with them? The team is 4-7-1 since they acquired the duo from Toronto. Was Olli Jokinen more valuable than Nashville thought?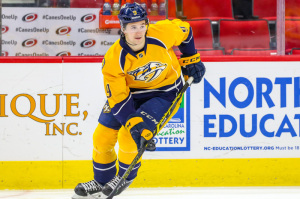 It didn't help that two of Nashville's main offensive weapons Filip Forsberg and James Neal were silent during the recent losing streak. Before last night's OT winner, Neal hadn't scored or gotten a point since Feb. 19's 5-2 loss to the Islanders. Forsberg last scored in the 5-2 win over Colorado on Feb. 24. These two will need to get back on track if the Preds want to win the Central Division.
However, it's not like Nashville was getting blown out in games. They outshot the Detroit Red Wings 40-25, but still lost 4-3. Nashville also outshot the New York Islanders, 31-26, and also lost. Also, here's this nugget from this Yahoo article via Natural Stat Trick:
Per Natural Stat Trick, the Preds' CF% 5-on-5 was higher than 50 percent in all those games except a loss to the Rangers.
Also, a losing streak sometimes forces a team to come together. All teams go through a little adversity, and it's better to do it now than right before the playoffs. Captain Shea Weber summed it up.
"It's a lot better going through this right now than it would be five games before the playoffs and not be able to correct anything before the playoffs," captain Shea Weber said Friday. "Definitely something I think that's probably good for us. We've had a little bit of adversity early on, but I think this this is obviously the biggest challenge we've had yet."
Nashville hopes that the win over Arizona has straightened everything out as the room for error has narrowed. The Preds have lost the top seed to the Anaheim Ducks, and now only have a two-point lead over the St. Louis Blues in the Central. The Predators want to avoid the late-season collapse the Blues had before getting eliminated by the Chicago Blackhawks last postseason.
Subscribe to our Predators stories to get email updates every time a new story is published.
Dan Mount is a Nashville Predators writer for The Hockey Writers. He can be found on Twitter @DanMountSports
Covered hockey since attending SUNY Oswego in Upstate New York in the early 2000s. Has written about college, major junior and professional hockey for the last five years.
Resides in Watertown, NY.