Ever Perplexing Niemi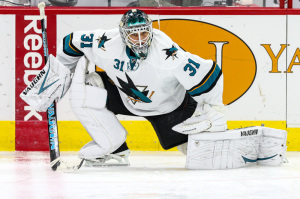 More often than not the NHL team left standing at the end of the year with Stanley Cup in hand received a terrific playoff performance from their starting goalie. Few teams have won the Cup recently without a hot postseason goaltender. One of them was the 2010 Chicago Blackhawks who won the Cup with a young Antti Niemi. During those playoffs Niemi was arguably below average in three of the four series. His playoff save percentage overall ended up at .910, which is a bit below average for regular season starting goaltenders. In the years since with the Sharks Niemi has been consistently reliable to be healthy and above average in the regular season. Come the postseason though, he has faltered.
Postseason Struggles
In three out of four years Niemi simply hasn't been the hot goaltender the Sharks have needed to make a real run at the Stanley Cup. When the Sharks went to the Western Conference final in 2011, they did so with Niemi posting a sub-.900 save percentage, which is simply not very good. The following season Niemi put up a respectable .914 but let in a back breaking soft goal in the final game of their only series against St. Louis. During the lockout shortened season Niemi was amazing though. In 2013 Niemi carried the Sharks the first half of the season earning himself a Vezina nomination. He then shined in the playoffs with a .930 save percentage, the type of hot goaltending needed for most teams to break through and win the Cup. Unfortunately for Sharks fans last season he struggled again in the playoffs, finishing with another sub-.900 save percentage.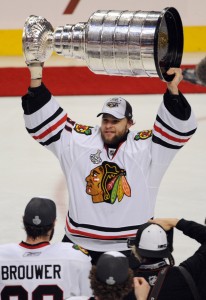 Now of course, it is never always the goaltenders fault, but Niemi has only been a shining star in one out of four postseasons for the Sharks. After winning the Cup in 2010 and backing it up with two out of the next three regular seasons with a save percentage over .920, it is no question why many Sharks supporters have expected more out of Niemi come playoff time. Playoff opponents are quality teams, they are going to get their chances to score, and to advance round after round, you need a goalie to bail you out on a regular basis. If Niemi had been his Vezina caliber self during San Jose's 2011 Conference final run, who knows, maybe that would have been the year the Sharks won their first Cup. They didn't lose to Vancouver because of goaltending, but an extra save here or there can make all the difference in the world.
Recent Resurgence
Despite being in a contract year this season, Niemi hasn't quite had the regular season one might have expected. Every other year as a Shark Niemi has produced a .920 or better save percentage in the regular season. This year however, he has had a second straight average season for a starter. That said, after seeing his save percentage dip down to around .910, it has since risen back up to .914 in recent weeks. As the Sharks make a late push to get back into the playoff picture, Niemi may have rediscovered his Vezina form just in the nick of time. It is certainly a small sample size to be sure, but in his past seven starts, Niemi has turned in a .931 save percentage. While the Sharks have only managed to win three of those seven games, if he continues to shut the door at that rate, San Jose, winners of three of their past four games, could very well jump back into a playoff spot. Personally I don't see it happening, there are too many weak spots on the Sharks roster but a hot goaltender can make up for a number of deficiencies.
Andrew has been credentialed to cover the Sharks since 2010 and the 49ers since 2012. He graduated with his BA in Broadcast Electronic Communication Arts in 2013 from San Francisco State University.