One week to save the franchise?
It may be a dramatic overstatement to suggest the Nashville Predators are less than seven days from disaster; but losing their captain and defensive anchor Shea Weber could be a massive setback.
After a year in which the Predators finally captured the Nashville public's imagination and become part of the cultural landscape of Music City, they are now faced with the loss of their two best players.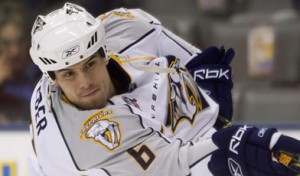 Ryan Suter, the top-pairing defensive star who played in all situations, usually alongside the Predators' captain, headed north to Minnesota with a 13 year, $98 million dollar contract to keep him company during those cold winters. Weber, after signing a 14-year, $110 million offer sheet with the Philadelphia Flyers,  put the club's ownership in an impossible negotiating position. Their only choice is to match the offer sheet, no matter what the damage to the team's profit margin, and put a brave face on the situation.
If the Predators' GM David Poile does not announce he has matched the Flyers' offer sheet by next Wednesday, the subtext of that announcement will be: "We will always be a small market team that cannot retain its talent." It is exactly the type of statement that will cause the recent growth in the Nashville market to wither away. It is an acceptance of mediocrity following a false dawn when the team looked set to become a perennial contender in the west.
The expense to the franchise of losing the goodwill generated during the triumph over the Red Wings last spring is too great to ignore. If they don't match this offer sheet, they will never be able to attract another high-level free agent to Nashville. What's more, they will struggle mightily to even make the playoffs next year and attendance will start to dip again.
Patience for another rebuilding phase in Nashville is wearing thin.  This is especially true after the "future is now" moves made at the deadline last year. If the Predators want to win a Cup they must keep their captain and keep him happy.