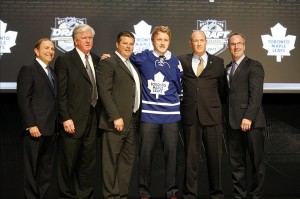 Get ready for some serious change to the Toronto Maple Leafs.
Each season is given a specific title representing the most popular topic of the campaign. The most accepted title generally concerns the entire league, but each NHL team also has its own topic of interest each season.
With the 2012-2013 campaign fast approaching, some of those topics are beginning to surface. For the Maple Leafs, that would be rookies and sophomores.
The trade of Luke Schenn brought plenty of change to Leaf Nation itself. A new hole was created on defence, a big top-six forward was gained and a player that was once a top-tier prospect in Toronto had departed. It was realized by fans and media almost the second the trade went down that something needed to be done on the back-end. That something was unclear to many at the time and remains that way today.
What people do know is that the Leafs have an abundance of defence prospects who played as members of the AHL's Toronto Marlies last season. One is Jesse Blacker, who many consider to be NHL-ready after just one full season in the American league.
Then there is Korbinian Holzer. At 24, Holzer just might be ready for a full-time gig with the Maple Leafs. He appeared in two games for the Leafs in 2010-2011 and has since developed further with the Marlies. Holzer is known to be more of a stay-at-home defenceman and will use that characteristic to his advantage while pushing for one of the final spots on the Leafs' blue line, which remains wide open.
Another young defenceman to watch this coming season, although no longer a rookie, is Jake Gardiner. As everyone knows by now, Gardiner turned heads last season by making the Leafs' roster out of training camp. He was later named to the NHL All-Rookie Team and many consider him to have already locked down a spot in the Leafs' lineup this season. Either way you look at it, Gardiner will certainly play a large role in the Leafs' success in 2012-2013.
Unlike a few potential Leafs, it wouldn't be a surprise to see Blacker, Holzer and Gardiner become key figures on the Leafs' roster this season. One who would be somewhat surprising to see take over, although it's not entirely out of the question, is goaltender Ben Scrivens.
Scrivens, 25, had a chance to show the Leafs what he is capable of last season when James Reimer went down. As long as Leafs general manager Brian Burke keeps things status quo and elects not to acquire another netminder prior to the beginning of the season, Scrivens will likely be the one to step in behind Reimer as the backup.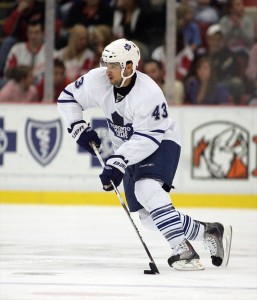 If Reimer falters, surely head coach Randy Carlyle wouldn't hesitate to go with Scrivens, giving him the chance to shine. Even if Reimer plays well (again, as long as Burke goes with Reimer and Scrivens), the Marlies' star goalie will get a chance in the big leagues.
Other players that will get shots at the NHL this season include Nazem Kadri, Joe Colborne, Matt Frattin, Leo Komarov and maybe even newly-drafted Morgan Rielly.
Kadri has been back and forth between the Leafs and Marlies for the last two seasons. It's easy to see how this might have affected the former seventh overall draft pick's development up to this point, but don't be surprised to see him get a fair shot under Carlyle this season. "Fair shot" meaning 60-plus games.
Then there is Matt Frattin, who didn't play terrible with the Leafs last season, but struggled to remain on the team. Just how much he plays with the Leafs this season is up to him; the team knows about his work ethic and is aware of what he can handle. That is, of course, a physical role in the bottom-six.
Another player expected to bring plenty of physicality to Maple Leafs training camp this fall is 2006 sixth round draft pick Leo Komarov, who the Leafs signed to a one-year deal this past May. Many expect him to make the Leafs' roster out of camp, including Komarov himself.
#Leafs Leo Komarov: "I have a lot of hard work to do, but I think I am ready."

— Terry Koshan (@koshtorontosun) July 2, 2012
If Komarov does suit up for the Maple Leafs this season, whether it be straight out of training camp or at some other point down the road, it is believed that he will play a bottom-six checking role. With that, you can expect to see guys like Mike Brown and David Steckel fighting hard to keep their spots.
Finally there is Morgan Rielly, who the Leafs selected fifth overall last month. To the average fan, the chances of Rielly landing a spot with the big club this season seem to sit around 50 percent. Some claim he is NHL ready, but last season's knee injury and team history (see: Luke Schenn) are enough for others to send him back to junior for one more season.
Blacker, Holzer, Gardiner, Scrivens, Kadri, Colborne, Frattin, Komarov and Rielly are nine players that hold the status of rookie or sophomore who could make a big impact with the Toronto Maple Leafs this season. Who knows, maybe we'll even see a surprise like Gardiner again in 2012-2013.
One thing is for sure, 2012-2013 is likely to be the year of rookies and sophomores in Toronto.
Twitter: @LukasHardonk | Email: lukas.hardonk@gmail.com | Lukas' archive
For every Leafs article on THW, follow @THW_MapleLeafs on Twitter.
Check out Maple Leafs Central, a THW Network site.