It's never too early to start speculating about the Washington Capitals' potential day-one starting offensive lines for the upcoming NHL season.
There were no trades or free-agency deals affecting the top-six forwards, but some ins and outs occurred below that threshold.
Let's jump in and take a look at the potential line combinations in October for the Capitals:
Alex Ovechkin – Nicklas Backstrom – T.J. Oshie
Andre Burakovsky – Evgeny Kuznetsov – Justin Williams
Marcus Johansson – Lars Eller – Tom Wilson
Daniel Winnik – Jay Beagle – Brett Connolly
The Top Line
There is no sense in messing with a winning combination. Since he entered the NHL, Backstrom has assisted on almost half of Ovechkin's goals. That said, Kuznetsov was elevated to top-line center last term in various spells – and a lot of people believe he'll start there next term. However, I don't see the season beginning that way. Ovechkin and Backstrom tallied 71 and 70 points respectively, and the smart money is on Ovi and Backs lining up together in the first regular-season game.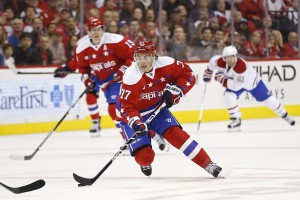 Oshie had a phenomenal first season as a Capital in 2015-16, and he'll start at right wing. I see him improving on his 51 points total last term by hitting closer to 70 points in 2016-17. He came to Washington with something to prove, and he proved it – especially during the playoffs when he clocked six goals and four assists.
The Second Line
The Capitals' second line comprises of the young guns and the old guard. Burakovsky, 21, will look at next season as a major opportunity to shine. He did well last year with 17 goals and 21 assists over 79 games, but he has the talent to double those stats next season.
The other youngster on the line, 24-year-old Kuznetsov, topped the scoring table for Washington last season (77 points), more than doubling his tally for 2014-15. He's a superstar in the making; cut from the same cloth as Ovechkin. He's interchangeable with Backstrom, so it will be interesting to see how head coach Barry Trotz deals with having the services of effectively two top-line centers. One thing is for sure; Kuznetsov failed to impress during his 12 post-season outings – scoring only one goal and one assist for a minus-4 rating.
At right wing is crowd favorite Williams, 34, who some fans and experts were skeptical about when he arrived in Washington. Any doubts were erased when the former L.A. King scored 22 goals and assisted on 30 more.
Ultimately, the Caps' top six is one of the best in the NHL.
The Third Line
On the flip-side, the Caps' bottom six is not one of the best in the NHL – but it's not bad nevertheless.
Assuming he's still a Capital in October (and most experts believe he will be), Johansson will start at left wing. The Caps purposely had a low-key free agency to ensure enough salary cap to bring him and defenseman Dimity Orlov back.
Alongside Johansson at center, the Caps will likely insert new signing Lars Eller. Acquired in a trade in June from the Montreal Canadiens, Eller is an interesting addition to the team. The 27-year-old had mixed results while he was part of an excellent Montreal roster over the past six seasons.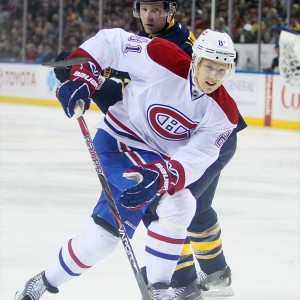 Last year, he recorded 13 goals and 13 assists during 79 games – which wasn't bad considering his limited ice time.
Wilson, third on the NHL penalty minutes chart last year, needs to bring more to his game than fights this season, because – even though every team must have an enforcer – Wilson may become the healthy scratch poster boy next term if the other attributes of his game don't start showing.
The Fourth Line
The fourth line is always a puzzling enigma in Washington. Beagle is a face-off maestro and probably will be elevated to a higher line at some point in the season, but I see him starting on the fourth and featuring in power plays. He can also play well in any position.
The other two, Winnik and new boy Connolly (formerly of the Boston Bruins), have to prove themselves quickly or they'll face pressure from 24-year-old right wing Stanislav Galiev or even prospect Zach Sanford – who many believe is ready to start his NHL career right now.
Do you agree? Leave me your prospective Capitals day-one starting lines in the comments section below.
Glynn Cosker is based in the Washington D.C. area. A professional writer and blogger, Glynn brings insightful news and information on all things related to the Washington Capitals for THW. Follow Glynn @DCPuckDrop