When the Chicago Blackhawks host the Buffalo Sabres, they'll be getting a big boost on offense. Marian Hossa is set to return to the lineup after missing time with an upper-body injury. The veteran forward has been out since Dec. 20 and since then, the Blackhawks have gone just 1-3-1. Getting Hossa back will be huge for the Blackhawks as they look to match the hot hand of Buffalo Sabres forward Jack Eichel. The second-year pro has points in four straight including two goals and three assists in that time.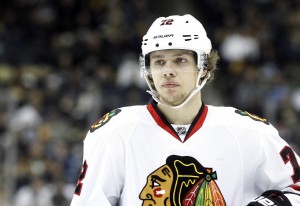 For the Blackhawks and Sabres, this will be the first time that these two teams will faceoff this season. The Blackhawks currently sit in fifth place in the league with 51 points. The Sabres, on the other hand, are sitting in 28th in the league with 36 points. Momentum looks to be in the corner of the Sabres, however, who are coming off of a 4-1 victory over the New York Rangers on Tuesday, Jan. 3. The Blackhawks are coming off of a road loss – which typically wouldn't really mean much one way or the other at this stage of the year. This loss, however, came at the hands of the St. Louis Blues at the 2017 Bridgestone NHL Winter Classic on Monday, Jan. 2.
Both teams have dealt with injuries this season. Injuries are a normal part of professional sports, but not many teams can claim to have been impacted by bad luck in the injury department quite as much as the Sabres and Blackhawks.
---
Buffalo at Chicago Blackhawks
United Center – 7:30 p.m. CT on Thursday, Jan. 5
Broadcast channels – CSN Chicago, NBCSN
2016-17 Season Series: 
First Matchup of the Season
Buffalo Sabres – 14-15-6 – 36 points
Away Record: 7-7-5
Hot Players: Evander Kane, Sam Reinhart
Key Injuries: Dmitry Kulikov, Cody McCormick, Tyler Ennis, Johan Larsson
Projected lines:
Forwards:
Kyle Okposo-Jack Eichel-Marcus Foligno
Evander Kane-Sam Reinhart-Justin Bailey
Derek Grant-Ryan O'Reilly-Brian Gionta
Nicolas Deslauriers-Zemgus Girgensons-Matt Moulson
Defense:
Jake McCabe-Rasmus Ristolainen
Zach Bogosian-Cody Franson
Justin Falk-Taylor Fedun
Starting Goaltender:
Anders Nilsson
[irp]
Chicago Blackhawks – 23-12-5 – 51 Points
Home Record: 13-4-4
Hot Players: Artemi Panarin, Duncan Keith
Key Injuries: Marcus Kruger
Projected lines:
Forwards:
Artemi Panarin-Artem Anisimov-Patrick Kane
Spencer Abbott-Jonathan Toews-Marian Hossa
Ryan Hartman-Tanner Kero -Richard Panik
Andrew Desjardins-Dennis Rasmussen-Vinnie Hinostroza
Defense:
Duncan Keith-Trevor van Riemsdyk
Brian Campbell-Brent Seabrook
Gustav Forsling-Niklas Hjalmarsson
Starting Goaltender:
Corey Crawford
---
Game Notes
[miptheme_dropcap style="normal" color="#222222″ background=""]1)[/miptheme_dropcap]Hossa returns to the Blackhawks after being sidelined with an injury on Dec. 20. Hossa has scored 16 goals and 23 points in 34 games this season in a resurgent season following a 13 goal, 33 point season in 64 games last year. The veteran forward joins his usual linemate in Toews with Abbott joining them on the left flank.
[miptheme_dropcap style="normal" color="#222222″ background=""]2)[/miptheme_dropcap]Eichel has scored two goals and five points in his last four games during his four-game point streak. The young center has seven goals and 13 points in 16 games this season after missing much of the first half of the season with a lower-body injury.
[miptheme_dropcap style="normal" color="#222222″ background=""]3)[/miptheme_dropcap]Panarin has been on fire for the Blackhawks as of late. While he's had a good year in general, his Five goals and 16 points in his last 11 games with points in 10 of his last 11. Fresh off of a contract extension, the Breadman continues to show that he's one of the best forwards in the entire NHL.
[miptheme_dropcap style="normal" color="#222222″ background=""]4)[/miptheme_dropcap]The Chicago Blackhawks have won nine-straight games in their series against the Sabres. The Blackhawks haven't lost to the Sabres since Dec. 11, 2009, and have not lost at home to the Sabres since Jan. 10, 2007. The Sabres certainly face an uphill battle as they look to break the Blackhawks' streak.
[miptheme_dropcap style="normal" color="#222222″ background=""]5)[/miptheme_dropcap]Sabres' forward Ryan O'Reilly was considered a game-time decision as he awaited clearance to play in this game from the team's medical staff. O'Reilly underwent appendectomy recently, an injury that sidelined Blackhawks goaltender Corey Crawford for weeks.
[irp]
Both the Blackhawks and Sabres have dealt with injuries this season that have hindered them throughout the season, though the Sabres have struggled more than the Blackhawks in terms of the actual standings. Both teams have dealt with injuries to both of their top-six centers, as well as top-six wingers and defensemen. The Blackhawks also had to play for a stretch without their starting goaltender in Crawford, but both teams are slowly starting to get healthier as the season progresses. When the Blackhawks and Sabres face off Thursday, neither team will be thinking about their injuries. Neither team will even be thinking about the 'Hawks winning streak against the Sabres. For these two clubs, all that's on their mind is coming out of this game with a win with eyes towards the postseason.