Multiple reports out of Chicago indicate the Blackhawks will finally get Marian Hossa back in the lineup. That's a big deal, as the team was struggling finding wingers for Jonathan Toews line in Hossa's absence.
#Blackhawks lines:
Abbott-Toews-Hossa
Panarin-Anisimov-Kane
Hartman-Kero-Panik
Desjardins-Rasmussen-Hinostroza

— Mark Lazerus (@MarkLazerus) January 5, 2017
Most recently the team had rookies Vinnie Hinostroza and Ryan Hartman skating on the wings. Now that Hossa is back it takes care of one side. The other side will be manned by Spencer Abbott, who just earned his first call-up since bouncing out of the NHL and heading to Europe last year.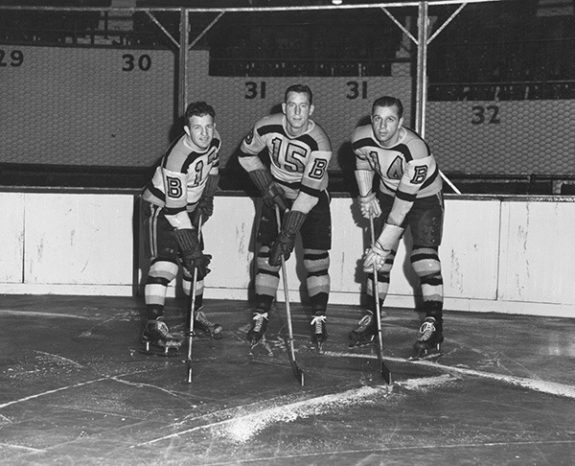 Milt Schmidt
Yesterday, the hockey world lost a legend. At age 98, Hall of Famer Milt Schmidt, the oldest living NHLer, passed away. Schmidt's legacy is massive. He was quite possibly the game's first incredible two-way forward. If the Selke Trophy existed in his day, they'd be piled up in his basement.
He won the Hart Trophy in 1951, was a coach of the Bruins, was the GM behind Cup-winning Boston rosters in the 70s and was the first GM of the Washington Capitals.
He only suited up for the Bruins during his playing days from entering the league in 1936 to his retirement in 1955 (less a couple seasons in the middle while he served in the Canadian military during World War II). He even wore a "C" for the Bruins from 1950 to his retirement.
Gallager's Hand
Wednesday night, Brendan Gallagher's hand looked something like the table after the ol' Gallagher watermelon routine.
The Habs forward took a Shea Weber slapshot off the hand and though there's no update, it doesn't take a doctor to realize, Oh my god, no.
This isn't the first time Gallagher has had a gruesome hand injury. It happened last year as well when he blocked a shot from the Islanders' Johnny Boychuk with his right hand. That was more visually jarring with one of his finger pointing completely in the wrong direction.
At this point, there's no timetable for his return. However, he's not traveling with the team and will instead be getting an evaluation from team doctors.
Brendan Gallagher will not accompany the team to Toronto. He will return to Montreal to meet with team doctors.

— Canadiens Montréal (@CanadiensMTL) January 5, 2017
Griffith Takes Shot to the Head
Also suffering an injury Wednesday was Florida's Seth Griffith. He fell victim to a dirty hit from Winnipeg's Nic Ehlers.
The Jets' sophomore launched up into Griffith's head while he wasn't in possession of the puck during the opening frame of the Jets win. The Panther was immediately shaken and got off the ice. He would not return to the game.
Here's the Ehlers hit on Griffith, who left the game with a concussion: pic.twitter.com/XVBsLsO3ZL

— Cats On The Prowl (@Cats0ntheprowl) January 5, 2017
Coach Tom Rowe was not pleased about the hit, which did not garner a penalty. "It was a dirty hit by Ehlers," Rowe said. "He deliberately did it. I don't care what anybody says. We watched the video. It was a dirty hit.
"If the kid is going to play like that in the league, it's going to be a long season for him," Rowe continued. "I don't know when players are going to start respecting the game, and not going for the head because that was a deliberate hit."
Rowe said Griffith is out for "God knows how long.'' #flapanthers

— Harvey Fialkov (@hfialkov) January 5, 2017
Another Game, Another Jagr Record
In that same game, Jaromir Jagr grabbed an assist on a Greg McKegg goal. It was the old man's 1,136th career assist, putting him past Paul Coffey and in sole possession of fifth all-time on the assist list.
Next up on the list is defenseman Ray Bourque, who put up 1,169 assists in 1,612 career contests. So, Jagr has a long way to go before he ascends another peg on that list. He'll no doubt set some other record in his next game.
Auston Matthews x Troy Terry
After Troy Terry's shootout heroics in Wednesday's semifinal against Team Russia at the World Junior Championship, Auston Matthews tweeted out a little love for the University of Denver standout.
Terry responded with some love of his own.
I love you

— Troy Terry (@troyterry1997) January 5, 2017
Also, this is wonderful and you should watch it.
Odds & Ends
– There has been talk that Bruins center David Backes is close to a return. It appears that's true, but his return will not be on Thursday night. He's not quite there yet.
Backes will not be ready for tonight, per Julien. "He's doing really well, but not quite 100 percent."

— Boston Bruins (@NHLBruins) January 5, 2017