The 2015 first and second overall picks are set to matchup for the second time in their career tonight in Buffalo. The Sabres won the first meeting of the season between the two by a 6-2 score without Jack Eichel. This time Connor McDavid and Eichel will share the same ice surface in NHL in another hyped meeting. Yes, the rest of the Edmonton Oilers and Buffalo Sabres will be on the ice as well, but the two young superstars are the headliners for the night.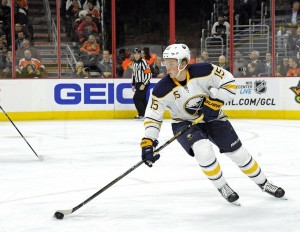 Looking back on the first meeting between Eichel and McDavid last season the roles have reversed themselves this time around. Last season McDavid missed a few months with the broken collarbone and was only playing in his 28th game at the time of the March matchup. Eichel, on the other hand, was on his way to playing 81 games and putting up a solid 56 point rookie season.
This time around McDavid has played the full season, but Eichel is just returning from his high ankle sprain, in what will only be his fifth game of the season. The 19-year old Oilers center has proven that all the hype around him was well deserved prior to being drafted. McDavid enters the Tuesday night's matchup leading the league in points with 34.
Although he's only played four games, Eichel has reminded the league that he too belongs in the conversation as one of the league's top young talents. In only four games he's made a huge impact on his team and has scored three goals and four points so far.
---
Edmonton Oilers at Buffalo Sabres
KeyBank Center – 7 p.m. EST
Broadcast channels – MSG-B and SNW
2016-17 Season Series: October 16 – Sabres 6 – Oilers 2
Edmonton Oilers – 14-10-3 – 31 Points
Road Record: 8-4-2
Hot Players: Connor McDavid, Leon Draisaitl, and Patrick Maroon
Key Injuries: Darnell Nurse
Projected lines:
Milan Lucic-Connor McDavid-Leon Draisaitl
Benoit Pouliot-Ryan Nugent-Hopkins-Jordan Eberle
Tyler Pitclick-Drake Caggiula-Anton Slepyshev
Patrick Maroon-Mark Letestu-Zack Kassian
Andrej Sekera-Matt Benning
Oscar Klefbom-Mark Fayne
Kris Russell-Adam Larsson
Starting Goaltender: Cam Talbot
[irp]
Buffalo Sabres – 9-10-6 – 24 Points
Home Record: 4-5-3
Hot Players: Jack Eichel, Sam Reinhart, and Kyle Okposo
Key Injuries: Zach Bogosian, Dmitry Kulikov, Josh Gorges, and Tyler Ennis
Projected lines:
Evander Kane-Jack Eichel-Sam Reinhart
William Carrier-Ryan O'Reilly-Kyle Okposo
Marcus Foligno-Johan Larsson-Brian Gionta
Zemgus Girgensons-Derek Grant-Matt Moulson
Rasmus Ristolainen-Jake McCabe
Cody Franson-Brendan Guhle
Justin Falk-Erik Burgdoerfer
Starting Goaltender: Anders Nilsson
---
Game Notes
[miptheme_dropcap style="normal" color="#222222″ background=""]1)[/miptheme_dropcap] In the first meeting in Buffalo in March, the Oilers beat the Sabres by a score of 2-1 on the back of two goals by McDavid. He started the scoring just 22 seconds into the game and finished the game with an overtime goal that Robin Lehner certainly would have liked back. So, you could say round one went to McDavid.
[miptheme_dropcap style="normal" color="#222222″ background=""]2)[/miptheme_dropcap] The Oilers come into the game with 31 points and a 14-10-3 record which is good enough for second place in the Pacific Division. Edmonton was off to a very hot start to begin the season, but have come back to earth slightly. The game against the Sabres will be the first game of a three-game east coast road trip for Oilers as they look to find consistency.
[miptheme_dropcap style="normal" color="#222222″ background=""]3)[/miptheme_dropcap] The Sabres, on the other hand, come in with 24 points and a 9-10-6 record that currently has them sitting in the last place in the Atlantic Division. However, with the return of Eichel, Buffalo has been a much different team going 2-2 in the last four games. They've picked up points in three of those four games. After struggling to score they've averaged three goals per game since Eichel has come back into the lineup.
Bylsma on Eichel: "I think it's the first time he's had any incident he's felt anything with the ankle, he tweaked it, that's fairly normal"

— Brian Koziol (@BrianWGR) December 6, 2016
[miptheme_dropcap style="normal" color="#222222″ background=""]4)[/miptheme_dropcap] Eichel tweaked his ankle last night against the Washington Capitals in the second period. He finished the game but didn't look like himself through the final two periods and overtime. Head coach Dan Bylsma and Eichel downplayed it saying that it's going to happen and he should be fine to play tonight.
[miptheme_dropcap style="normal" color="#222222″ background=""]5)[/miptheme_dropcap] After playing last night the Sabres will need to take time and speed away from the Oilers. They'll need to control the pace of the game and maintain possession of the puck. McDavid has the potential to take advantage of a tired defense group and a player like Rasmus Ristolainen who played 29:51 in DC on Monday night.
[miptheme_dropcap style="normal" color="#222222″ background=""]6)[/miptheme_dropcap] Buffalo will still be without four defensemen in Zach Bogosian, Dmitry Kulikov, Josh Gorges, and Taylor Fedun. Kulikov will likely return on Friday against the Capitals. Fedun is day to day while Bogosian and Gores are still weeks away.[/miptheme_listitem] [/miptheme_list]
---
After getting a point last night, Buffalo will look to keep moving in the right direction and climb the standings. Going into tonight's games they sit six points out of both the wild card and third place in the Atlantic division. Although they played last night, the club shouldn't have a hard time getting up for the Oilers. There will be a buzz in the building for the second meeting of McDavid and Eichel. They should be able to feed off of that and skate with Edmonton.