If you're Mike Sullivan — or any member of the Penguins' brass — you may be ready to pull your hair out right now. If you're a spectator of this sport, though, this just might be the most entertaining hockey you've watched since the early-to-mid-90's.
That is if you're old enough to remember that period, of course.
The Penguins opened up the Sullivan era on December 14, 2015, with a 4-1 loss to the Washington Capitals. They continued down that same path, eventually starting their new coaches tenure with an 0-4 record but despite those losses, there was something intriguing about them.
They were fun. They were — dare I say — a bit unstructured and chaotic, which is unheard of in today's NHL. And it looked as if something special was brewing.
The addition of Trevor Daley coincided with Sullivan's hire, giving the new head coach an added tool for his speedy, overwhelming attack. General manager Jim Rutherford would eventually add more pieces of that puzzle — with names like Carl Hagelin and Justin Schultz coming aboard — and eventually, the Penguins were a masterpiece of blistering speed and an unmatched offensive juggernaut.
The result will forever be engraved in hockey history.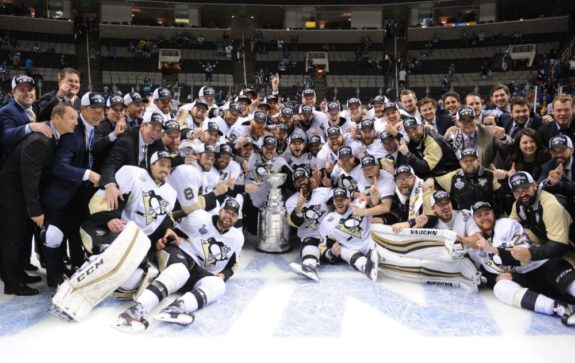 No Signs of Slowing Down
Pittsburgh's approach hasn't changed. They're still playing a style that can be summed up as fire sale hockey, constantly attacking and willing to take chances on the rush to create offense. Some claim they tend to do so more often with Marc-Andre Fleury in net but the numbers tell a different story. Frankly, it doesn't matter what goalie is playing, nor does it matter what injuries they've sustained.
The Penguins are looking to overwhelm their opponents and they won't have it any other way.
There's one stark difference between the results this team recognized throughout last spring and what they're accomplishing now. They can still score goals in bunches but from a defensive standpoint, something is amiss. So much so that they currently rank near the bottom of almost every defensive category. According to Corsica.Hockey, they rank in the bottom-10 for shot attempts against per 60 minutes, as well as actual shots against per 60 minutes. They're just outside the bottom-10 (13th) in scoring chances against and that's reflected in the fact that they're allowing the 12th most goals against per 60 minutes.
In other words, they're allowing their opponents to generate plenty of offense and it shows in how often they've capitalized. Only four teams in the league have allowed more goals against thus far.
Does It Really Matter?
If there's one thing Pittsburgh taught everyone in the hockey world throughout 2015-16, it's that the NHL season is certainly a marathon, as opposed to a sprint. There will be plenty of concerns as things progress. There will be necessary tweaks and in some cases, major personnel overhauls. There will be periods in which they look lost, incapable of finding the magic needed for a deep playoff run.
That's what the regular season is for, right?
Ultimately, as long as the Penguins can stay afloat in the standings and continue getting the end result they have so far, it's tough to find faults in the way they're playing. I say that as a spectator, of course, because it's fun hockey. It's two teams trading chances. There are big plays, big goals, and even big saves.
It's hockey, the way it should be played.
There's also one particular metric that tells us Pittsburgh will be just fine, and it's their PDO. If you're unfamiliar with PDO, it basically assumes that every team will finish the season very close to the 100 mark. Teams like the New York Rangers began the season quite high, boasting a PDO north of 105, and it's now steadily declining as they return to their anticipated strength of play. Their recent record reflects that decline, as well as their drop-off in scoring.
The Penguins have remained constant at 100, and they're winning. If the tradeoff is a few more goals-against — though Fleury and Murray may disagree — I don't see an issue with that. Based on how fun this team has been to watch, I imagine most of you currently reading this are fine with the current product as well. Unless of course, you're more of a traditionalist that would prefer more grit and fighting.
Getting Their Points Across
Fun fact: Since Nov. 30, no player in the NHL has recorded more points than Cole's 7 (1G-6A). The two players tied with Cole? Sid & Geno. pic.twitter.com/oYUCsXUHOT

— Pittsburgh Penguins (@penguins) December 6, 2016
Justin Schultz and his partner, Ian Cole, are a major part of this attack right now. To be clear, they have been for quite some time but now they're being rewarded on the scoresheet. Schultz has six points in his last four games and has scored a goal in his last two. When you combine that sort of production from Pittsburgh's bottom pairing with the secondary scoring they've received from individuals like Bryan Rust, it's a special thing to watch.
Evgeni Malkin is third in scoring across the entire league with 28 points, while Sidney Crosby and Phil Kessel reside in a four-way tie with Vladimir Tarasenko and Tyler Seguin for fourth place with 27 points each. Yes, the Penguins have three individuals that rank top-five in scoring.
We'll continue to talk about shortcomings and opportunities. There will be plenty of trade speculation and rumors flying in the coming weeks. However, through all of that, let's make sure to appreciate the fact Pittsburgh is challenging the status quo. Enjoy the fact that Sullivan's Penguins aren't shutting things down, trapping and trying to squeak out low-scoring wins during these times of defensive struggles.
After all, that's what got their former head coach fired a short 12 months ago.
Pittsburgh Penguins writer for TheHockeyWriters.Com and PittsburghHockeyNow.Com. Youth hockey coach, and student of the game.