The New York Islanders lost three free agents last summer and all were a big part of the team's recent success, but the one player they miss the most is Frans Nielsen. The versatile center made his emotional return to Barclays Center Sunday evening as a member of the Detroit Red Wings. His loss is most keenly felt throughout the Islanders lineup.
Nielsen spent a decade with the Islanders, developing from an obscure rookie back in 2006-07 to an alternate captain and vital component to the team's success.
Nielsen's Return Bittersweet For Isles
"The Great Dane" admitted it was a strange feeling making his return to Brooklyn and facing his former team for the first time.
"It was an emotional night for me," Nielsen admitted after the Red Wings edged the Islanders 4-3 in overtime. "It's awesome to get a win but I'm glad this one's over now."
The Islanders and their fans gave Nielsen a warm welcome back during his return. During the first period, the scoreboard played a video tribute to Nielsen and his time with the Islanders. The fans responded with a very boisterous ovation.

"It was awesome. I've been here so long," Nielsen said after the game. "This organization means so much to me. I was really happy they did that."
Nielsen's play on Sunday reminded the Islanders what they were missing. His pinpoint pass helped set up Detroit's first goal of the night, a strong one-timer by defenseman Mike Green.
Nielsen admitted this was not just another game for him. "There were some nerves," he said. "I've been looking at the schedule a long time just waiting to play here. Now that's it done I can just sort of move on."
Nielsen's Versatility Difficult to Replace
The Islanders have had difficulties since Nielsen departed in part because of what he provided for the team. While Andrew Ladd was signed to replace the scoring of Kyle Okposo and Jason Chimera was added to give a spark to the bottom-six forwards after Matt Martin's departure, it was nearly impossible for one player to provide the Islanders what Nielsen gave them.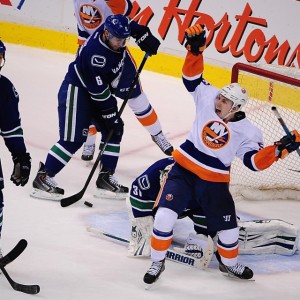 Last season, for example, Nielsen finished third on the Islanders with 20 goals and 52 points. He scored seven times and added 20 points on the power play and added a pair of shorthanded tallies.
Nielsen played on the second line primarily, but could fill in on the first line or any other trio when the need arose. He also played point on the power play and was one of the team's best penalty killers. Whether the Isles were protecting a one-goal lead or trailing by a goal in the final minute, Nielsen was a player coach Jack Capuano wanted out on the ice.
[irp]
Nielsen's absence is particularly noticeable on special teams. Last season, the Islanders finished 17th on the power play with a 18.3 percent success rate. Through 24 games this season, the Isles rank dead last in the league with the extra attacker, scoring on a mere 11.6 percent of their chances.
The penalty kill also has fallen off. This season, they rank 18th in the league with an 82.1 percent success rate. Last season, the penalty kill was a big part of the team's success as the Isles finished fourth in the league by killing off 84.5 percent of opponents' power play chances.
Quiet Leadership Lacking
Nielsen's leadership in the locker room is also missed. The veteran center was never a vocal type, but always led by example. His teammates always noticed.
"He's a quiet leader," forward Josh Bailey said of Nielsen last year. "He never really says too much, he just goes about his business. He's always a positive guy and always a guy who's cheering for his teammates and all around just a great guy to have on your team."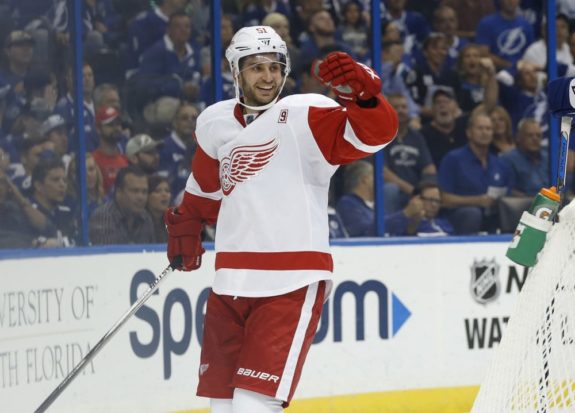 The Islanders seem to be rebounding after a slow start this season and hope to get back into contention in the Metropolitan Division. But Sunday's game against Detroit reminded them how difficult it is to replace the versatility, leadership and intangibles that Frans Nielsen provided the team in recent seasons.
Long time hockey writer and author of the new book, "Ice Wars: The Complete History of New York's Greatest Modern Sports Rivalry." It tells the story behind every game between the Rangers and Islanders dating back to 1972 and features profiles of more than 80 players from both teams and quotes from more than 50 exclusive interviews from players, coaches and broadcasters from both teams.