The Chicago Blackhawks will face the Arizona Coyotes for the first time in the 2016-17 season Tuesday at the Madhouse on Madison. The Blackhawks offense has exploded in recent meetings with the Coyotes, averaging six goals-per-game in their last three meetings. Scott Darling will start in net for the third consecutive game in relief of Corey Crawford with Mike Smith manning the crease for the 'Yotes.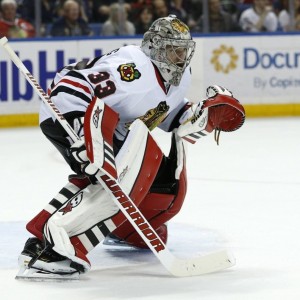 Darling played admirably in his most recent matchup against the Winnipeg Jets, stopping 30 of 32 shots but ultimately losing the game. If the Blackhawks are going to win games, they're going to have to start scoring more consistently. Fortunately for Chicago, they're playing against Arizona – as mentioned, their offense seems to come to life against the Coyotes. Unfortunately, they're playing against Smith.
Despite carrying just a 2-1-2 record in his last five games, Smith has been exceptional as of late. Smith has posted a .952 save percentage in his last five contests, facing at least 33 shots in each. His most recent outing came against the Columbus Blue Jackets in a losing effort in the shootout in which the Coyotes' netminder faced 60 shots against and made 58 saves.
In an attempt to spark their lineup, the Blackhawks have shuffled around their lines. One of the most noticeable changes in Chicago's lineup comes in the form of center Marcus Kruger likely to be centering the 'Hawks second line with Ryan Hartman and Marian Hossa on his flanks.
---
Arizona Coyotes at Chicago Blackhawks
United Center – 7:30 p.m. EST
Broadcast channels – CSN Chicago
2016-17 Season Series: First Matchup of the Season
Arizona Coyotes – 8-12-4 – 20 Points
Road Record:3-7-3
Hot Players: Oliver Ekman-Larsson, Tobias Rieder, Mike Smith
Projected lines:
Forwards:
Tobias Rieder-Martin Hanzal-Radim Vrbata
Max Domi-Christian Dvorak-Shane Doan
Brendan Perlini-Jordan Martinook-Jamie McGinn
Lawson Crouse-Tyler Gaudet-Ryan White
Defense:
Oliver Ekman-Larsson-Connor Murphy
Alex Goligoski-Michael Stone
Jakob Chychrun-Luke Schenn
Starting Goaltender:
Mike Smith
[irp]
Chicago Blackhawks – 16-8-3 – 35 Points
Home Record: 10-2-2
Hot Players: Artemi Panarin, Artem Anisimov, Patrick Kane
Key Injuries: Jonathan Toews, Corey Crawford, Trevor Van Riemsdyk
Projected lines:
Forwards:
Artemi Panarin-Artem Anisimov-Patrick Kane
Ryan Hartman-Marcus Kruger -Marian Hossa
Tyler Motte-Dennis Rasmussen-Richard Panik
Andrew Desjardins-Vinnie Hinostroza-Jordin Tootoo
Defense:
Duncan Keith-Brian Campbell
Trevor van Riemsdyk-Brent Seabrook
Gustav Forsling-Niklas Hjalmarsson
Starting Goaltender:
Scott Darling
---
Game Notes
[miptheme_dropcap style="normal" color="#222222″ background=""]1)[/miptheme_dropcap]The Chicago Blackhawks have been exceptional at home, and mediocre at best on the road. On the season, the Blackhawks hold a 10-2-2 record when playing at the United Center, and just a 6-6-1 record when playing in away rinks. The Blackhawks will need to continue to win games at home if they intend on continuing their ascent towards the top of the standings despite missing their captain and starting netminder.
[miptheme_dropcap style="normal" color="#222222″ background=""]2)[/miptheme_dropcap]The Arizona Coyotes are sporting a 5-5-1 record at home, and a 3-7-3 record on the road coming into this game. Despite impressive play from their netminder and a young core developing this season, the Coyotes just aren't putting it all together yet in the 2016-17 season.
[miptheme_dropcap style="normal" color="#222222″ background=""]3)[/miptheme_dropcap]The Chicago Blackhawks are 5-4-1 in their last two games but are on a two-game losing streak heading into Tuesday night's tilt. The Coyotes aren't fairing any better, holding a 3-3-4 record in their last 10 and entering the game on a one-game losing streak.
[miptheme_dropcap style="normal" color="#222222″ background=""]4)[/miptheme_dropcap]The Arizona Coyotes will be playing their third game in four nights. The Blackhawks, however, are rested after playing in back-to-back games against the Philadelphia Flyers and Winnipeg Jets on Dec. 3 and 4. respectively. Unfortunately, the Blackhawks lost both of those games and were outscored 5-2 in the process.
[miptheme_dropcap style="normal" color="#222222″ background=""]5)[/miptheme_dropcap]Though they are still without captain Jonathan Toews, the Blackhawks have said that they are hopeful that Toews can return to the lineup in their upcoming road trip to New York. Toews will be missing his seventh consecutive game with a back injury that has kept him sidelined as of late.
---
The Blackhawks are treading water without Toews and Crawford in their lineup, but it's better than the alternative of crashing and burning. The reunion of the Panarin, Anisimov, and Kane line has been a welcome sight for the 'Hawks, and it's unclear whether or not head coach Joel Quenneville will break them up again upon the return of Toews. It shouldn't be too hard of a task for the Blackhawks to capitalize on the lowly Coyotes, but anything is possible in the game of hockey and the 'Hawks certainly shouldn't take the up-and-coming Arizona squad lightly.