The Florida Panthers make their way up north Thursday night to face the Philadelphia Flyers at the Wells Fargo Center at 7:00 pm EST. Both teams are right in the thick of the fight for the last wildcard spot in the Eastern Conference.
The Panthers sit a point behind the Toronto Maple Leafs who currently own the last wildcard spot with 69 points. The Flyers, however, have a little bit more work to do to catch up to the Maple Leafs – sitting at 65 points and four points behind the Maple Leafs.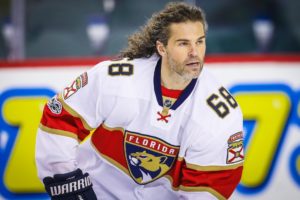 Thursday night's matchup is huge for both teams to escape with two points in regulation. A win for the Panthers gives further separation between them and the Flyers as well as the chance to leap over the Maple Leafs. The Flyers desperately need to come away with two points in regulation if they want any shot at making a late push for the playoffs.
A regulation win would bring the Flyers within a point of the Panthers and allow them to begin clawing back into the wildcard chase that is about four to five teams deep for the last spot. It'll also be interesting to see what the final lineups will end up being as both teams were involved in Wednesday's trade deadline. The Panthers added some offensive punch with the addition of Thomas Vanek, while the Flyers traded Mark Streit, who was set to become a UFA this summer, to Tampa Bay for Valtteri Filppula and draft picks.
---
Florida Panthers vs. Philadelphia Flyers
Wells Fargo Center – 7:00 p.m. EST
Broadcast channels – CSN-PH, FS-F; 97.5 The Fanatic
2016-17 Season Series: Philadelphia leads 2-0
Florida Panthers: 29-23-10 – 68 Points
Road Record: 14-10-7
Hot Players: Aleksander Barkov, Keith Yandle
Scratches: Jakub Kindl (healthy), Shawn Thornton (healthy)
Projected lines: (Thomas Vanek just acquired, lineup spot TBD)
Forwards:
Jonathan Huberdeau – Aleksander Barkov – Jaromir Jagr
Jussi Jokinen – Vincent Trocheck – Reilly Smith
Nick Bjugstad – Denis Malgin – Jonathan Marchessault
Michael Sgarbossa – Derek MacKenzie – Colton Sceviour
Defense:
Keith Yandle – Aaron Ekblad
Mark Pysyk – Alex Petrovic
Michael Matheson – Jason Demers
Starting Goaltender:
Roberto Luongo
Philadelphia Flyers: 29-26-7 – 65 Points
Home Record: 18-10-4
Hot Players: Wayne Simmonds, Shayne Gostisbehere, Claude Giroux
Scratches: Brandon Manning (NHL suspension), Roman Lyubimov (healthy), Travis Konecny (IR, lower body), Michael Raffl (lower body)
Projected Lines:
Forwards:
Jordan Weal – Claude Giroux – Wayne Simmonds
Nick Cousins- Valtteri Filppula – Jakub Voracek
Brayden Schenn – Sean Couturier – Dale Weise
Chris VandeVelde – Pierre-Édouard Bellemare – Matt Read
Defense:
Ivan Provorov – Andrew MacDonald
Nick Schultz – Shayne Gostisbehere
Michael Del Zotto – Radko Gudas
Starting Goaltender:
Steve Mason
---
Game Notes
[miptheme_dropcap style="normal" color="#222222″ background=""]1)[/miptheme_dropcap] The Panthers, like the Flyers, are in the bottom 10 of the league in goal scoring. They're hoping the addition of a proven scorer like Vanek will help provide a little bit more depth and punch to a lineup in need of it. Vanek has 38 points in 48 games this year while he was with the Detroit Red Wings and will be a considerable addition to the Panthers forward corps and power play unit.
[miptheme_dropcap style="normal" color="#222222″ background=""]2)[/miptheme_dropcap] The Flyers, on the other hand, did a little addition of their own to help their sputtering offense. In return for Streit they acquired Filppula, who has 37 points in 59 games while playing primarily on the Lightning's third line, which is impressive. The Flyers have suffered down the middle this year at center, which is usually their strength. It'll be interesting to see if this ends Brayden Schenn's time in the middle allowing him to slot back at left wing where the Flyers are sorely lacking in skill.
[miptheme_dropcap style="normal" color="#222222″ background=""]3)[/miptheme_dropcap] The Panthers are winners of four in a row now as they are starting to make their run in their quest for the final wildcard. The addition of Vanek further adds to the veteran presence already on the roster in the likes of Jaromir Jagr and Roberto Luongo to mentor the slew of young talent in the Panthers lineup for a postseason push.
[miptheme_dropcap style="normal" color="#222222″ background=""]4)[/miptheme_dropcap] The Flyers are just 3-6-1 over their last 10 games played but they are coming off a high, winning 4-0 over the cellar dwelling Colorado Avalanche. That game may be just what this Flyers team needs at this time. For a team struggling for goals over the last several months, a game like the one Tuesday night against the Avalanche gets the players and team feeling good about themselves and could lead to them playing with more confidence in their matchup Thursday night against the Panthers.
Glen Stricker is a Temple University graduate with a degree in Media & Communication. He is the Lead Writer for the Philadelphia Flyers for The Hockey Writers as well as the social media coordinator and contributor for @PHLFlyersNation