The Buffalo Sabres begin a critical nine-game stretch tonight against the Los Angeles Kings to end the month of December. They're starting to fall behind in the early season Eastern Conference playoff discussion. Entering play tonight the Sabres currently sit in last place in the Eastern Conference. They're 11 points behind the Washington Capitals for the final wild card spot and eight points behind the Boston Bruins for third place in the Atlantic Division.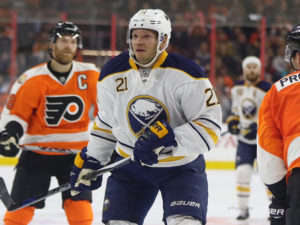 If they're unable to put a very good stretch of hockey together over the final three weeks of December, by the time 2017 rolls around the Sabres may be a long shot to be in the playoff conversation. Of course, there are still 55 games left in the season. However, with the number of teams they have to jump, as well as the dreadful loser point, it'll be a very tall task.
Buffalo will look to begin their winning streak tonight as the Los Angeles Kings make their annual visit. The Kings started off rough with the big loss of Jonathon Quick. Over the last few weeks, though, they've started to turn it around winning seven of their last ten games. They key for the Sabres will be to get ahead early and get on the Kings goaltender. Both Peter Budaj and Jeff Zatkoff have struggled this season. Los Angeles is one of the best possession teams in the league per usual and allowing them to get ahead could signal a long night for the Sabres.
---
Los Angeles Kings at Buffalo Sabres
Key Bank Center – 7 p.m. EST
Broadcast channels – MSG-B and FS-W
2016-17 Season Series: First Matchup
Los Angeles Kings – 14-11-2 – 30 Points
Road Record: 4-7-1
Hot Players: Anze Kopitar and Drew Doughty
Key Injuries: Jonathan Quick and Brayden McNabb
Projected lines:
Forwards
Marion Gaborik – Anze Kopitar – Trevor Lewis
Tanner Pearson – Jeff Carter – Tyler Toffoli
Dustin Brown – Andy Andreoff – Devin Setoguchi
Dwight King – Nick Shore – Jordan Nolan
Defense
Derek Forbort – Drew Doughty
Jake Muzzin – Alec Martinez
Kevin Gravel – Matt Greene
Goaltender
Peter Budaj
[irp]
Buffalo Sabres – 10-11-6 – 26 Points
Home Record: 5-6-3
Hot Players:  Rasmus Ristolainen and Kyle Okposo
Key Injuries: Zach Bogosian and Tyler Ennis
Projected lines:
Forwards
Evander Kane – Jack Eichel – Kyle Okposo
William Carrier – Ryan O'Reilly – Sam Reinhart
Marcus Foligno – Johan Larsson – Brian Gionta
Nic Deslauriers – Zemgus Girgensons – Matt Moulson
Defense
Rasmus Ristolainen – Jake McCabe
Cody Franson – Dmitry Kulikov
Justin Falk – Josh Gorges
Goaltender
Robin Lehner
---
Game Notes
[miptheme_dropcap style="normal" color="#222222″ background=""]1)[/miptheme_dropcap] The Sabres begin a big nine-game stretch to end December to get back into the playoff race. Their opponents over that nine-game stretch have a combined winning percentage of .458 entering play tonight. The opportunity to finish the month strong is there for Buffalo.
[miptheme_dropcap style="normal" color="#222222″ background=""]2)[/miptheme_dropcap] The Kings come into tonight playing well going 7-2-1 in their last ten games. Tonight will begin a tough nine-game road trip for Los Angeles. Next home game for them will be on New Years Eve.
[miptheme_dropcap style="normal" color="#222222″ background=""]3)[/miptheme_dropcap] Dan Bylsma is mixing up the lines on his top six to try to spark some scoring. Kyle Okposo will now play the wing with Jack Eichel and Evander Kane for the first time this season. Sam Reinhart will then play with Ryan O'Reilly and Will Carrier.
[miptheme_dropcap style="normal" color="#222222″ background=""]4)[/miptheme_dropcap] Okposo will look to keep his hot streak going tonight. He's picked up eight points in his last ten games after hitting a rough patch in the beginning of November.
[miptheme_dropcap style="normal" color="#222222″ background=""]5)[/miptheme_dropcap] Robin Lehner will be in the net again for the Sabres tonight. He's won only one game in his last ten starts going 1-6-3 over that stretch. Lehner has not played poorly over that period giving up two goals or less in five of those games.
[miptheme_dropcap style="normal" color="#222222″ background=""]6)[/miptheme_dropcap] Zach Bogosian skated with his team today for the first time in about a month. Bylsma indicated that Bogosian will likely return to the lineup in the next five to ten days. Barring any other injuries he'd be one of the last pieces to return from the projected opening night lineup. Only Tyler Ennis would remain on the injury list as he's still a while away from returning.
Bylsma – Bogosian will skate with the team at the morning skate. We hope to have him playing within the next 5-10 days #Sabres

— WGR 550 (@WGR550) December 13, 2016
---
The Kings may be without their top goaltender in Quick, but they'll be a tough opponent for the Sabres tonight. Last time these two teams met up Eichel played one of his worst games as he was dominated by Anze Kopitar. Having the last change, the Sabres will certainly look to avoid that matchup tonight.
The Kings are not the best scoring team in the league, currently ranked 19th. With that being said they do have the potential to put up goals throughout the lineup. Special teams could be a factor again in tonight's game. Los Angeles comes in with the 19th ranked power play and penalty kill. While the Sabres currently have the fourth ranked power play and struggling 29th ranked penalty kill. The Sabres have to stay out of the box and do a much better job killing off penalties when they do occur.
Tonight is a big game for the team and Lehner as well. They desperately need a win as they hit a slow point in the schedule here and won't play again until back to back games this weekend. Another loss and the Sabres could be looking at a huge double-digit deficit in the standings to get back into the playoff race.