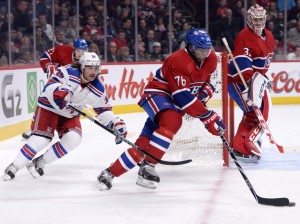 No added incentive was needed for the Montreal Canadiens as they emerged from their week long Christmas break to take on the Tampa Bay Lightning Saturday night, but two of the Habs top players had a little extra motivation thanks to who their opponents General Manager happens to be.
Playing against a division rival who were just two points ahead of the Canadiens in the standings heading into last night's contest against the Tampa Bay Lightning would be plenty of incentive for the team to give their all in trying to earn two points. However, P.K. Subban and Carey Price have their eyes set on cracking the Team Canada roster that will defend the Olympic Gold Medal in Sochi, Russia in February.
The head of Tampa Bay's management team is, of course, Steve Yzerman and he also happens to have the final say in who will be playing for Canada at the upcoming Olympics. Yzerman has reportedly shortened the list of potential candidates and is just putting the finishing touches on the final roster that will be announced on January 7.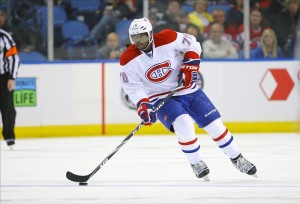 It was not the best game of Subban's career, but he played well in all situations and logged over 26 minutes of ice time, which was the most of any player other than Andrei Markov. He also showed off his impressive skating and stick handling skills.
Offensively, Subban has nothing left to prove to Team Canada as he has been among the NHL's top scoring defensemen for the past two seasons, but his defensive game has been questioned in the past.
The Canadiens' power play looked terrible last night, which would not bode well for Subban if his offensive game was in question. However, he played a safe and effective defensive game, which is exactly what Yzerman would be looking for Subban to show he is capable of doing.
Carey Price is also certainly on the radar of the Canadian management team and he did not disappoint with Yzerman in attendance. The Lightning got off to a slow start, not testing Price early, but they got better as the game went on and Price was up to the test.
Team Canada boss Steve Yzerman had a nice look at one of his Sochi goalies tonight, didn't he? #pricesticketsurelyispunched

— Dave Stubbs (@Dave_Stubbs) December 29, 2013
Carey stopped 23 of the 24 shots he faced only being beaten by possible future teammate Martin St. Louis, who rifled a snap shot over Price's glove hand in the second period. The potential Olympian was afforded far too much time by the Canadiens defense and he made no mistake from such a high scoring chance area. Price would get the better of St. Louis in the third period, robbing him of a chance to put the Lightning on top when he slid across his crease and gave Marty no net to aim for, smothering the puck in his chest. Tampa Bay carried the attack for most of the third period, firing 14 shots at the Canadiens net in the final frame, but were denied each and every time as Price shut the door to lead his team to the shootout.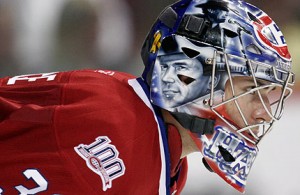 The shootout is an area where Price had struggled mightily earlier in his career — he has bucked that trend this season — but he stopped all three Lightning shooters tonight. I doubt that Canada's management team puts a lot of stock in how good a goaltender is in shootouts, but they are a gimmick used to settle tie games in the Olympics and Price's improvement in this area will not hurt his chances in being named to Canada's final roster.
It was just one game, but two Montreal Canadien Olympic hopefuls did nothing to hurt their chances of being selected to suit up for their country when they performed in front of Canada's General Manager.
There will be plenty of extra incentive for players to play their best in February when a gold medal is on the line, and though we will not know who will be going to Russia for over a week, Price and Subban showed tonight they can raise their game when that added pressure is being applied.