Sidney Crosby scored 102 points in his first NHL season at the age of eighteen. He became the teams captain two years later at age twenty and led his team to the Stanley Cup finals. One year later, he became the youngest Captain in NHL history to hoist the Stanley Cup at twenty-one. He was the recipient of the Mark Messier Leadership Award after the 2009 season as well. Crosby led his Penguins in all facets of the game and with the special group that Ray Shero has assembled, they won a Stanley Cup. But in 2010-11 when Crosby first sustained a concussion, his leadership took on a different look; no longer was he able to lead by example and after several years of battling injury, Crosby came back in 2013-14 ready for a full season. He did quite well and claimed the Art Ross Trophy and has been named a finalist for the Hart and Lindsay Award. But as captain, it's time for him to put his team on his back and clinch a series in Madison Square Garden.
Leading By Example
It's a well known fact that Crosby is often the first player on the ice for practice and stays after to work on his game.
Crosby always answers questions after tough losses, and many NHL captains can't say that.
When a player is struggling, Crosby will always publicly defend them.
All of these are qualities of a captain and aren't unique to Crosby. He's a great captain and has shown that in the past.
Injured Or Not, Crosby Must Give His All
Game five of the New York Rangers series was the first time this post season where I questioned Crosby's health. I've noted that I do not think he's physically injured and that his mentality is what's causing him to produce less goals than what Penguins fans are used to. But game five was different. He seemed distant. He had trouble possessing the puck and didn't seem to have any interest on putting pucks on the net.
I still am not sold on Crosby being injured. It's the playoffs and all the superstars are banged up. But regardless, Crosby can't change the way he plays hockey. He didn't win the Art Ross Trophy by passing up shots and forcing passes through the crease. He has to find himself, whether he's healthy or not. We've seen glimpses, even full games, of Classic Crosby. Games two and three of the Rangers series, Crosby looked incredible.
And When Crosby looks Good, the Penguins look Good
Crosby is the captain and his team follows his lead. He can't be coming to the bench and throwing sticks or yelling at his head coach. If his team sees him flustered, the results aren't usually in their favor. Crosby must maintain his composure and do what he does best… LEAD BY EXAMPLE.
Evgeni Malkin was the only Penguin to show up to game five. He wears an A for the Penguins and shares some of the leadership responsibilities.
If the rest of the Penguins were playing with Malkin's passion tonight, they probably wouldn't be losing 4-1.

— Josh Yohe (@JoshYohe_PGH) May 10, 2014
But Malkin isn't the type of player who would handle the Captaincy well. I'll call it, "Ovechkinism."
Ovechkinism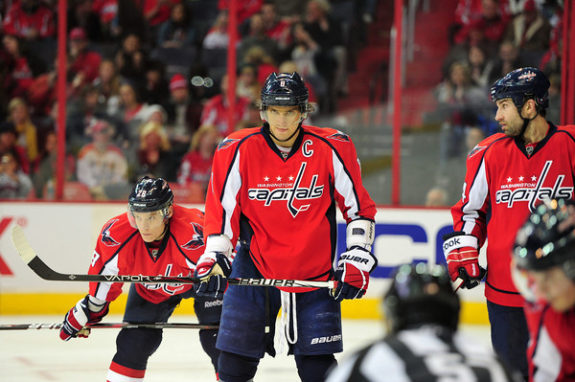 Just because you're the best player on your team doesn't mean you deserve the 'C' on your jersey. Alexander Ovechkin is the prime example as to why that is. Ovi is a great offensive player, that is undeniable. But he does not possess the personality or the mentality to Captain a professional hockey team. The captain is an all-around player who plays 200 ft and must take responsibility for the team and buy into what his organization is trying to do.
This is not to say that Malkin isn't loyal to Pittsburgh or his coaches, but he's does not possess the leadership quality that makes players gravitate toward him. If he did, game five would've gone much differently. Malkin was flying the entire game, but no one followed his lead.
All this to say, Crosby has that gravitational quality that makes people around him better and although Malkin MUST produce offense and play consistent, his play won't be enough to carry the Penguins.
Crosby, It's Time To Lead
"I don't think there's much good to take from this to be honest with you… whatever mindset we had tonight, wasn't enough" -Sidney Crosby after Game Five
Crosby know's that his team missed an opportunity in Game Five, and his history tells me that he'll have his team ready to close out this series. Whether he's injured or rattled, he's greatness personified and understands that his team, his organization and the city of Pittsburgh are relying on him to have his team ready to play. Win or lose, the Penguins need to show up to Madison Square Garden for Game six.
Always better with backs to wall. They're a legitimately better team with fresher legs. No reason whatsoever for a Game 7.

— Dejan Kovacevic (@Dejan_Kovacevic) May 10, 2014
If they show up and put in the effort they have three of five games, they put themselves in a great situation to close the series. If they put in a game four Columbus effort, or a game five Rangers effort, they put themselves in a dangerous situation.
It All Starts With Crosby.
It seems obvious, but I saw in game five what happens when Crosby has an off game. The Penguins can't afford two bad games from their Captain… and don't expect that from him.
Be sure to join in the conversation on Twitter by using the hashtag #THW.