The Pittsburgh Penguins are a talented team. The nucleus of the team has been to two Stanley Cup Finals and won once. Their top two lines have two of the most talented players in the world. And their defense has the ability to lock it down around their keeper and step up on offense and score. But in the media world, especially during the playoffs, if they win, it's because they are great; if they lose, it's because something is wrong with Crosby or they have injuries or blah blah blah. Nothing is wrong with the Penguins that isn't wrong with every other playoff hockey team.
In this feverish debate over who's to blame, I blame … the Rangers. You know … that other pretty good team that is also trying to win?

— David Henry (I have zero interest in Parler) (@imau2fan) May 3, 2014
Welcome to the Playoffs
The best teams in the NHL are still playing hockey and after 86+ games, everyone is dealing with injuries, fatigue and slumps. The Penguins suffered a lot of injuries this season, but with the exception of Brooks Orpik, everyone is playing. The most talented team rarely wins a playoff series because they are more talented. The most hardworking team with the greater will to win wins the series. The Penguins in 2009 were not the most talented team, but they were never outworked and they found ways to win. The 2014 Penguins aren't outworking teams and look uninterested at times. That's not going to be good enough to win series and you can't blame injuries for not working hard.
Nothing Is 'Physically' Wrong With Sidney Crosby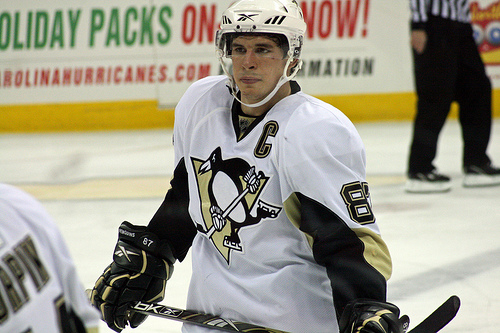 Mentality is everything in sports and right now, Crosby needs an attitude adjustment. He's frustrated and he's uncomfortable. But physically, he looks fine. He's working hard on the half boards and finishing hits. It looks to me like he's beginning to feel bad for himself.
He's the "best player in the world" and he hasn't scored a goal in 12 playoff games. Big Deal. Quit trying to come up with what he's injured and give the defenses he's playing against some credit.
still not worried about Crosby, still don't think he's injured

— rich (@richtweetshere) May 3, 2014
Crosby is a hockey player and he plays against other PROFESSIONAL hockey players. He can't just "expect them to go in," he's got to work harder than the D and put the pucks into the net. Even if he is dealing with some minor injuries, name a player in the playoffs who gets hit as much as he does who isn't dealing with some injuries. It is part of the game and you can't blame his lack of production on it. Crosby has been bad, but quit making excuse's as to why. He's being outworked and that's that.
And Quit Blaming Fleury
To blame Marc-Andre Fleury is the easy, cop-out, uneducated answer. Game one of the Rangers series was the worst defensive showing by the Penguins, bar-none. Of the three goals scored by New York, two were due to horrible defensive effort that even "King Lundqvist" would not have been able to save.
Surprising that none of @Penguins four goaltenders on that play could stop that shot.

— Dejan Kovacevic (@Dejan_Kovacevic) May 3, 2014
Fleury has to make the save on the first goal; we'll chalk that up as rust from the lay-off. But the final two, nothing he can do… His defense left him out to dry. Fleury is not to blame for this loss so his shaky past as a goalie in the playoffs is another bad excuse.
My Diagnosis
The New York Rangers are playing hockey in their sleep and are in a groove. They played an excellent hockey game and shut down the Penguins for all but a few shifts; they were the better team in game one. That being said, the Penguins played awful for most of the game and still had a few chances to win. Crosby won't be scoreless forever. Oh, and there are still six more games to be played. The common excuses are irrelevant.
The real problem is the defense; with Brooks Orpik out, Letang and Martin are seeing increased ice time. Scuderi and Maatta aren't playing well. Turning the puck over and losing their assignments are becoming a consistent occurrence in these playoffs. With Orpik out, maybe the Pens should consider bringing up Simon Despres and play seven defenseman or sit the Maatta.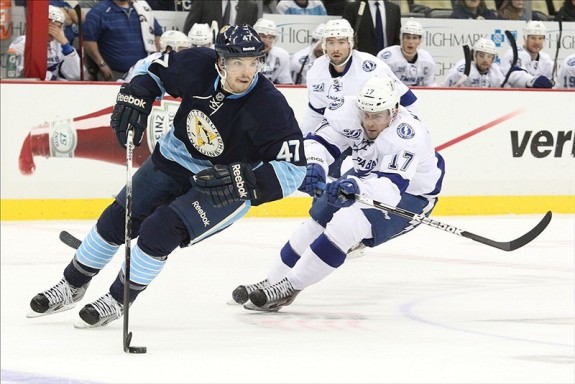 Despres is playing very well on his AHL club and could bring some energy. Robert Bortuzzo has looked great since coming in for Orpik and another young defenseman could help out the Pens, especially with so many of them currently struggling.
But the poor defensive play doesn't end with the D-Men; the forwards have to forecheck and keep pucks out of the middle of the ice. Crosby and Malkin in particular did an abysmal job on the forecheck in game one vs. New York. The Pens can't rely on their offense to win them games in the playoffs; they have to pay better attention to detail. Playing better defense will lead to more offensive zone time.
Quit blaming injuries. Quit diagnosing Crosby. Is he in a slump? Absolutely. But I don't think he's injured. And don't crucify Fleury; Lundqvist  has a great defense in front of him every night which leads to his success. Fleury looks good too when his defense is playing well.