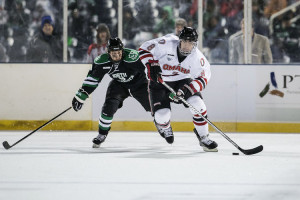 It's not every day a kid from Plantation, Florida grows up to be a professional hockey player, but 22-year-old Jaycob Megna, an Anaheim Ducks prospect, did following in his older brother Jayson's footsteps.
THW spent a few minutes with Jaycob in Norfolk, Virginia the home of the Admirals, the Anaheim Ducks AHL affiliate, where Jaycob has played in 15 games on their blue line.
Here is the interview.
THW: How does a kid from Florida get into hockey?
J.M.: I was born in Florida, but I grew up in Chicago. My brother went to a birthday party when he was about 5 with my parents being from Florida they knew nothing about the sport. He fell in love with it and I wanted to do whatever my big brother did.
THW: Your brother Jayson plays in the Pittsburgh organization. What can you tell me about your office relationship with him?
J.M.: It's awesome. He's a great support system as far as he has done everything that I have done in hockey, but a little before me. It's been nice to see his success and/or failures and learn from them and how he has learned from them. He's been great for advice and just mentoring the whole time.
THW: As you kind of see, I'm looking up to you as you're a bigger guy. Have you always used your size to your advantage?
J.M.: I was a midget minor so I was about 15. I was not very big and I haven't always been big so it's been tough. I had a little growth spurt and it made things a little easier back there. I haven't always been the big guy I was a little guy for a while. So I know it both ways.
THW: Draft day 2012, what was going through your head during draft day?
J.M.: It was my second year of eligibility so the first year I was on a draft list and I was all excited and I ended up not going. That was a little disappointing, but that told me I had to work a little harder. So the second year I really didn't get my hopes up and I let my play speak for itself. I was so fortunate to be drafted by the Ducks near the end of the last round, but it was awesome. From there the work has increased, but it's been great.
THW: You played your college hockey at the University of Nebraska-Omaha. Did you pick that school because of your brother Jayson?
J.M: It's kind of a funny story. I committed before he did. He's a little older than me, but he played Juniors and went to prep school for two years. We actually committed within six months of each other and we're both freshmen together.
THW: How did your coaches in Omaha help you to develop?
J.M.: Dean Blais is one of a kind. He's a legend in college hockey. Also in my freshman year, I had Mike Hastings who is currently the Mankato coach and he was phenomenal with me. Then Troy Jutting came in after him. All three of them have been key to my success and teaching me the game and I've learned things every year from those three.
THW: Is that the same Dean Blais who led the 2010 USA WJC team to a Gold Medal?
J.M.: Yep, he won the Gold Medal for USA, and then he won two National Championships for North Dakota before he went to Omaha.
THW: You played with your brother, Jayson, in college. How was it having him in college with you at the same time?
J.M.: It was so much fun. We were roommates, we were taking classes together, and we were doing everything together. It was a blast. I wish we could've done it for at least two more years, but he signed after his freshman year. I was so happy for him. It was probably one of the best years of my life.
Super Megna Brothers

THW: What was your major?
J.M.: Finance and Banking.
THW: What was Jayson's major?
J.M.: It was the same thing, but he only went for a year so he still has some work left to do. Luckily I was able to graduate, but hopefully he'll go back when he's done playing.
THW: It's my understanding that you did pretty well academic-wise too?
J.M.: You know it's funny, we always joke that my brother wins all the hockey awards and I win all the academic awards. School has always been really important for me and my parents have instilled it in all three of us, my sister included from a young age. Take care of your school and you worry about the sports afterwards.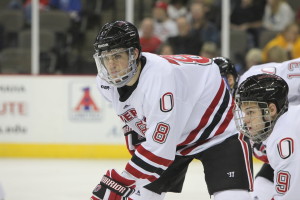 THW: How did you handle the off-ice things like juggling classes and D-1 hockey at the same time?
J.M.: It's a tough balance and it takes a little while. Nebraska-Omaha was great. They had a great system there. We would do morning classes, then we would leave go to the rink and practice is around 12:30 and then we would be back at school for night classes. Some night's it's tough, some days it's a grind, but you get used to it. You live for the days at the rink.
THW: What's been the biggest off-ice adjustment from college?
J.M.: There's a lot of free time, you're not running from class-to-class and doing homework. You've got to be responsible and find ways to fill your day and be productive at the same time.
THW: How are you being productive during your free time?
J.M.: A lot of time you just want to sleep. I try to stay busy. I'm doing some studying to take the CFA exam in June. So I'm trying to stay busy with that, I try to read books and keep learning. I got my degree, but it's only as good as you make it. You're going to have a life after hockey. You're going to have to be prepared for that. Just try to do things that will coincide with your work one day.
THW: Are there any veteran D-Men who have helped you in your transition?
J.M.: They all have been great from Mark Fistric who has played a lot of games in the NHL to Mat Clark who has been up and down. They both taught me a lot and they're great examples of just working hard and doing your job. It's been awesome learning and leaning on those guys
THW: Do you have any special hobbies or can you do anything spectacular that you want to share with us?
J.M.: I'm not a big video game guy. Honestly I live a boring lifestyle, I read a lot. I'm a big movie guy. I like going to the movies and I like to spend time with the guys. So, nothing too spectacular or different.