Every player has a unique story or journey as they make their way towards the NHL and Jordin Tootoo is no different. His is just maybe a little more well-known, as he was the first player of Inuit descent to play in the NHL when he made his debut in 2003 and also his older brother Terence committed suicide at the age of 22, a little over a year after 21-year-old Jordin was drafted by the Nashville Predators. His best season (points-wise) was his last in Nashville (2011-12) with only 30 points, but his game is less about points and more about physicality, speed and being a regulator on the ice.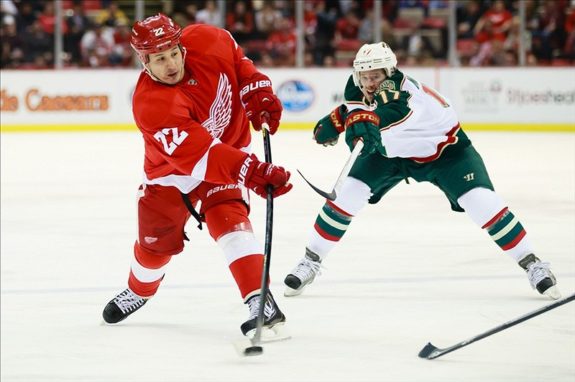 After two seasons with the Detroit Red Wings, Tootoo came to training camp with the New Jersey Devils this past September on a tryout basis and the Monday before the season began they signed him to a one-year contract. He played in five of their six preseason games and the Hockey Writers were lucky enough to interview the newest Devil after their last preseason game before he knew if he made the team or not.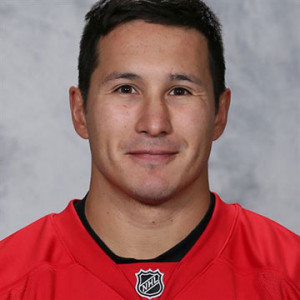 The Hockey Writers: It must be a good sign that you are still here right? This is the last preseason game; some of the other players that were on PTO's are gone.
Jordin Tootoo: I think so; when you are playing in games it's a lot more fun. When you aren't playing…it kind of makes you wonder what's going on, it makes you think (maybe too much). Obviously I've been fortunate enough to play five preseason games here and I felt pretty good the whole time. Right now (with preseason over) it's up to the people up top to figure what they want to do. For me it's just about coming to the rink everyday and preparing myself to work hard.
THW: Is this process of being on a tryout without a contract; is it weird or kind of awkward for you?
JT: No, not really; growing up as a kid you've gone to training camps and this is pretty similar. Obviously this is more business-like, this is our livelihood here on the line, and so this is a lot more magnified. This is the first time for me in the last twelve years that I'm in an NHL camp on a PTO…(smiles) it's definitely a little different, but it's a good thing. I'm still wanted in the league and I'm trying to reestablish myself after a couple of tough years. I am just preparing myself professionally, both on and off the ice everyday.
Jordin Tootoo made a new friend and fan for life; the interview is awkward a bit though:
THW: Your career started in Nashville, I know a few folks down there and you are a big favorite of theirs. What are your memories of the time you spent there?
JT: I was a young kid, I was 20-years-old coming into the league; that city, basically raised me until I was 28 years old. It's somewhere that has a special place in my heart and obviously I went through a lot of different rollercoaster rides while I was there. It's always a learning process; you mature as the years go on and for me Nashville was a city that embraced me and really made me solidify my spot as an NHLer.
THW: Do you remember your first goal?
JT: Absolutely! (grins wide) We were playing Atlanta; I believe it was like October 12 or something like that (it was October 23, close though!). Actually (current teammate) Marek Zidlicky assisted on my first NHL goal; it was pretty cool.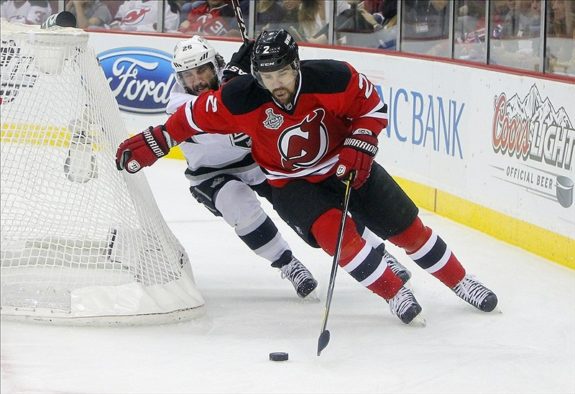 THW: If things don't work out here, what's the next step for you?
JT: Right now, I know I'm still an NHL player. Bottom line. I think I've proved it, I'm not just a one-dimensional player and obviously when you play more you become more confident. Bottom line is (that) this is up to the business people to make their decisions and wherever that leaves me we'll figure out then. Tomorrow is a new day.
THW: You've been here for a few weeks now, what is it that you like about this group of guys, this team?
JT: It's definitely a winning attitude around here for one; they've got guys that have won the Stanley Cup, multiple times. It's great to be amongst guys who know how to win. There are a lot of key elements to make up a successful hockey team and I believe that that is one of them. I know a few guys here from years past so it made the transition a little easier for me. Some of these guys you watched growing up, but at the same time we're all here to do the same thing — playing the game that we love and playing to win the Cup. You can't be too star struck with guys like (Jaromir) Jagr and (Patrik) Elias; we're all human beings, we're all regular people at the end of the day. But yeah, I'm honored to sit beside Jags in the dressing room (smiles) and chitchat.
Jordin Tootoo has a new book coming out on October 21, 2014 titled:
ALL THE WAY (My Life on Ice)
http://t.co/99zKyxAHT9 pic.twitter.com/bbLlF1GmRk

— Jordin Tootoo (@Jtootoo22) September 27, 2014
Dan Rice can be reached via Twitter: @DRdiabloTHW or via Email: drdiablo321@yahoo.com
Dan Rice is in his 9th year of reporting for THW & has covered NJ Devils home games for 15+ years at various websites. He began his journey working for legendary broadcaster/writer Stan Fischler from 2002-04 & completed an internship at the ECHL; he also has been writing features for the NWHL (nwhl.zone) website since 2016.