"It's amazing how some things don't change over the years," Paul Coffey said Wednesday during the '84 reunion press conference. "When Wayne asks for something, you usually do it. We were trained that way at an early age. Anytime you have your leader, that is your hardest worker, ask you to do something then you do it."
The 2014-2015 Oilers could stand to learn from the sense of team buy-in that clearly still exists among the '84 Oilers. Note how Coffey clarifies "your leader" with "your hardest worker". The leaders of this team are going to have to commit to being the hardest workers on the ice every day, every shift, if they want their teammates to buy in and do the same. And I'm not talking about captain Andrew Ference – Ference is a terrific role model in the community as well as in the room, due in no small part to his attitude and work ethic, but thanks to Steve Tambellini's rebuild putting the focus on "the kids", Edmonton and the wider Oilers fan community are going to look toward Ference's alternate captains for that leadership.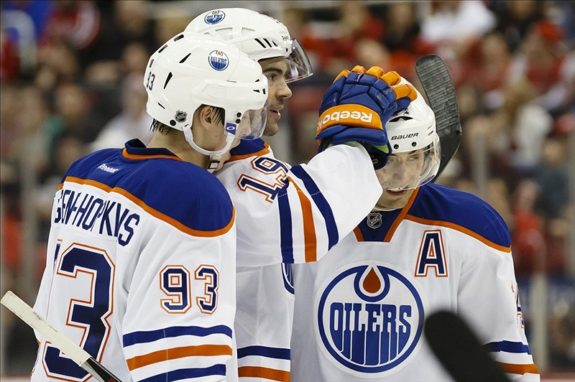 Stepping It Up
Taylor Hall and Jordan Eberle became the faces of the Oilers franchise almost from the start of their careers. Whether they wanted the role or not is irrelevant; the fact of the matter is that they are the ones looked to more often than any other players in that room, in good times and in bad. In the 2011-2012 season, Eberle finished 16th in the league in scoring (76P). In 2013-2014, Hall finished 7th (80P). If they want to have any hope of getting the Oilers to the playoffs this season, a repeat performance of that sort by both of them wouldn't go amiss.
But being a leader isn't just about scoring lots of points. As Coffey said, it's about being the hardest worker out there, because if your teammates see that you're willing to work your tail off for the good of the team, they're going to be more willing to do the same, or to do things that you ask of them. The fact of the matter is, people are willing to work for people who are willing to work for them, and this is just as true in an NHL locker room as it is anywhere else. And the fact of the matter is, their window to get this team to the playoffs together might be closing.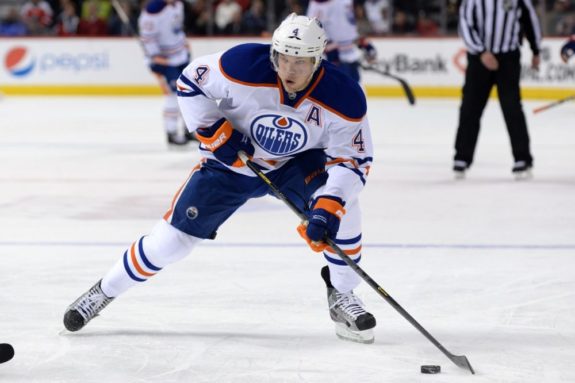 Winds of Change
Let me be frank: I don't support the idea of trading Jordan Eberle like many in the blogosphere. I think Hall and Eberle (and Nugent-Hopkins) are better together. But a team has to work with the assets it has, and if the Oilers continue to miss the playoffs management is going to reach their breaking point. The fact is, they only have certain assets that they can trade to get them what they need (top 2 D, top 6 F): Hall, Eberle, Nugent-Hopkins, Perron. Maybe Jeff Petry can be included in that statement, but until Justin Schultz improves defensively, he shouldn't be. Nugent-Hopkins is out due to the dire situation the Oilers are in at center, and as Hall is seen by most (probably correctly) as Ference's successor at captain, he's out too. That leaves Perron and Eberle, and on name alone I'm inclined to believe that Jordan Eberle is going to get you a better return than David Perron.
Hall and Eberle have told the media that they want to win together, that they want to win in Edmonton, more times than I can count. But that window could be closing unless they step up and become the leaders that Tambellini set them up to be. Former Oilers head coach Glen Sather said Wednesday, "You can have the greatest talent in the world and, for some reason if something goes wrong, there's no guarantee in hockey….It takes a lot of hard work." Hall and Eberle have the talent to help this Oilers team win. If they're going to lead this team, they need to make sure they have the work.
Hannah Stuart is a copywriter by day, hockey writer by night. Covering the Carolina Hurricanes for THW and working on a Masters in Sports Leadership from Duquesne University.